2015 forward Jarred Reuter updates his recruitment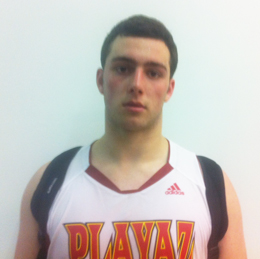 DEERFIELD, Ill. — After picking up an offer from Tom Crean and the Indiana coaching staff last summer, 2015 forward Jarred Reuter continues to draw interest from a host of high-major programs.
"Just recently in the last tournament I played in, Florida offered me," Reuter told Inside the Hall. "I've been getting some interest and calls from Kansas, West Virginia and Duke."
Reuter is currently playing for the NE Playaz class of 2013 team, but a left ankle injury limited his minutes in a Saturday morning first-round pool play game in the Best Buy Classic at Joy of the Game.
"I've been out with an ankle injury for a little while, so it's holding me back," Reuter said. "It's my left ankle. It's my first tournament back in four or five weeks. It was my first game. I felt alright. It should be OK."
The 6-foot-8, 250-pound power forward, who was originally a member of the class of 2014, isn't sure when he'll line up any visits to interested programs, but that he'd probably go to some elite camps this summer to get more familiar with coaching staffs.
The Indiana offer Reuter received came last summer following an elite camp he attended in Bloomington.
"I'm still a freshman," said Reuter. "Once I know where I want to go, nothing's going to hold me back and I'll commit, but I don't know when that will be. I'll keep developing my game and when I develop more I'll see where I fit in best."
Reuter, the No. 18 prospect nationally in his class according to ESPN.com,  also said he's currently working on getting into better shape — which includes a new diet.
"No bread. I'm working on it," he said.
Filed to: Jarred Reuter