Q & A: Trevon Bluiett talks timetable, updates recruitment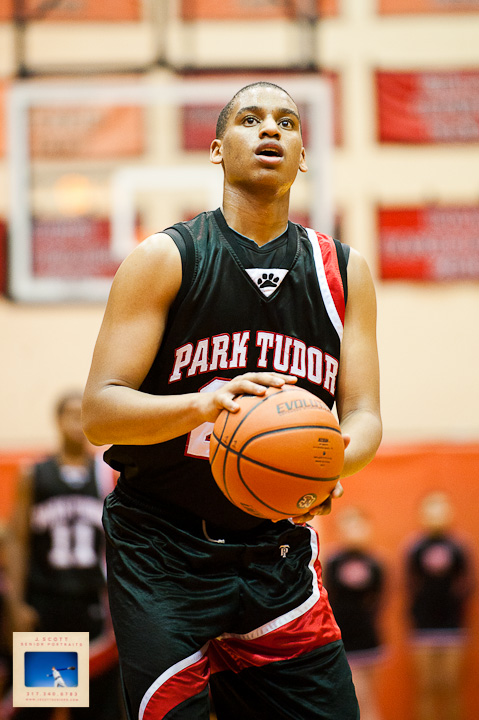 FORT WAYNE, Ind. — Trevon Bluiett met with reporters after a pool play game at the 2012 Bill Hensley Memorial Run-N-Slam at the Spiece Fieldhouse and touched on a variety of topics including his timetable for a decision, his improvement this spring and his recruitment.
Here's a transcript of Bluiett's comments in Q & A format along with comments from his father and AAU coach, Reynardo Bluiett.
On when he wants to make a college choice:
"Definitely before Aug. 1 of my senior year. Maybe in the middle of AAU season after my junior year. That's when I'll commit."
On who's recruiting him the hardest right now:
"After EYBL, IU called me a lot, Florida called me, Notre Dame, Purdue, Ohio State, Michigan, Michigan State. Those are the schools that called me after EYBL."
On what he's hearing from Indiana:
"They've just been watching me a lot. Since I already own an offer, they can't do much more. I think they used up all of their game passes for that month so they can't watch me again until a certain date in July or something like that. They've just been talking and say I've improved and that they're going to keep watching me."
On whether he's improved this spring:
"Definitely. After the school season I've been in the weight room working on my athleticism and my legs. So I definitely feel like I'm I'm getting quicker and jumping higher and more athletic."
On how his improvement translates on the court:
"Speed, blowing by people and staying in front of people. I feel like I'm doing a better job than I did last year. It's easier for me to go up and dunk now. I don't have to get a running start."
On the position he will play in college:
"I kind of see myself as playing the two. I just have to slim down and become quicker."
On what he's been hearing from Florida:
"They sent me a letter last year, but I haven't talked to them. My dad talked to them, I called them back but they never answered. He just said that they were going to start recruiting me, they like the way I play and he said I was a good fit for the program."
On taking June visits:
"Probably over the weekends. During the week I have school basketball, so over the weekends I'll most likely go to places."
On what he's been hearing from Michigan:
"Coach Beilein and Coach Meyer, they've just been talking to me – and Coach Jordan. I have a good feeling that they'll offer me on June 15th – I'm not sure – but they've just been saying that they love my game."
On what he's been hearing from Purdue:
"Coach Painter called me and he was just saying the same exact thing. He just says that he's seen a big improvement with my athleticism since last year. He says that I've toned up since last year."
On whether everyone is telling him the same thing:
"Basically – I just don't really listen to it. I just go and do my own thing. I'm just out here trying to get better and trying to win. I'll worry about colleges later."
On whether he likes Purdue:
"At this point, every college has a shot. I haven't narrowed it down. So at this point, anybody that is interested in me has a shot."
On whether he's starting to see things that he likes in schools:
"I've went places and I usually went there just to watch and observe, but there are some things that I've found at certain places and certain colleges that I did dislike, but there were a lot of good things. I guess you could say I'm quietly picking and choosing."
—
Reynardo Bluiett
On where Trevon is in the recruiting process:
"It's coming up here quick. We've never really put a lot of thought into it. I know everybody says that, but we really haven't. I'm just letting him know now that you've gotta start kind of thinking about the next step. He's just enjoying what's going on with it right now and that's the beauty about it, but he's probably getting closer to where you really have to start looking at stuff. And as he's developing, he'll know better where he fits."
On the schools recruiting Trevon the hardest:
"We talk to everybody — Notre Dame, Xavier, Butler, Florida, Indiana, Purdue, Virginia — the whole list. We get calls really just checking on him, seeing how he's doing. A lot of congratulations on how he's developing. We keep it real basic right now. Probably after July we've gotta start really (looking at it harder)."
On Trevon's development and where he's come the farthest in the past year:
"Probably at being a little bit more aggressive. He's working on footwork and stuff. He possessed this, but he was having trouble picking his spots. And that's what playing with Yogi (Ferrell) has taught him, what playing under Ed Schilling has taught him is how to be effective and pick his spots. He's always possessed a good game and a good knowledge of the game, but now he's just being a little more aggressive."
On whether seeing Yogi Ferrell going through his recruitment has helped him go through the process:
"Yeah, I think just sitting there watching some of the stuff that went on with him, I think he got an understanding so I think he can probably pretty much just skip … really the last year and a half, he skipped all of that other stuff other guys may go through. He wanted no part of some of that and I think that's been good for him."
On whether the process wears on Trevon or he enjoys it:
"He made a comment that he didn't really want to talk to people, not yet. And I'm not pushing any of it, that's just him talking so I'm definitely with him. I'm just there to support him. There will definitely become a time where he's gotta step up and face the madness."
Filed to: Trevon Bluiett