Health guiding a strong spring for Devin Davis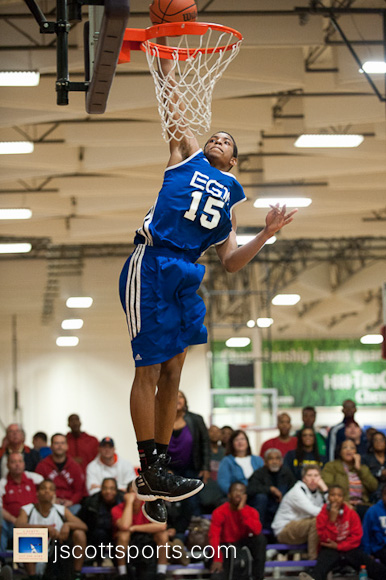 Pinpointing the most significant difference for Devin Davis from last spring to this spring is easy for Eric Gordon All-Stars coach Matt Green.
It's not an improved jump shot or added strength, although the Warren Central star has improved in both of those areas. It's a factor Davis had little control over, but is now in the rearview mirror: his health.
"When he's healthy, you get what you see now," Green said at last weekend's adidas Spring Classic in Fishers. "He's tough and is always going to be a warrior for you, but when he's healthy, he shows all the athleticism. He's able to get up and down, rebound, defend, make shots. You get the total package when he's fully healthy."
Through three tournaments this spring, a healthy Davis is playing better than ever after battling a nagging back injury for much of last spring and summer.
"I feel like that's probably the biggest difference," Davis told Inside the Hall. "I feel like I'm more athletic and can do more with and without the ball. And my mindset is more that I've gotta do more for the team and play my hardest."
That mindset includes affecting winning in ways beyond just scoring the ball.
In Fishers, the IU commit was deflecting passes, diving on loose balls and when he took an inadvertent elbow to the nose late in a loss to Wisconsin Swing, he didn't even require a trip to the bench before continuing. That type of effort doesn't go unnoticed by his teammates.
"He brings a lot to the table. He's got a motor that doesn't stop," Zavier Turner, the point guard for the Eric Gordon All-Stars, said. "That's what I think gets Devin over. He brings it every game as far as his rebounding, scoring or defense. Even if he doesn't have a scoring night, he's there to rebound."
Turner, who has known Davis since the third grade, said playing with such a versatile and unselfish teammate makes his job as a point guard much easier.
"When I penetrate, he's constantly moving, so it's an easy little dump down to him," Turner said. "He doesn't mind screening — he just plays. He plays for the team, and not for himself."
One question about playing for his future team in Bloomington has been where Davis may fit in position wise. A year ago, Green said he wasn't exactly sure which position Davis would play in college, but has a better grasp now on where he may fit in.
"I saw Coach Crean talk a little bit about their four position at IU, how it's kind of turned into a hybrid position that can guard multiple positions, be able to shoot the ball from outside," Green said. "He fits in perfectly. He works on his outside shot, he can guard anywhere from the five on down right now. College is a different story, but he rebounds at such a high level, you can slide him in at that four position, it just fits him perfectly."
Davis reeled off strength, quickness and improving his perimeter game as the areas he hopes to improve this spring and summer as the Eric Gordon All-Stars play in events like the adidas May Classic, the Best Buy Chicago Classic and the adidas Invitational.
His jump shot has already been steadily improving, according to Turner, who said Davis would make a high percentage if he decided to take more outside shots. But more important than anything else, it's the drive and approach to the game that continues to guide improvement for Davis.
"His mindset hasn't changed over the years," Turner said. "And with his motor, he just doesn't quit."
Related:
– HD Video: Devin Davis adidas Spring Classic highlights (May 1, 2012)
– HD Video: Davis, Fischer square off at Spring Classic (April 29, 2012)
– Fischer and Swing knock off Davis, Eric Gordon All-Stars (April 29, 2012)
Filed to: Devin Davis