Recruiting Roundup: Edwards earns MVP honors in Vegas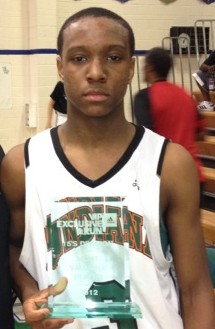 The Indiana staff continued to hit the road hard on Sunday, which was also the final day of the first April evaluation period for college coaches.
Here's a look at some of the highlights from day three of the April evaluation period:
· 2015 East Chicago Central guard Hyron Edwards, who picked up offers from Indiana and Purdue last week, led Indiana Elite Team Indiana to the 15-and-under title of the adidas VIP Exclusive Run in Las Vegas.
Edwards scored 30 points in the championship game and his national profile should raise as both Evan Daniels of Scout.com and Eric Bossi of Rivals.com were in attendance.
Here's Daniels on Edwards:
Indiana Elite 2015 PG Hyron Edwards is dominating the c'ship game. Using speed & extra gear to get where he wants, when he wants
And here's Bossi:
Indiana Elite starting to run away in 15U title game. Hyron Edwards is thoroughly dominating this game.
· The first session of the Nike EYBL wrapped up in Minneapolis and both Tom Crean and assistant Steve McClain both stopped in. McClain was at EYBL in the morning, while Crean watched Luke Fischer at the NY2LA Spring Extravaganza. Crean then finished out the day at the EYBL event.
Here's a statistical look at the five prospects who participated in the event from Sunday:
— Trey Lyles, Spiece Indy Heat: Six points, 13 rebounds, three assists and three blocks in a 72-68 win over Southern Stampede.
— Jaquan Lyle, Spiece Indy Heat: Five points, five assists, four rebounds and two blocks in a 72-68 win over Southern Stampede.
— Trevon Bluiett, Spiece Indy Heat: 24 points, nine rebounds in a 72-68 win over Southern Stampede.
— BeeJay Anya, Team Takeover: 14 points, seven rebounds, one assist and one block in a 51-50 win over Boo Williams.
— Marcus Lee, California Supreme: Four points, four rebounds, two blocks, two steals and an assist in a 69-51 win over Jackson Tigers.
— E.C. Matthews, The Family: Seven points, two rebounds in a 85-74 loss to Houston Hoops.
Spiece Indy Heat finished the session 2-2, Team Takeover was 1-3 and California Supreme went 4-0.
· 2016 North Central guard Eron Gordon picked up an offer from Purdue on an unofficial visit according to Kyle Neddenriep of The Indianapolis Star. Neddenriep has a feature on Gordon that is worth a read.
· 2014 Montverde Academy guard D'Angelo Russell continues to list the Hoosiers along with Louisville, Kentucky, Ohio State and Xavier per Bossi.
· Trevor Andershock of Indiana Basketball Source delivered high praise for the play of Devin Davis in his recap of the Nike Spring Showdown that took place in Merrillville:
He was a work horse for the Eric Gordon 2013 group. His rebounding was thoroughly impressive. Every time there was a shot missed in the intense battle between the Illinois Wolves, Davis would get go the rebound. He was also very good scoring over and through people inside. He is strong and athletic with good body control. He had the play of the tournament if Cliff Alexander didn't do what he did Saturday night. Davis jumped for a fast break pass, while in the air he got the lone defender back to bite on a pass fake and once he came down from catching the pass, he took one dribble and pounded it home. Davis was also great defensively; he'll be able to guard most small forwards in the Big Ten.
(Photo credit: Indiana Elite)
Filed to: BeeJay Anya, Devin Davis, Hyron Edwards, Trevon Bluiett, Trey Lyles