Hoosiers to hold awards ceremony on Apr. 26 at Assembly Hall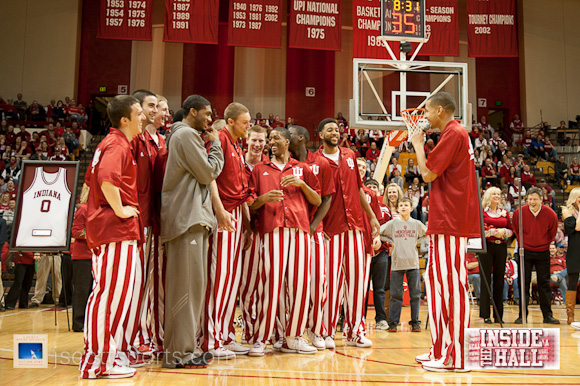 Per IU media relations:
Indiana University fans wanting one final opportunity to meet the 2011-12 men's basketball team which advanced to the Sweet Sixteen, will have the opportunity on Thursday, April 26 when the IU Varsity Club presents the Men's Basketball Awards Celebration in Assembly Hall. Admission is free and doors will open at 6 p.m.

"Our fans played such a huge role in our success this season," said IU Coach Tom Crean. "I think it is a wonderful opportunity to remember the year in a way where as many people as possible can be a part of it. It should be a great event."

Coach Crean and players will be available for autographs in the concourse of Assembly Hall from 6 to 7 p.m. In addition, the Assembly Hall video boards will be showing action from several games during that time.
NORTH CONCOURSE
Calbert Cheaney, Kory Barnett, Christian Watford, Victor Oladipo, Daniel Moore, Jordan Hulls. Remy Abell, Tom Pritchard, Derek Elston

SOUTH CONCOURSE
Coach Crean, Austin Etherington, Maurice Creek. Will Sheehey, Verdell Jones III
Raphael Smith, Jeff Howard, Matt Roth, Cody Zeller

Following the autograph session, the men's basketball staff will present their 2011-12 end of season awards at center court of Assembly Hall. Fans may enjoy the proceedings by sitting on the west side of Branch McCracken Court. Concession stands will be open throughout the event. To accommodate as many fans as possible, the Hoosiers will be available to sign one item per person and a commemorative poster will be provided to those who do not have an item with them.

The Hoosiers finished the year ranked 13th in the final ESPN/USA Today Coaches Poll and ended the year with a 27-9 record and for the first time in program history defeated the #1, #2 and #5 ranked teams during a regular season.

"We think it is a fitting way to honor the team and bring the Hoosier Nation together as we celebrate their outstanding season," said Vice President and Director of Athletics Fred Glass. "Coach Crean, his staff and all the players have been great ambassadors for the University and we want to bring them together once again to reflect on their memorable accomplishments."
Filed to: 2011-2012 season