Hoosiers making a strong push for Jameel McKay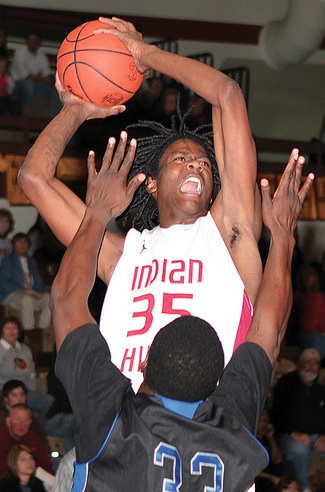 As one of just three freshman to be named as a first team NJCAA All-American selection this past season, Indian Hills Community College forward Jameel McKay has established himself as a recruiting priority for several high major programs.
McKay is arguably the top returning frontcourt player in the JUCO ranks following his first collegiate season where he averaged 14.6 points and 7.7 rebounds per game.
"Jameel's a face-up forward. He's got a great nose for the basketball," Indian Hills assistant coach Jason Skinkis told Inside the Hall. "He's a great offensive rebounder. As far as offensive rebounding, he's probably the best in the country in junior college."
The Milwaukee (WI) native, who was originally a member of the 2011 class, went the junior college route for academic reasons. He now has a healthy grade point average and is expected to enroll at a Division I school for the 2013-2014 season with two years of eligibility.
Indiana offered the 6-foot-9, 200-pound forward a scholarship earlier this week after watching him workout for the second time in a week.
Arkansas, Illinois, Iowa, Iowa State, Marquette, Memphis and Missouri are also recruiting the Indian Hills forward.
Skinkis said McKay's familiarity with Tom Crean from his time at Marquette coupled with the resurgence of the IU program has the All-American intrigued with the Hoosiers.
"They've got one of the best recruiting classes in the country obviously and Indiana's name as well," the Indian Hills assistant said of the reasons for McKay's high level of interest in Indiana. "With him being from Milwaukee, I think Crean definitely catches his eye."
Despite the accolades and attention he received as a freshman, there's still plenty of room for McKay to grow.
"His skills on the perimeter are developing. He needs to get a lot stronger," Skinkis said. "He has a tough time against more physical post players because once he catches the ball in the post, he's overmatched strength wise. Strength is a big thing. Defensively, he's gotta get better still on the ball and working on positioning."
While there's still plenty of time for McKay's recruitment to play out, Skinkis said he believed the Hoosiers were in a strong position.
"They've [Indiana] come on pretty strong the last three weeks here."
Filed to: Jameel McKay