2013 guard Stanford Robinson draws interest from IU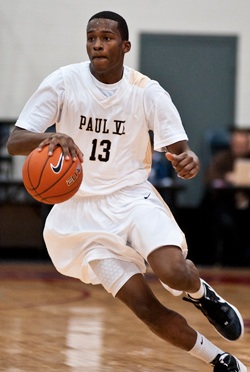 As the Indiana coaching staff continues to recruit for the 2013 class — which could end up with a total of five signees — an emphasis on back court help may be coming to the forefront.
One of the latest prospects to get a call from Tom Crean is Stanford Robinson, a 6-foot-4 combo guard from Paul VI Catholic in Fairfax, Virginia.
Robinson averaged 13.5 points and 3.5 rebounds per game and shot 76.1 percent from the foul line in his junior campaign as Paul VI won both the Washington Catholic Athletic Conference and City titles.
"Coach Crean just said they're very interested in me," Robinson told Inside the Hall. "In the beginning of the recruitment, he was just looking for a front court. But with them losing some guards the next two years, he's going to need a combo guard who can score the ball and also play the point a little bit."
Robinson, rated the No. 46 prospect nationally by ESPN.com and No. 52 by Scout.com, said he does not have a leader in his recruitment, but reeled off a list of schools that included Indiana, Maryland, Villanova, Miami (FL), Xavier, Texas and N.C. State.
"Right now I haven't narrowed it down or anything," he said. "If more schools were to come, I would definitely consider them. I won't be narrowing anything down until the end of July."
The rise of IU's program from 12 wins in the 2010-2011 season to 27 and a Sweet 16 run in 2011-2012 coupled with the uptempo pace the Hoosiers employ are two positives that have the coveted guard intrigued.
"I think Coach Crean did a great job with the program," Robinson said. "Knowing that they fell off for a couple of years, now that they're back on the map, I think that plays an important factor because I think I'm going to be looking for a school that may be in the top 25. They might be a good fit for me. Knowing the way they play, I think their system could fit me, fit my style."
That style of play, according to Robinson, includes attacking the basket relentlessly with the purpose of scoring the ball.
"I'm a scoring guard that can get to the rim at will," he said. "I like to play above the rim. I'm a rebounding guard and a defensive guard as well. I like to defend."
The Indiana staff was expected to travel this week during the current contact period to take a look at Robinson, but he suffered a broken nose on Friday night and will likely be limited for a couple of weeks. The rising senior is expected to undergo surgery today and expects to wear a mask upon his return to the court.
Robinson said he plans to contact Crean soon to talk about setting up a visit. It's possible the staff will get several looks at Robinson this summer as he plays alongside BeeJay Anya, another IU recruiting target, on Team Takeover, a D.C. based Nike AAU program. Current IU guards Maurice Creek and Victor Oladipo both played with Team Takeover.
"BeeJay and I have known each other since we were nine or ten years old," he said. "We've been playing on the same (AAU) teams, even before (Team) Takeover, we've been on the same team before. We don't know quite yet how the recruitment could play out because me and him have a lot of the same schools, so we haven't really talked about going to the same school. We've joked around about it, but don't know quite yet."
Filed to: Stanford Robinson