Q & A: 2016 North Central guard Eron Gordon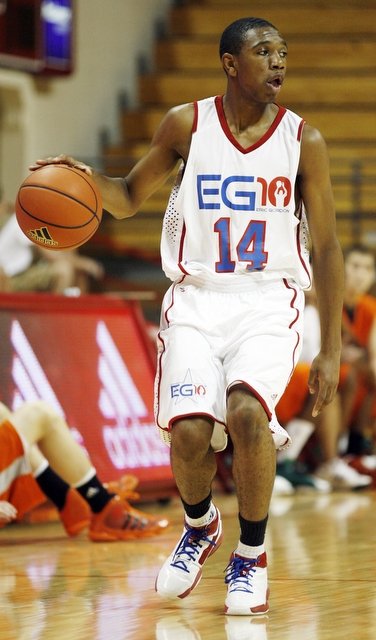 Indiana didn't wait long to make a move on one of the state's top class of 2016 prospects.
The Hoosiers have extended a scholarship offer to future North Central guard Eron Gordon (per Kyle Neddenriep of The Indianapolis Star), the younger brother of former Indiana and current New Orleans Hornets guard Eric Gordon.
Here's a transcript of an interview with Gordon from over the weekend at the IndyBall.com Shootout in Indianapolis:
On playing for the Eric Gordon 2015 All-Stars:
"I like this team a lot. This our first tournament, and we beat one of the best teams in the country, so I'm pretty happy about that."
On what positon he played during the school year:
"During the second half of the school year I played point guard. I still scored, but not as much."
On his approach to the game:
"I just fill in wherever the team needs me."
On what it's like to play up a year in AAU:
"Yeah, I have always done it my whole life, so it's just basically the same. Guys are just a little bit stronger and a little bit taller."
On how playing up will help him long term:
"Yeah, it helps me in the long run, because most of the time I'm more athletic than my competition. Everyone usually gets caught up to, so as long as you can still play, you're alright.
On the expectations of being Eric Gordon's younger brother:
"I just don't really pay too much mind to it. I just play and just play as hard as I can and hope that I can be better."
On advice he's received from Eric:
"Basically just play as hard as you can and just never give up in games, just keep on playing win or lose."
On where his confidence comes from:
"Just playing with my brothers and basically just playing with older guys."
On playing next season at North Central:
"Yeah I'm looking forward to it. I've already practiced with the team in open gym and stuff, and I know everybody cause they all went to the same middle school as me."
School list: Gordon is also being recruited by Purdue, Michigan, Michigan State, Wisconsin and Ohio State.
(Photo credit: The Herald-Times)
Filed to: Eron Gordon