Verdell Jones III undergoes successful knee surgery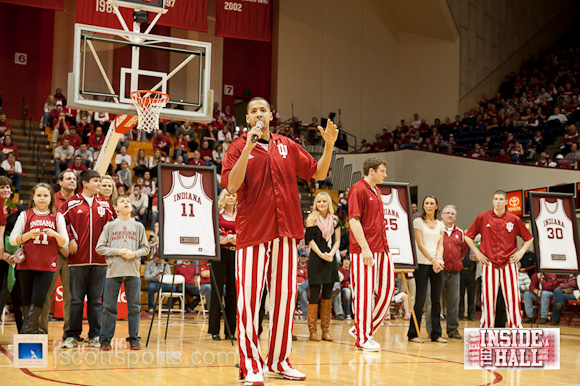 Per a release from Methodist Sports Medicine, Indiana senior guard Verdell Jones III underwent successful knee surgery to repair a torn right ACL on Friday. Jones suffered the injury in Indiana's 75-58 win over Penn State in the Big Ten Tournament on Mar. 8.
Here's the full release:
Indianapolis, Ind. – March 30, 2012 – Indiana University senior point guard Verdell Jones, III underwent successful surgery to reconstruct a torn anterior cruciate ligament in his right knee.

The surgery was performed by Thomas Klootwyk, MD of Methodist Sports Medicine / The Orthopedic Specialists in Indianapolis. Jones sustained the season ending injury during the first round of the Big Ten Men's Basketball Tournament in Indianapolis March 8.

Jones, who will graduate this spring, was a key member of the rebuilding process of the IU basketball program and helped the Hoosiers to their first NCAA tournament berth in four seasons.

About Methodist Sports Medicine / The Orthopedic Specialists Methodist Sports Medicine / The Orthopedic Specialists, a partner of Indiana University Health, is Central Indiana's premier provider of comprehensive orthopedic services and has built its reputation on excellence in orthopedics and sports medicine for more than 25 years. Official team physicians for many high schools, college and professional teams, including the NFL's Indianapolis Colts, 100 percent of the group's orthopedic surgeons are fellowship trained, board certified and leaders in new technologies, procedures and research. For more information, please visit www.methodistsports.com.
Jones averaged 7.5 points, 3.2 assists and 2.9 rebounds in 24.5 minutes per game in his final season for the Hoosiers.
(HT: The Hoosier Scoop)
Filed to: Verdell Jones