Ferrell dishes out eight assists in McDonald's win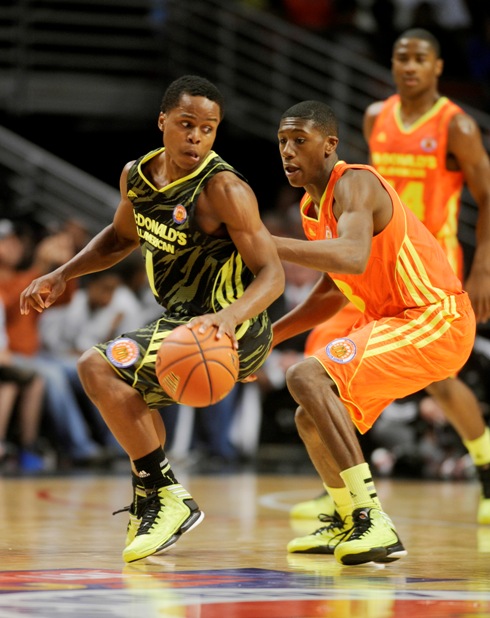 Indiana's point guard of the future — Kevin "Yogi" Ferrell — showed off his ability to distribute in Wednesday's McDonald's All-American game at the United Center in Chicago.
Ferrell, one of the front runners to win the Mr. Basketball award, dished out a team-high eight assists in the West's 106-102 over the East.
He added three points (1-of-8 shooting, 1-of-3 from the foul line), one rebound, one block and a steal in a total of 22 minutes.
Here's what Scout.com national analyst Brian Snow had to say about the performance:
Ferrell showed off his trademark quickness and even hit a corner jumper. However he missed what is usually the strength of his game, mid-range jumpers. Ferrell however did do a pretty good job of finding players in transition and dropped several assists, leading the game in that category.
Kyle Neddenriep of The Indianapolis Star also caught up with Ferrell after the win to get his thoughts:
"The game was great. It was really hard shooting in here, I noticed that. Only made one shot, but I did have a few assists here and there. It was a lot of fun."
Ferrell, who was originally expected to play in Sunday's All-American Championships in New Orleans, is no longer listed on the North roster for that event. The game will feature Hanner Mosquera-Perea and Jeremy Hollowell and will be broadcast live on ESPN3.com at 4:30 PM ET with a replay at approximately 10:30 PM ET on ESPNU.
Here's a link to our Q & A with Ferrell from Tuesday's McDonald's All-American media day.
(Photo courtesy of the McDonald's All-American game.)
Filed to: Yogi Ferrell