With a movement on the horizon, these Hoosiers delivered a revival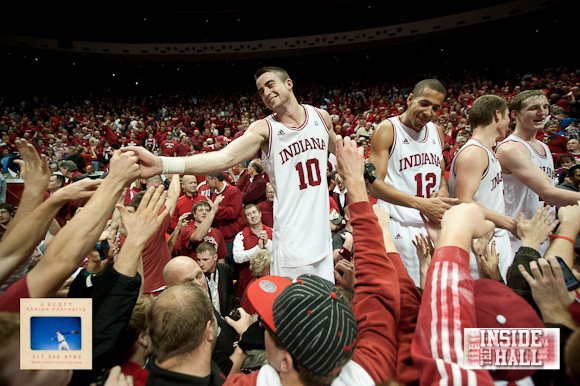 The unforgiving reality of the NCAA Tournament was just beginning to rear its head inside Indiana's locker room at the Georgia Dome in the early hours of Saturday morning.
Just six days earlier, the Hoosiers were riding a feeling they'd never experienced before in the Rose Garden in Portland.
The two scenes had few similarities.
In the first, smiles, hugs and excitement for what was ahead were on full display.
The second scene, however, fell at the opposite end of the spectrum. Eyes swollen from tears and looks of disappointment and sadness that the journey was finally over filled the room.
Welcome to March for every team besides the one who is fortunate enough to cut down the nets next Monday night in New Orleans. Ultimately, the journey ends with a feeling of emptiness for 67 teams.
So it's with that premise that we're forced to step back from that emotion and do our best to place perspective on the last five months rather than the final 40 minutes.
The 2011-2012 Indiana Hoosiers didn't win a Big Ten championship. They didn't reach a Final Four or win a national championship, either.
Historically, those are two feats that serve as measuring sticks of accomplishment for this program.
But in this season that was supposed to be one of transition and improvement, this group catapulted Indiana basketball back to the forefront of the national spotlight. Twelve wins to 27 wins with two coming over a pair of Final Four teams.
Who saw this coming? Save for the players and coaching staff, no one.
"Coming into it, I don't think people thought we would be as good as we were," Victor Oladipo said. "We knew we'd be good, but sometimes it was only us that knew we'd be as good as we were."
Overshadowed, underestimated and disrespected many times throughout the way, this is the team responsible for the revival a year earlier than anticipated.
Through those swollen eyes and long faces as they sat in their jerseys they would have liked to wear for 120 more minutes, the sense of family and togetherness that existed all season shined through brighter than ever. As each player spoke from the heart, it became clear just how tight knit they had become.
"The seniors, they're my best friends," Will Sheehey said, holding back tears as he attempted to find the right words. "I'll never have more fun playing basketball with anybody but those guys."
One by one, around the room, the same themes and sentiments were expressed. There was talk of family, togetherness and gratitude for the five seniors who laid the foundation beginning in the early summer of 2008.
"This squad was very special," Derek Elston explained. "Who knows if you'll ever get a squad like this (again). The seniors, there's just something special about them. From Kory (Barnett) to Dan (Moore), the guys who really don't play a lot, to Verdell (Jones) and Tom (Pritchard) who get in there all the time. We shared a lot of laughs, we shared a lot of tears with this team."
What made this season of Indiana basketball so magical was just how drastically they flipped the switch from the basement of the Big Ten to the Sweet 16.
After a limp to the finish line in the spring of 2011 that ended with nine straight losses, this team started with 12 straight wins, including an unforgettable buzzer-beating moment against No. 1 Kentucky at Assembly Hall on Dec. 10, 2011.
"We all believed in one another once we ended last season and started our summer workouts," Jordan Hulls said. "We all really believed that we could get where we wanted to be. It was a great season as far as wins, obviously, but more importantly, how we came together as a team and won every game a different way and fought through adversity.
"We're not satisfied with the outcome and losing tonight, but looking back on it, we have a lot of things to be proud of."
The discussion, as is the nature in sports, will undoubtedly switch to "The Movement," and the next steps for this program in the coming weeks.
But the ascent is already underway.
"It was an uphill climb that we had this year," Tom Pritchard said, sitting in front a locker and wearing his No. 25 jersey for the last time. "We had a bunch of big wins, making it to the (NCAA) Tournament was a big deal. The Sweet 16 feels great, but we really wanted to win that game.
"I know these guys are going to look back at this (the Sweet 16 loss) and use it as fire to keep getting better and be more successful next year."
Oladipo, sitting just a few chairs away from Pritchard, couldn't help but to express his gratitude for being a part of the Indiana family.
"I'm glad where I'm at. I love these fellas," he said. "I love my teammates. They're all my brothers. I'm gonna be at all their weddings."
Filed to: 2012 NCAA Tournament