Film Session: The final stretch
The Hoosiers cut Kentucky's lead to just five points with 5:14 to go in their 102-90 loss on Friday night. But that's as close as they would get as the Wildcats outscored Indiana 20-13 the rest of the way out.
A look at how the Hoosiers cut the deficit — and how it was lost  — in this season's final edition of Film Session.
1) Off a baseline inbounds, Jordan Hulls is able to find Cody Zeller: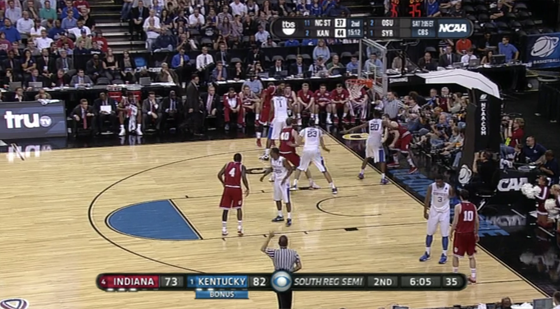 Zeller takes the ball and spins on his right pivot foot: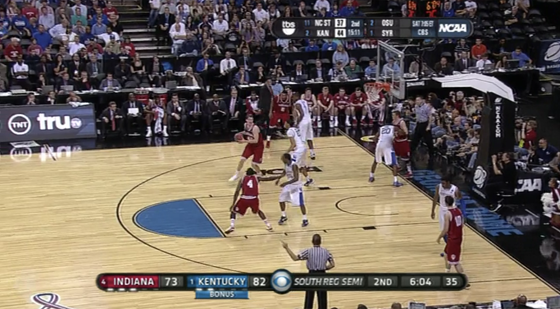 Zeller hesitates and fakes, and Anthony Davis stays straight up and doesn't leave his feet: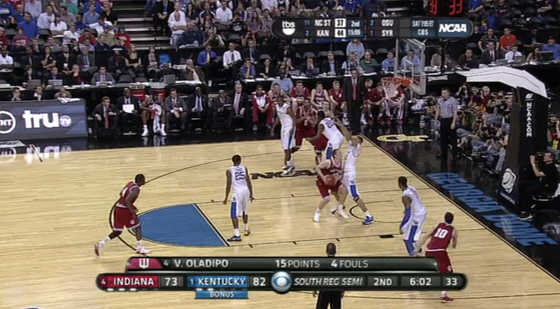 Zeller goes up for the shot with Davis still staying straight up and not leaving his feet. It's a bucket to cut the lead to seven:
Zeller didn't back down from Davis all night and this was yet another example of his ability to score against an elite, lengthy defender. (Though it should be noted that Davis may have been looking to avoid a third foul here.)
VIDEO:
2)
On the ensuing Kentucky possession, Terrence Jones has the ball out on the perimeter with just 12 seconds to go on the shot clock:
Jones looks to make a move into the paint, but Will Sheehey doesn't let him and now he's out on the right wing with just seven seconds left: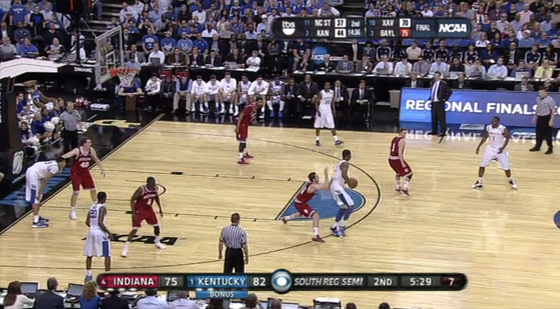 Jones attempts a pass out to Darius Miller: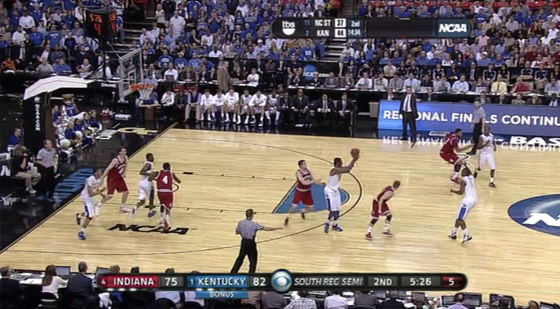 But Christian Watford is able to get his hand in and deflect the ball away for a turnover: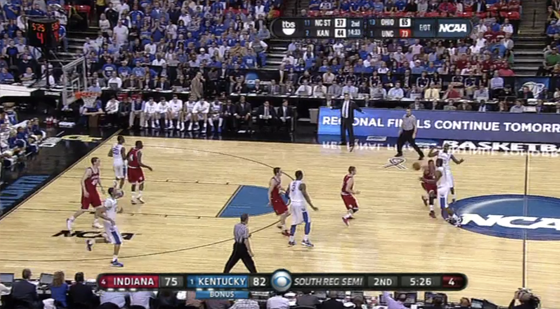 Hulls finds Watford on the left wing: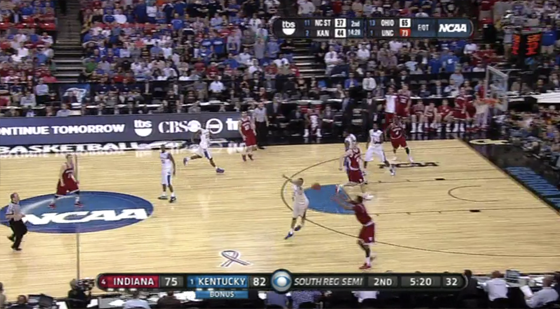 Watford takes it to the paint and gets a shot up over Jones: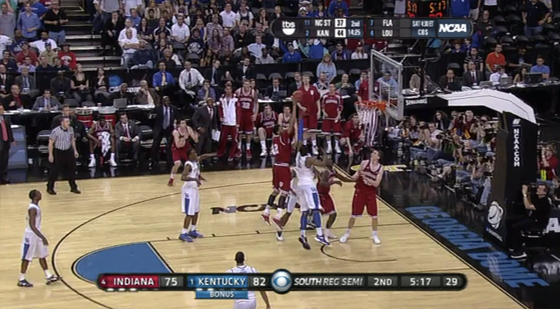 It misses, but Zeller tips it in for two to cut the lead to five: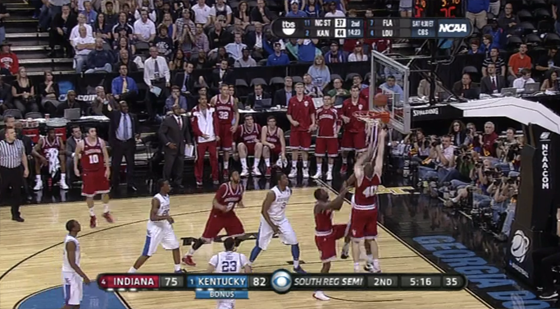 This was one of only six Kentucky turnovers and two of only eight points off turnovers for the Hoosiers. Stops didn't come often in this game for Indiana, but this one allowed them to draw close in the final minutes.
VIDEO:
3) 
After Victor Oladipo's fifth foul sent Doron Lamb to the line where he made two free throws to put the Wildcats back up seven, the Hoosiers came up empty on their next possession, as Watford missed a three which would have cut the lead to four.
Then this happened.
Michael Kidd-Gilchrist finds Marquis Teague on the wing: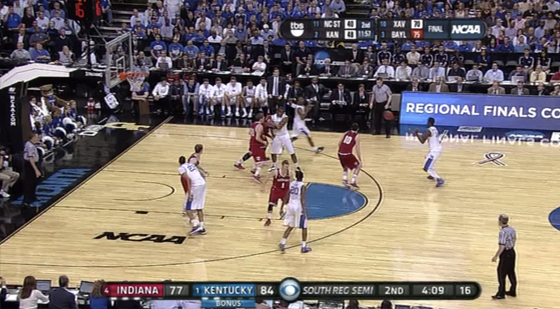 Miller sets a pick for Teague: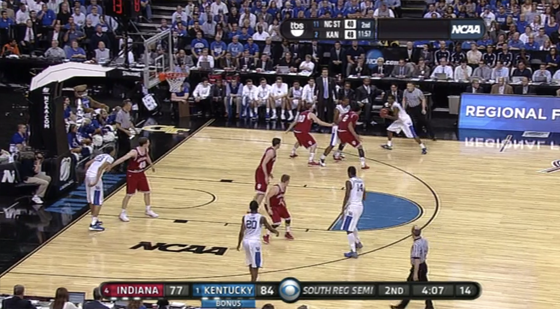 Teague eventually kicks it to Miller: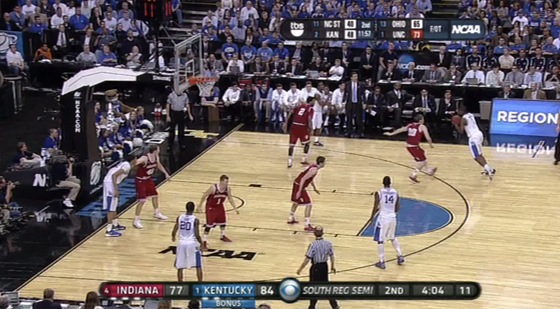 Miller easily makes a move to get by Matt Roth as Watford goes for a swipe: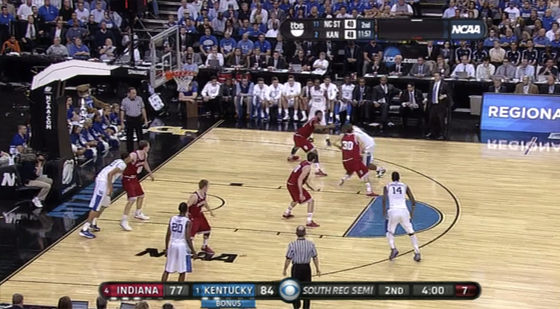 Miller scores to put Kentucky up nine: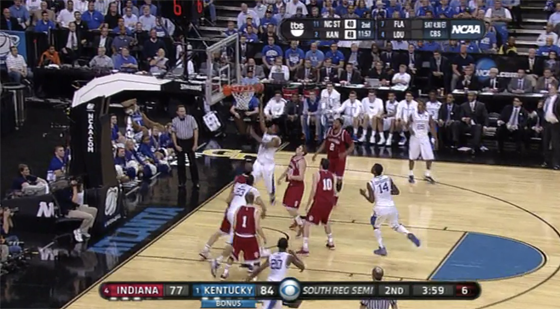 This was one of several times when Kentucky's athleticism was able to take it right at Indiana's defense off the bench. And from here on out, Kentucky continued to draw fouls and keep it out of reach from Indiana. In the final four minutes, the Wildcats hit 14-of-14 from the line, and Indiana was never able to cut it closer than seven.
VIDEO:
Filed to: 2012 NCAA Tournament, Kentucky Wildcats