The Minute After: Kentucky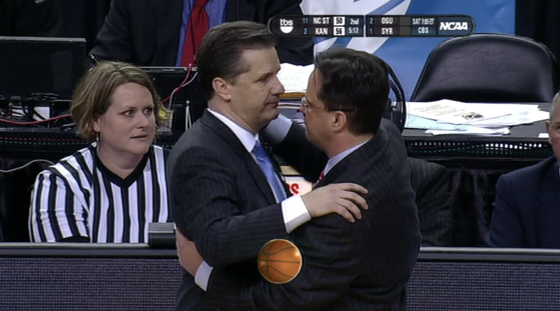 Thoughts on a 102-90 loss to the Wildcats:
The road ends here in Atlanta, the Hoosiers running out of gas against a matured and supremely talented Kentucky squad that was just too much.
But what a way to finish, what a way to go down swinging. This game was the height of college basketball entertainment; two storied programs with top five offenses in the country putting on a show. Christian Watford hit some incredible stepbacks and played with no fear. He scored 17 in the first half and ended the contest with 27 points on 9-of-20 shooting. Cody Zeller went after Anthony Davis early and got him into foul trouble. Tonight was not a night where we're left to wonder what could have been if Zeller got more touches. He got plenty tonight, scoring 20 points on 9-of-14 shooting. Davis has a higher ceiling, is more jaw-dropping. But Zeller is the more skilled and complete player of the two at this crossroads in their careers. They'll meet again at the next level.
Victor Oladipo was able to be effective driving to the hoop tonight despite the Wildcats' strong interior D, and finished with 15 points on 6-of-8 shooting. But he fouled out with 4:49 to go and Indiana was down an offensive weapon for the remainder.
And really, that's a lot of what it came down to inside the Georgia Dome: Kentucky using its athleticism to draw fouls. The Wildcats got to the line at a high rate (57.8 free throw rate) and they shot lights out (35-of-37, 94.6 percent). For the game, 34.3 percent of Kentucky's points came via freebies. Beyond Oladipo, Will Sheehey also fouled out, Watford had four fouls and Zeller and Hulls each had three a piece. And when Zeller and Oladipo had to sit, Kentucky took advantage of Indiana's defense off the bench. Marquis Teague went after Remy Abell. Terrence Jones had his way with Tom Pritchard. Darius Miller went right around Matt Roth.
And so while playing the Wildcats just about even in the first half thanks to Davis riding the pine with two fouls and some blistering shooting from the Hoosiers (62.5 eFG%), the second half found the Wildcats always just a bit out of reach for Indiana. Kentucky stretched the lead to 10 at the 10:26 mark, and the Hoosiers really never seriously threatened the rest of the way, only getting as close as five with 5:14 to go before Kentucky shot it back up into double-digits to close it out by a margin of 12.
Step outside the immediate disappointment of defeat and look at this season as a whole: It's been one to cherish. Few believed this team had the chops to arrive back on the national stage; it was supposed to happen next season. But the Hoosiers cruised out to a 12-0 start before Big Ten season, winning on the road (N.C. State, Evansville) and beating No. 1 Kentucky along the way. Picked to finish at the bottom of the Big Ten, the Hoosiers claimed fifth, beating No. 2 Ohio State and No. 5 Michigan State in the process.
They made quick work of New Mexico State in the first round, completed a thrilling comeback against VCU in the second and played a Kentucky team about as well as they could in the Sweet 16. This was a surprising, inspiring rebirth of a program. Tom Crean deserves much credit for this 27-9 season, as do his players for sticking it out and seeing this through.
The Hoosiers are unlikely to lose any significant offensive contributors heading into next season. They will add a McDonald's All-American point guard in Yogi Ferrell to the fourth-most efficient offense in the country along with a host of other strong recruits.
"The Movement" is now officially on the way, and the Hoosiers are already back and here to stay.
Filed to: 2012 NCAA Tournament, Kentucky Wildcats