Kentucky's free throws prove to be the difference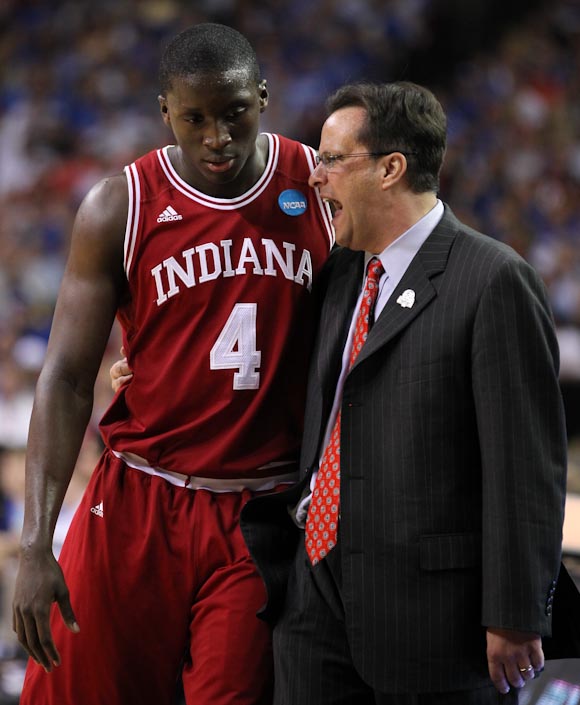 When Indiana upset then-No. 1 Kentucky at Assembly Hall on Dec.10, Wildcats coach John Calipari pointed to his team's missed free throws as a reason for their loss.
Kentucky made only 10-of-17 shots from the charity stripe that day, while the Hoosiers missed only three of their 17 attempts.
Friday night's Sweet 16 rematch was a different story.
No. 1 seed Kentucky made a blistering 35-of-37 at the line, outscoring the fourth-seeded Hoosiers 35-13 in that department. When Tom Crean and the Hoosiers tried to get back in the game by fouling late, Kentucky went to the line and made 14 consecutive free throws.
"I couldn't imagine a game like this having a free throw discrepancy of 20," Crean said. "It is what it is. We did a lot of good things. They shot 20 more free throws. That's the game."
While Kentucky seemed to feel right at home at the foul line, the Hoosiers had their struggles. Christian Watford had a chance to put Indiana up six late in the first half, but he missed the front end of a 1-and-1. Derek Elston also missed the front end of a 1-and-1 in the first half.
The free-throw battle was a big factor in the first meeting, and it was an even bigger factor on Friday.
"As you're playing, you know they're just making them," Watford said. "I didn't really know what their percentage was during the game. They drove the ball strongly when they got to there to the line, and they'd knock them down."
No defense for Kidd-Gilchrist
When Cody Zeller got in early foul trouble for the Hoosiers, Crean made the decision to have Tom Pritchard play off of his man, Michael Kidd-Gilchrist. Pritchard stood near the edge of the lane as Kidd-Gilchrist hovered near the 3-point line with the ball. He settled for the first couple open jumpers he saw, but then began to attack the basket.
When he did that, the Hoosiers literally had no defense for him. Kidd-Gilchrist finished with 24 points and 10 rebounds.
"I don't know if you noticed, they didn't have a man on him," said Kentucky coach John Calipari. "I just told (Teague), 'give it to him. Shoot it.' He shot one and waited. I said, 'give it to him again.' … He's a good shooter."
The majority of Kidd-Gilchrist's damage, though, had nothing to do with shooting. He went to the offensive glass with reckless abandon in the second half, and repeatedly got easy put backs after Indiana's defense had played deep into the shot clock. Six of his 10 rebounds came on the offensive end.
Hoosiers say goodbye to seniors
The road is over for the five seniors that stuck with the Indiana program when no one else would.
Even though Crean said the Hoosiers left it all out on the court, the team's underclassmen had a difficult time coming to grips with the fact Pritchard, Matt Roth, Verdell Jones, Kory Barnett and Daniel Moore will never wear the candy stripes again.
When sophomore Will Sheehey was asked what this senior class has meant to him, he sat for a moment, speechless. Sheehey then dropped his head, and when he came back up to talk, tears filled his eyes.
"They're my best friends," Sheehey said, his voice cracking. "I'll never have more fun playing basketball with anybody but those guys over there."
Filed to: 2012 NCAA Tournament