The Minute After: New Mexico State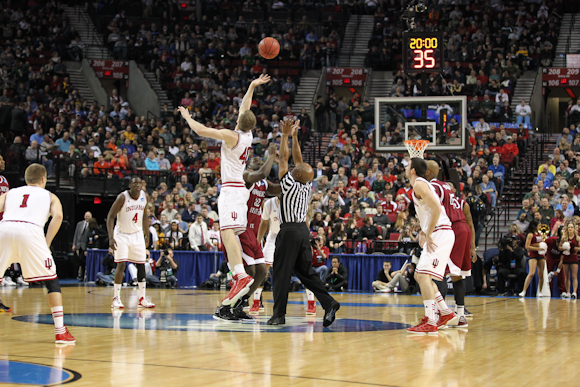 Thoughts on a 79-66 win against the Aggies:
This season has been a series of tests for the Hoosiers.
An upset of No. 1 Kentucky had people intrigued. But doubts lingered. Could they win on the road in the Big Ten?  Could they win in the Big Ten? Wins against No. 2 Ohio State and No. 5 Michigan State followed. So did a respectable road record. The Hoosiers answered those bells.
And so here they stood at the Tournament's door, ready to enter for the first time in four years in this season of rebirth, and people paid to comment on this game and those filling out brackets were picking against the Hoosiers. "Their guards aren't athletic enough."  "The Hoosiers still concern me away from Assembly Hall."  "They don't do well out West, either." "New Mexico State rebounds and gets to the line a lot."
When you come from the depths, sometimes you need to do a lot to prove yourself.
But tonight was another test passed, another resounding chorus to basketball fans far and wide in this country: Indiana belongs here. This is no fluke. Indiana simply outclassed New Mexico State on both ends of the floor this evening. The Hoosiers were the better team.
In the first half, that bulldozer transition offense, one started by defensive deflections and steals and 13 New Mexico State turnovers, was red hot. Cody Zeller ran ahead of everyone and got dunks. Jordan Hulls and Christian Watford hit threes. Things lulled to end the half after so much go-go-go, and Indiana ended up scoring 1.01 point per possession, down from 1.33 points per possession during the high efficiency period of the half. New Mexico State found rhythm, and stymied the Hoosiers a bit. So Indiana entered the locker room with a seven-point advantage (35-28) and the Aggies still within striking distance.
But Indiana kept coming in the second half. The lead blossomed to 21 on the strength of Hulls, who could not miss and scored 22 points this evening. He's worked for this moment his entire life and delivered in a big way. Easy baskets around the rim for many Hoosiers, too. New Mexico State was able to cut it into the mid-to-low teens by slowing down Indiana's transition offense and turning it into a half-court game. But Indiana simply made the adjustment and matched them shot for shot, not allowing the lead to slip into single-digit territory and closed this one out with a 13-point victory.
Indiana just didn't allow the Aggies to dictate this game for long stretches or play their game. Coming into this one, New Mexico led the nation in free throw rate at 52.8. It registered at only 20.4 this evening. They shot just 10 free throws. The Aggies were the fourth-best offensive rebounding team in the country (40.28OR%). They snagged 33.3% of their misses this evening.
So yes: Another test passed. But a larger one looms Saturday. Do not sleep on VCU. The Rams made the Final Four last season. They appear to have a terrific young coach, one that has them playing frantic, disruptive defense. Ken Pomeroy ranked Witicha State No. 10 in the country heading into tonight's game against VCU. The Rams emerged victorious in a close one, making big plays down the stretch.
See you Saturday, Shaka Smart.
Filed to: New Mexico State Aggies