A look at New Mexico State by the numbers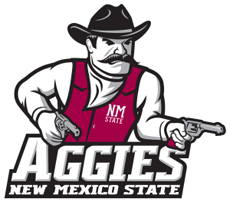 With an assist from Ken Pomeroy, here's a look at how the Aggies stack up in the tempo-free world:
OFFENSE
They are a good, but not great, offensive squad. Their adjusted offensive efficiency of 107.6 (points scored per 100 possessions adjusted for pace) ranks 67th. (For comparison, Indiana's mark of 120.2 ranks fourth in the nation). This also is not an elite shooting team, as their eFG% of 50.7 ranks 102nd among Division I squads. The Aggies are also a bit sloppy with the ball (20.7 TO%, 198th), but this could be due a bit to their faster adjusted pace (70.9 possessions per game, 19th in the nation). But as has been noted before, this team does excel in two important four factor areas: Offensive rebounding and getting to the line. Only three teams in the country have rebounded a higher percentage of their misses than the Aggies, who have snagged an impressive 40.8 percent of their missed shots. And no team in the country has gotten to the line more this season, as the Aggies free throw rate of 52.8 (FTA/FGA) ranks first. Yet, they're only connecting on 66.4% of their attempts from the charity stripe.
As such, it's shaping up to be a game in which Indiana is going to have to bring high energy from the start to combat a fast-paced Aggies squad that gets after it on the boards and makes it to the line with great frequency.
DEFENSE
Again: Good. Not great. New Mexico State is allowing 95.5 points per 100 possessions (adjusted for pace), good for 68th in the nation. And its opponents are shooting decent enough (47.8 eFG%, 128th in the nation). They've defended the 3-pointer pretty well (allowing just 32.0% shooting there, ranking them 68th). And they're not just a strong offensive rebounding squad. By allowing opponents to rebound 29.4% of their misses, just 62 have allowed less offensive boards for their opponents. Pomeroy lists the Aggies as a mostly man squad in his defensive fingerprint section, so they're unlikely to throw any type of gimmicky 1-3-1 zone at the Hoosiers.
Filed to: New Mexico State Aggies