Jones injures knee in Penn State win, status unknown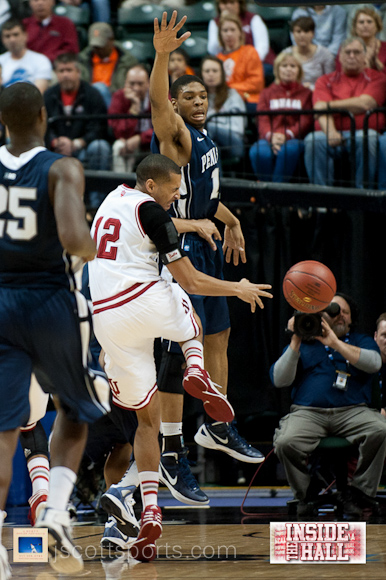 Verdell Jones has worked for four years to help Indiana get back to the NCAA tournament.
Just as the Hoosiers are about to do so, it appears Jones may not be part of it.
The Indiana senior went down with a right knee injury in the first half Thursday against Penn State. A team spokesperson said Jones suffered a right knee sprain and was going to be further evaluated, but it looked more serious than that.
On his postgame radio show, Indiana coach Tom Crean got emotional and began to cry when talking about Jones.
"I'm going to keep holding on to that hope, but I don't obviously feel good about that," Crean said. "The initial of just watching him in pain, that's hard. There's no worse feeling than when your own children are sick or hurt, and it's really a lot like that when you coach.
"It's in the doctors' hands. It's in God's hands. And we're going to just absolutely hope for the best with him."
Jones came to a jump stop near the free-throw line, and then fell to the floor in pain with just under six minutes remaining in the first half. He was tended to for the next five minutes before being helped to a wheelchair by teammates Austin Etherington and Kory Barnett. Jones didn't put any weight on his right leg.
"It's unbelievably painful, just for him and his family," Barnett said. "After how hard he's fought, it's not fair."
After Jones' injury, the Hoosiers (25-7) seemed to play with more energy. But even as they cruised to a 75-58 first-round win, Crean said the team could feel Jones' absence.
"There's no question that we missed him," Crean said. "I could feel it, not just the emotional part of it during the game, but I could feel it when he's not in there."
If Jones isn't able to come back and play this season, it won't be a totally new experience for the Hoosiers. Jones missed two games with a shoulder injury in early February, and Indiana won both of those games.
Freshman Remy Abell stepped up in Jones' absence at Purdue on Feb. 4. Abell scored 13 points on 5-of-6 shooting, including a late 3-pointer that effectively put the game away. If Jones can't return, Abell knows he must be ready again.
"It's happened before, so when I come in, it won't be a big surprise to me," Abell said. "When Verdell was out, I had to come in and step up for the team. I'm just going to be ready when my name gets called."
Still, though, it won't be easy to replace Jones. Beyond his 8-point per game production, Jones' leadership and ability to create his own shot are things the Hoosiers won't easily be able to replicate.
"Verdell will never be replaced. You cannot replace Verdell Jones," said junior forward Derek Elston. "But as we've been saying all year, it's the next man up. Everybody's really confident coming off the bench. It doesn't matter who starts, it's about coming in and playing your role."
Filed to: Tom Crean, Verdell Jones