Izzo: Hoosiers better because of Zeller, Oladipo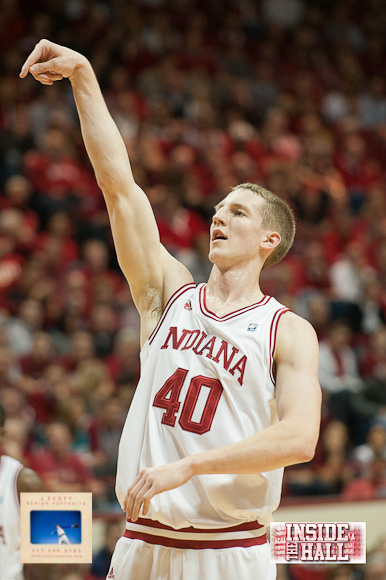 Michigan State coach Tom Izzo coached against Indiana in the first game of the Big Ten season on Dec. 28, an 80-65 home win for his Spartans. So there may be no better person to analyze the Hoosiers' development over the course of the conference season than Izzo.
The way he sees it, Indiana has gotten better because of two players: Cody Zeller and Victor Oladipo.
"Zeller has really improved his game," Izzo said during his Big Ten teleconference Monday. "He's so much better with the ball in the post, not only as a ball handler, but he's become a much better passer.
"And Oladipo has stepped up his game enormously. He's got the ball in his hands a little bit more and is really doing some good things with it."
Both Zeller and Oladipo struggled in the first meeting with the Spartans. Zeller had only four points and three rebounds, and Oladipo scored 10 points on an inefficient 13 shots. If the No. 18 Hoosiers (22-7, 9-7) are going to upset No. 5 Michigan State (24-5, 13-3) tonight at Assembly Hall, they are going to need more production from both players.
For Zeller, the game is a chance at redemption. He got pushed around by Adrian Payne and Derrick Nix the first time around, and he looked like a freshman for one of the few times all season.
"I think he learned a lot, and I think he showed that in the next game against Ohio State," Indiana coach Tom Crean said on the Big Ten teleconference. "I've never been around a freshman like him that is so good at impacting the game from so many different ways. … Cody affects the stat sheet, but he really affects the game in ways that don't come through on the stat sheet."
Zeller might get a break if Nix, a 270-pound forward, has to miss the game due to injury. Nix suffered a sprain to the arch of his right foot in Michigan State's 62-34 win against Nebraska on Saturday. Izzo said he is "definitely concerned" about Nix's availability tonight.
"It's not the kind of body and kind of skill (type) that can (play on a bad foot)," Izzo said. "I mean he's tough enough to play injured, but in that area (the foot) … so I'm concerned about it."
While the Hoosiers need some offensive production from Oladipo, his effectiveness on the defensive end may be even more important. He'll likely draw guard Keith Appling for stretches of the game, a guy who had 25 points, six rebounds and seven assists in the teams' first meeting. Appling's minutes have been up recently with backup point guard Travis Trice missing the last four games with a sprained right ankle. Since Trice's injury, Appling has played an average of 34.5 minutes, up from 29.2 in the four previous games.
"He has got the speed and quickness, but also the ability to make the next play," Crean said of Appling.
"They're unique. They don't take possessions off. In the eye of the storm, it doesn't matter what the situation is, they always believe that they are going to win it."
And they usually do. The Spartans, winners of seven straight games, are one of the nation's hottest teams. During their current win streak, they've beaten Ohio State, Wisconsin and Michigan, and they've won all but one of the games by double figures.
They can clinch an outright regular season Big Ten championship with a win tonight.
"They really seem to be clicking on all cylinders," Crean said. "It all comes down to the rebounding and the running and all the things they do very well. You have to match that."
Filed to: Cody Zeller, Michigan State Spartans, Tom Izzo, Victor Oladipo