Big Ten Power Rankings: Week 10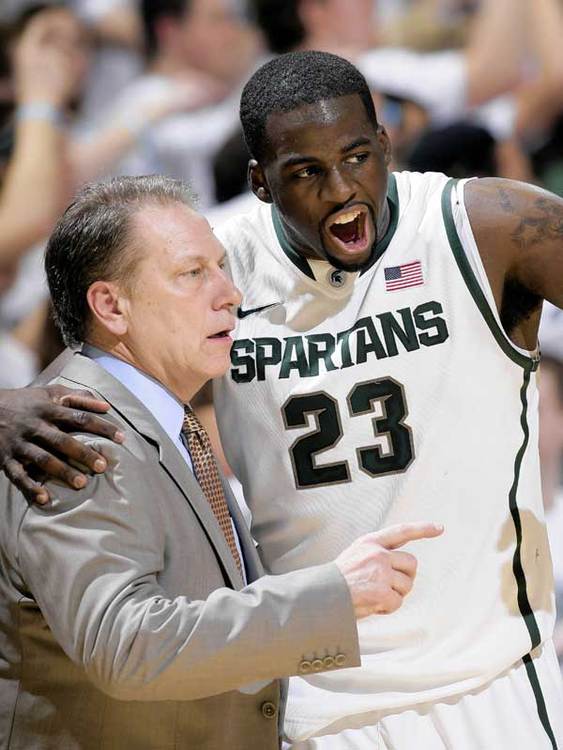 It's that time of the year again. As Big Ten teams finish their conference schedules, you'll see "bubble" teams in full desperation mode (Northwestern, for example), other teams who will fold and prepare for the offseason (Minnesota, anyone?), and contenders who will make a final push at a conference crown.
While Michigan State has the Big Ten title all but wrapped up after Ohio State's loss to Wisconsin, there are still plenty of teams jockeying for position for the conference tournament. This week's edition of the power rankings features a bit of a shake-up near the top that just might surprise you.
12. Nebraska (12-15, 4-12) (LAST WEEK: 10)…It's still hard to believe Indiana lost to this team. The Cornhuskers had a rough week on the road, losing to Purdue and Michigan State by a combined 46 points. Against the Spartans, they scored only 34 points.
11. Penn State (12-17, 4-12) (LAST WEEK: 11)…Tim Frazier continues to be one of the conference's most impressive players, but the Nittany Lions will likely drop their final two games and get the 12-seed in the conference tournament. They lost a one-point game against Northwestern last week.
10. Minnesota (17-12, 5-11) (LAST WEEK: 9)…The Golden Gophers stuck around for awhile after losing star Trevor Mbakwe, but they've really struggled of late. They made far too many careless errors in Sunday's loss to Indiana, their fifth consecutive defeat.
9. Illinois (17-12, 6-10) (LAST WEEK: 12)…They're still a far way from making the tournament, but the Fighting Illini's win against Iowa on Sunday did snap a six-game skid. If they end up in the 8-9 game in the conference tournament, they'd have to see the top seed in the second round.
8. Iowa (15-14, 7-9) (LAST WEEK: 8)…The Hawkeyes won back-to-back home games against Indiana and Wisconsin, but they continue to be dreadful away from Carver-Hawkeye Arena. Their 65-54 loss at Illinois on Sunday was their sixth straight on the road.
7. Northwestern (17-11, 7-9) (LAST WEEK: 7)…They had their hearts ripped out in an overtime loss to Michigan, but the Wildcats responded with a huge win at Penn State. ESPN's Joe Lunardi said "the Wildcats just might make it," but it won't be easy. They likely need to win at least one of their last two against Ohio State and at Iowa.
6. Michigan (21-8, 11-5) (LAST WEEK: 3)…It's kind of a far drop after only one loss, but the Wolverines didn't look good in either of their last two games. They needed overtime to beat Northwestern, and they lost by 14 points to Purdue at home. On a neutral court, I think Indiana and Purdue are better than Michigan.
5. Purdue (19-10, 9-7) (LAST WEEK: 6)…Ryne Smith said getting rid of Kelsey Barlow was "addition by subtraction," and that sure seems to be the case. The Boilermakers won two games by double-figures last week without Barlow, including an impressive road victory at Michigan. They should beat Penn State at Mackey Arena before the season finale in Bloomington.
4. Indiana (22-7, 9-7) (LAST WEEK: 5)…Christian Watford and Jordan Hulls picked a good time to come out of their shooting slumps. Both played better at Minnesota on Sunday when they combined for 24 points on 50 percent shooting. The Hoosiers will need both Watford and Hulls to play well if they're going to beat Michigan State and Purdue at home this week.
3. Ohio State (23-6, 11-5) (LAST WEEK: 2)…What's wrong with the Buckeyes? They're as talented as any team in the conference, but they've dropped three of five and still have to go to Michigan State to close the season.
2. Wisconsin (21-8, 10-6) (LAST WEEK: 4)…There's no quit in the Badgers. Even though they'd lost three of five, they went to Columbus and beat Ohio State. Wisconsin withstood numerous Buckeye runs and made clutch shots down the stretch. With two home games remaining against Illinois and Minnesota, the Badgers should finish 12-6 and could be as high as a No. 2 seed in the Big Ten tournament.
1. Michigan State (24-5, 13-3) (LAST WEEK: 1)…Other than Kentucky, the Spartans might just be the hottest team in the country. They've won seven straight games, with all but one of them being double-digit victories. Draymond Green is playing like the Big Ten Player of the Year, and Michigan State is rolling.

Filed to: Big Ten Power Rankings