The Minute After: Minnesota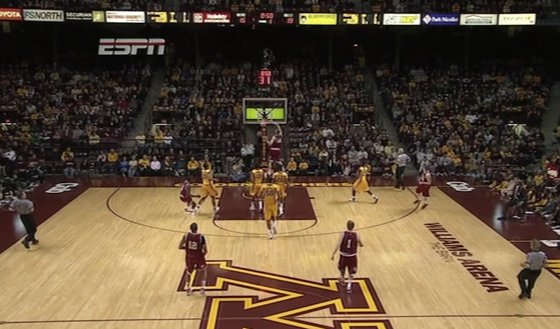 Thoughts on a 69-50 win against the Golden Gophers: 
An easy Big Ten road win?
It happened this afternoon inside The Barn.
The Golden Gophers just didn't bring much. They were listless and disinterested and it showed in a myriad of ways. Little movement on offense and poor shooting. (Their 50 points and 31 percent FG% were both season lows. They only scored .72 points per possession.) Lackadaisical defense. (Indiana got some easy transition looks when Minnesota didn't get back. The Golden Gophers also lost IU players in the half court at times.) And their fans in the stands didn't have much life, either. Couple all this with an Indiana squad that came ready to play and got several strong performances in a balanced offensive attack, and it was all a recipe for an easy double-digit win.
Welcome back to the program, Christian Watford. After being bogged down in a slump the last few contests, Watford got back into the flow on offense. Though he was only 2-of-4 from the field, Watford was aggressive and got to the line seven times. He hit them all and finished the game with 12 points and six rebounds. IU is now 9-2 when Watford gets to the line five times or more.
Jordan Hulls returned to form as well. He's been timid to get shots up of late, but took eight of them this afternoon. He connected on four (two of which were 3-pointers) to tie Watford and Victor Oladipo with a team-high of 12 points. Oladipo is still a little wild at times in his more unleashed role (five turnovers, yeesh), but the DeMatha product continues to pump in the points (4-of-7 from the field, 4-of-4 from the line). Verdell Jones also had a nice offensive game to round out IU's balanced attack. He had 11, which included a rare dunk and 3-pointer.
The Hoosiers are at their best when they're getting to the line and converting, and that was certainly the case today. Their free throw rate was 52.1; they hit 21-of-25 from the line (84.0 %). Indiana was also opportunistic on the break, outscoring Minnesota 8-0 in that category. And had they not been as sloppy as they were (23.0 TO%, 13 turnovers), this would have been an even bigger route. Same goes for their shooting. Indiana missed some 2's around the hoop that could have pushed this to a bigger win, though they still did score a solid 1.06 points per possession. (Oh, and Matt Roth, who's been so ridiculously good from beyond the arc, only went 1-of-4 this afternoon and even air-balled one of his attempts).
But these are minor quibbles. Indiana came in with the right mindset, executed and emerged victorious in their last Big Ten road contest of the season. Watford and Hulls re-emerged. And now it gets real. Michigan State on Tuesday inside Assembly Hall in what promises to be a battle. Mike Tirico, Dan Dakich and Jay Bilas will be in the house calling the game for ESPN. The Boilermakers seeking revenge on Sunday. The Big Ten Tournament, where Tom Crean remains winless, to follow.
Enjoy this one. Get ready for the battles ahead.
Filed to: Minnesota Golden Gophers