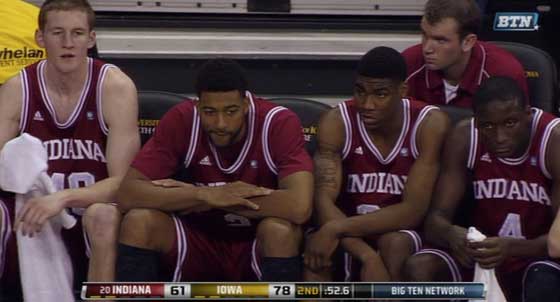 Thoughts on a 78-66 loss to Iowa:
The Hoosiers pretty much got out-everything'ed at Carver Hawkeye Arena on Sunday. Iowa played with an intensity and energy Indiana was just unable to match for most of the contest.
The Hawkeyes hit the offensive boards hard from the start and kept it going all game (40.3 OR%, Melsahn Basabe, Aaron White and Roy Marble each had three). They picked up 19 second-chance points due to this work on their own glass. Iowa also scored 14 points off of Indiana's turnovers (22.0  TO%). The Hoosiers also struggled to put the ball in the basket. Outside of Matt Roth — who went 4-of-4 from beyond the arc — they only mustered a 2-of-12 performance on 3-pointers, and Indiana hit just 37.7% of its twos (43.4 eFG%).
In the first half, Indiana didn't get a lot of active ball movement against Iowa's 2-3 zone and it was one reason it had issues scoring the basketball. Jordan Hulls had just one bucket all game. Christian Watford made one free throw and missed all five of his shot attempts. Verdell Jones went scoreless. Derek Elston (13 points on 4-of-6 shooting), Cody Zeller (15 points) and Victor Oladipo (15 points) were about Indiana's only bright spots on offense outside of Roth. It helped that Oladipo and Zeller each went to the line seven times (Oladipo hit all seven; Zeller made five), an area Indiana was able to beat Iowa tonight (49.1 to 33.3 free throw rate).
But turn the ball over, allow the other team too many second-chance points via offensive rebounding and shoot poorly on the road?  It's a recipe for a loss.
Indiana was able to draw it to within 10 (52-42) at the 8:14 mark in the second half. But Matt Gatens made sure any comeback the Hoosiers were mounting would be short-lived. He hit a three, then another and another and another. Suddenly, Iowa had burst it open to a 19-point lead (65-46) with 4:35 to go and that was about all she wrote. Gatens finished the night with a career-high 30 points, 21 of those points coming on his seven made threes, also a career-high.
Hard to make too much of this. Indiana, for all its improvement this season, just hasn't been able to play consistent enough on the road in the Big Ten to beat teams its capable of beating. The Hoosiers are just 2-6 after tonight's loss. And with their last road contest coming against Minnesota — a team the Hoosiers have lost to already at home — it's possible that victory against Purdue back on Feb. 4 might have been their last conference road win of the season. They also don't exactly have gimmes in their last two conference home games. The Boilermakers will be seeking revenge in the finale and conference leader Michigan State is still on the docket.
Selection Sunday looms. Finish this out strong and the Hoosiers write their own ticket to a potential top four seed with some geographical preference. But a few more hiccups and the Hoosiers could find themselves in a tougher first round matchup come the NCAA Tournament.
Filed to: Iowa Hawkeyes