Film Session: The final minutes
Indiana turned up the defense and got some key scores in the final four minutes of Wednesday night's 71-66 win against the Wildcats — outscoring Northwestern 8-3 down the stretch.
A look at a strong defensive stand and two buckets — one against man, one against Northwestern's 1-3-1 zone — in the latest edition of Film Session.
1) SHOT CLOCK VIOLATION
After Verdell Jones' first bucket of the game to put Indiana up two, Northwestern doesn't get anything going the first 14 seconds of its possession. Drew Crawford gets a screen and dropoff here: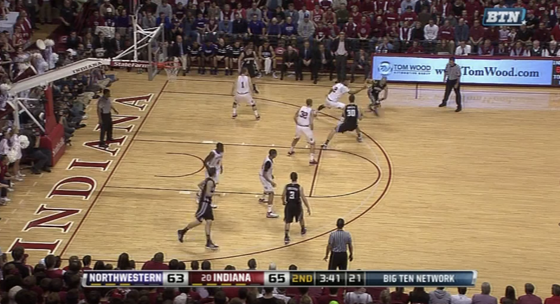 But Derek Elston does a nice job of containing Crawford on the switch: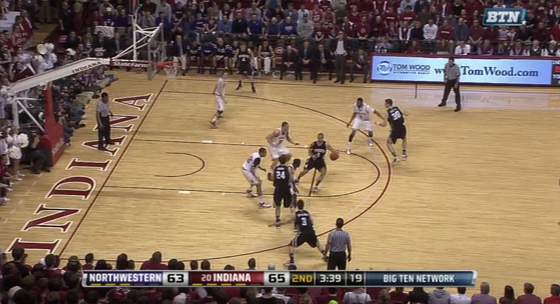 A few seconds later, John Shurna does have Jones isolated on the left wing for a possible scoring option, but Dave Sobolewski elects to kick it to the right wing: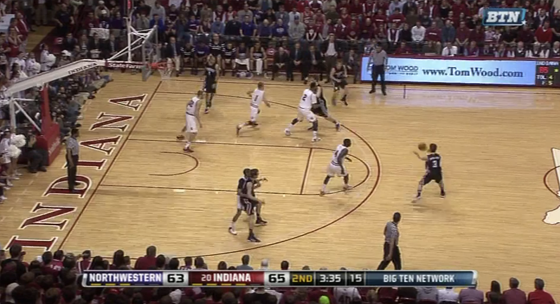 With only six seconds left on the shot clock, Shurna now has the ball way out beyond the 3-point line: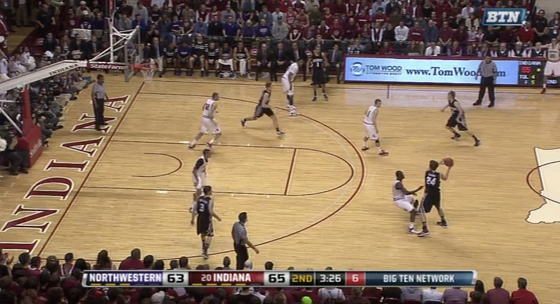 Shura gets a ball screen. But Elston does another good job on the hedge: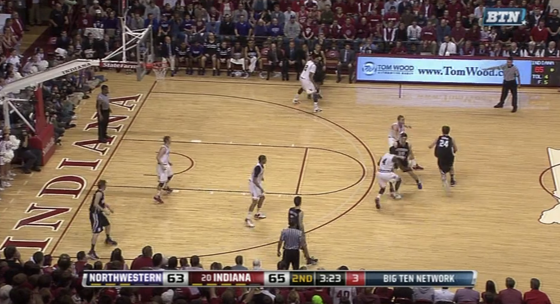 And it means Shurna has to fire a deep contested three: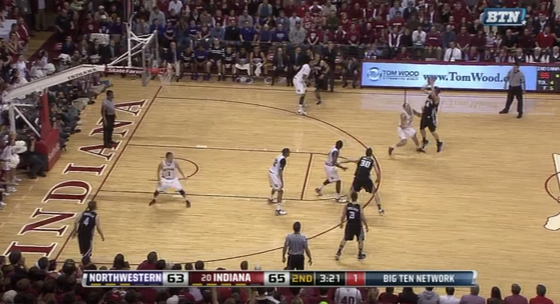 It didn't draw iron and the shot clock expires. Turnover Northwestern. Indiana also played strong D for 35 seconds on Northwestern's next possession. But as the shot clock expired, Alex Marcotullio hit that tough baseline runner. This was the team's only bucket during the final four minutes.
If you're watching the video, make sure to keep an eye on Jones. After he switches onto Shurna, he comes down into the paint quick to potentially stop a drive to the hoop from the strong side, recovers back out to Shurna, and then directs Victor Oladipo out to him for the closing seconds of the possession. That's active team defense.
VIDEO:
2) JONES' DRIVE &  SCORE
Jones gets a side ball screen from Christian Watford, a set we've highlighted before in Film Session — just without an additional Indiana screener: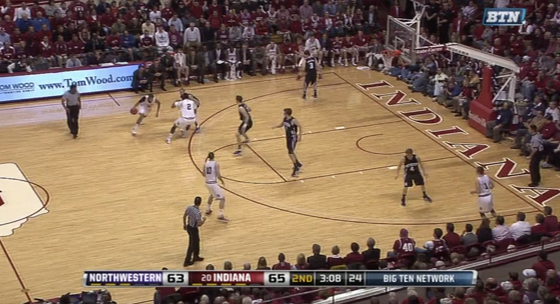 But Jones is met: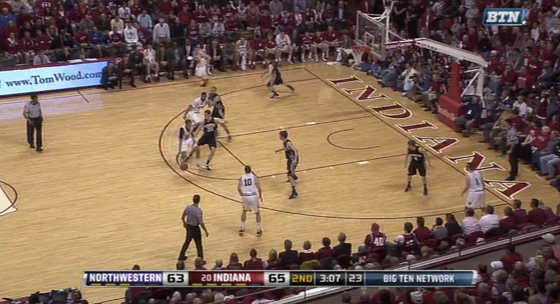 So he elects to be patient and swings the ball over to Elston: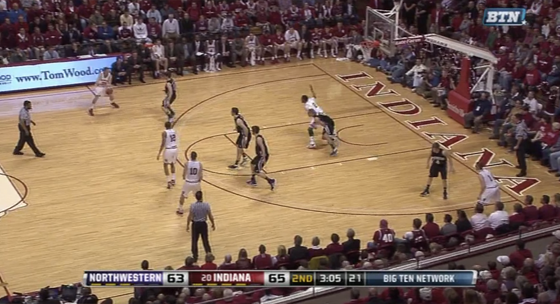 Later in the possession, Jones gets the ball back and receives a soft high ball screen from Watford: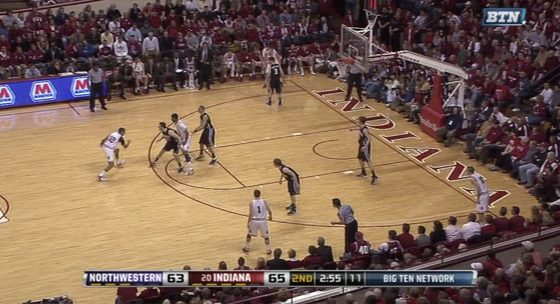 And Jones simply takes the space he's given and drives on a direct line to the hoop for two: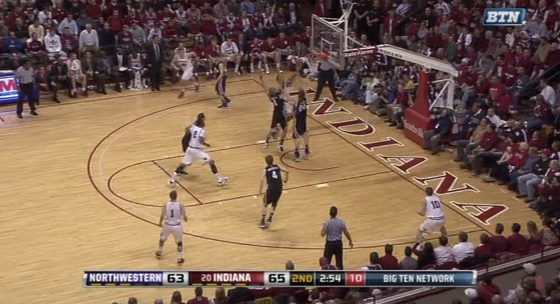 3) BREAKING THE 1-3-1
Jordan Hulls passes it over the top of the zone to Jones: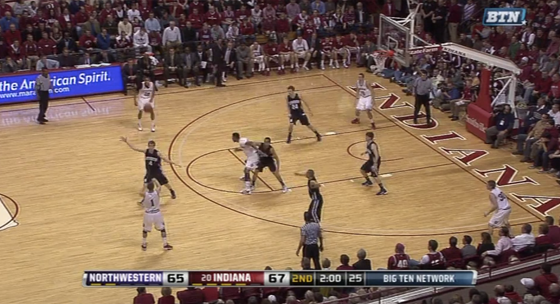 Jones throws a bounce pass to Cody Zeller in the corner: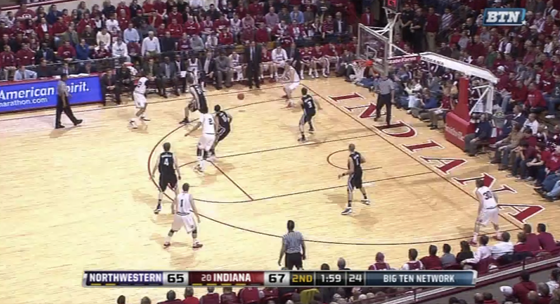 Reggie Hearn goes down to the block. This gives Zeller room to pass to Watford: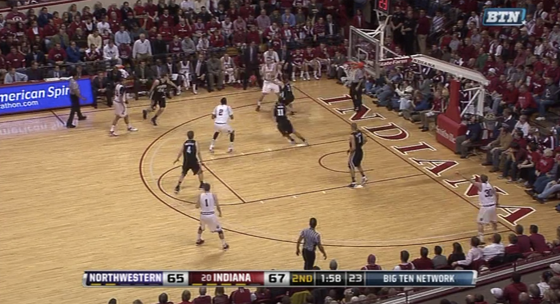 He makes a move to to the middle of the paint and scores: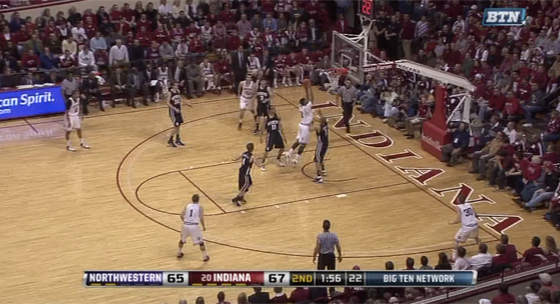 Execution when it mattered.
Filed to: Northwestern Wildcats