The Minute After: Northwestern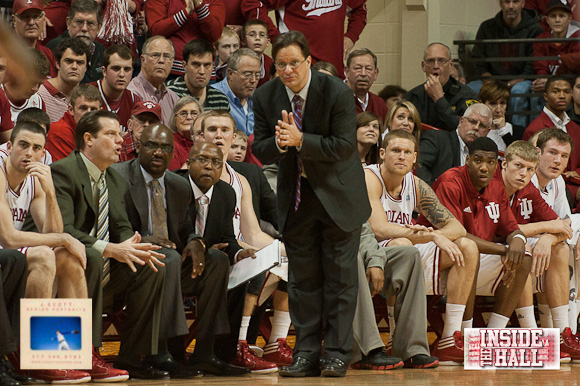 Thoughts on a 71-66 win against Northwestern:
Let's face it: This Northwestern team has owned, and often embarrassed Indiana in the Tom Crean era. The Wildcats had won the last three meetings before tonight (including a win in Assembly Hall last season) and six of the last seven.
And boy, at times, Northwestern was right there to keep the streak alive; Indiana's victory did not come easy. Northwestern was looking for a signature win to boost its tourney hopes and gave the Hoosiers just about all they could handle. The Wildcats' 1-3-1 zone bottled up the Hoosiers at times. John Shurna, as he's prone to do, got on a scoring roll. He had some crafty one-on-one play against a host of Indiana defenders and ended the contest with a game-high 29 points (11-of-21 from the field). Bill Carmondy rode him hard. He barely got any breathers; the box score had him at 40 minutes. Drew Crawford, Northwestern's other offensive weapon, got his, too. He scored 18 points on 6-of-12 shooting in 38 minutes.
But their efforts could only take the Wildcats so far. Because Indiana got it done in winning time, got it done when it mattered most.
With 4:19 to go, Cody Zeller — who led the way for Indiana with 23 points on 9-of-11 shooting — picked up his fourth foul on Shurna, who made the bucket. And after Shurna converted on the line for a 3-point play, it was all knotted up at 63-63. But Northwestern only managed one field goal (an Alex Marcotullio jumper at the 2:19 mark) and one free throw (Marcotullio with two seconds left and the game basically over) the rest of the way.
As for the Hoosiers? The oft-derided, fresh-off-a-shoulder-injury Verdell Jones came up big.
He made a move on Dave Sobolewski off the wing, and nailed a mid-range jumper to respond to Shurna's 3-point play. He drove to the hoop for two to put Indiana up four with 2:53 remaining. And he hit the shot that put this one away, a weakside, toe-on-the-line two with 31 seconds left to put Indiana up six (71-65). Outside of a missed 3-point attempt, this 3-of-3 performance in the closing minutes were Jones' only field-goal attempts of the night.
This was a senior not letting the Wildcats come into Assembly Hall and take another game from him. It was confidence in crunchtime. It was Vintage Verdell.
So here Indiana stands, it's first 20-win season under Crean in the books. The Hoosiers are playing well and taking care of business late in the Big Ten season. But Sunday, it's a return to the unforgiving road where nothing comes easy. A visit to Iowa City awaits. And they'll need to keep bringing it.
SOME NUMBERS
+ Jones' return did little to detract Victor Oladipo from continuing his newfound ballhandling and slashing style. He did a nice job of stuffing the stat sheet again (12 points, six rebounds, four assists, two steals, one block) and busted out some slick spin moves in the first half. When Oladipo is unleashed and active on both ends of the floor, Indiana is better for it. Much better for it.
+ It was a tough shooting night from beyond the arc for Indiana (2-of-13, 15.4%), but the Hoosiers dominated the inside. They outscored Northwestern 42-26 in the paint and picked up 12 second-chance points thanks to some decent offensive rebounding (32.3 OR%).
+ Indiana scored 1.15 point per possession in this one. The Wildcats clocked in at 1.03.
Filed to: Northwestern Wildcats