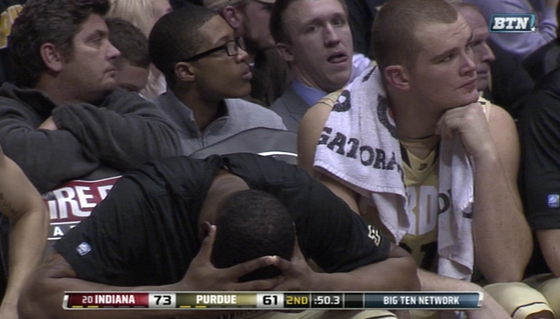 Thoughts on a 78-61 win against the Boilermakers:
This was rivalry. A physical, emotional, high-energy affair inside a rocking Mackey Arena. Jordan Hulls jumping out of bounds to extend an Indiana possession; Sandi Marcius diving to the ground for a loose ball; D.J.Byrd crowding Christian Watford on a sidelines inbounds.
But the shots, perhaps due to the all the bluster surrounding this one, were simply not falling in the first half. Purdue missed all 11 of its 3-point attempts and entered halftime with just an eFG% of 20. Ugly stuff. The Hoosiers, though they held an 11-point advantage at the break, weren't exactly shooting lights out either (35.3 eFG%). The second half began and Purdue started making buckets. But the Hoosiers did not wilt. Victor Oladipo, now back in the starting lineup, brought that swag — one so crucial to the Hoosiers' early season rise — to West Lafayette. He slashed to the rim for buckets; he made smart decisions; he dished like a point guard. By game's end, he scored a career-high 23 points and added six rebounds, four assists and two blocks. This is the kind of line he used to put up. This is the kind of line and performance Indiana needed tonight with Verdell Jones sidelined and Watford only mustering four points via some late free throw and missing all seven of his field-goal attempts.
Every time Purdue would make a run in the second half, the Hoosiers responded. And even when the Boilermakers cut it to four (65-61) with just a touch under three minutes remaining and Mackey was electric, still, the Hoosiers kept their poise. In Big Ten play, we've seen Indiana not making the plays and losing their cool down the stretch on the road. But in the final three minutes the Hoosiers extended a four-point lead to a 17-point win. Will Sheehey — who had seven points and seven boards — came up with a huge block on Lewis Jackson after Jordan Hulls turned over the ball. Remy Abell — who impressed with 13 points and four boards — hit a three off some Oladipo penetration and an extra pass from Watford. The Hoosiers made 10 of their last 12 free throws in that stretch and forced Purdue into two late turnovers after the Boilermakers had been so clean for much of this contest.
This was Indiana bending, but not breaking. It was the Hoosiers coming into a hostile environment, likely the most hostile they'll encounter this season, and responding after falling so flat early just days earlier this week against Michigan.
This was also Indiana's first win inside MackeyArena since 2006.
Goodnight, Boilermaker fans. Drive home safe.
SOME NUMBERS
+ Indiana hit a lot of free throws late. But it was also a category the Hoosiers excelled in all game long in this physical contest. They shot 29-of-35 (82.9%) which was good for a high free throw rate (FTA/FGA) of 63.6%. Purdue, not a team that has been getting to the line a ton in conference play,  attempted 15 less (14-of-20, 70%).
+ The Hoosiers crashed the offensive boards hard and came down with 44.4% of their misses this evening. It allowed for 21 second-chance points.
+ Indiana scored 1.1 points per possession in this one. Purdue clocked in at .87.
Filed to: The Minute After