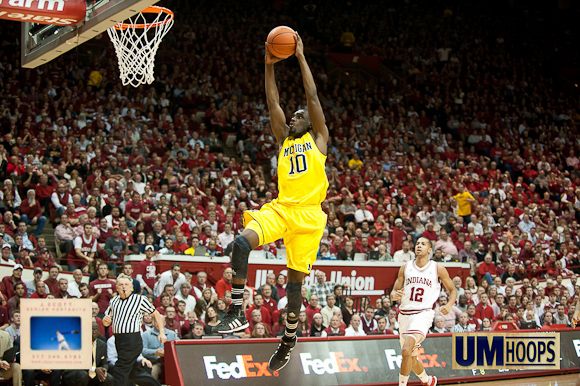 In lieu of our usual "What to Expect" feature, we've switched things up today and have enlisted the expertise of Dylan Burkhardt for analysis of Wednesday's opponent: Michigan. Burkhardt, who is a good friend of the site, is the founder and editor of UMHoops, a must-read for fans of Wolverine hoops. You can read our conversation with the UMHoops founder below:
The first game between these two teams came down to a few final possessions at the end and could have gone either way. Neither Trey Burke or Tim Hardaway Jr. shot the ball particularly well in that game, which I thought was a huge key for the Hoosiers grinding out the win. How have both guys been playing in the weeks since the first meeting and what does Michigan need out of each guy on Wednesday night?
Trey Burke's role in the Michigan offense grows every game. He's playing the point guard position as well as you could ask for from any freshman. He hits big shots, controls the game, finds his teammates and gets after it defensively. He hasn't been immune to poor shooting games but his 4-for-15 performance at Indiana was one of his worst. Michigan needs Burke to play within the offense and make plays on the screen-and-roll. Depending on how Indiana defends him that could mean distributing the ball to Jordan Morgan down low, kicking to shooters on the wings or getting to the basket by himself and finishing at the cup.
Tim Hardaway Jr. continues to be an enigma this season. He's shooting 22% on threes in Big Ten play but has the second most 3-point attempts in the Big Ten. This is the same player that almost single-handedly shot Michigan into the NCAA Tournament last season by connecting on 44% of his threes in conference games. He's still scoring the ball and has improved attacking the basket, but he continues to shoot a lot of threes and not very effectively. It's all about confidence for Hardaway, if he hits a couple early shots or picks up a few easy baskets then he's more than capable of getting hot and changing the game with his scoring ability.
Speaking more specifically to Burke, he's been neck and neck with Cody Zeller in the race for freshman of the year in the Big Ten and has been the Wolverines' best player for most of the season. How surprised have you been at how well he's played and is this team better now with Burke than they were a season ago with Darius Morris (now with the Los Angeles Lakers)?
I knew Trey Burke could play before he arrived in Ann Arbor but I didn't expect this sort of production this fast. Last week when reporters asked Burke when he knew he could play well at the high major level he admitted it wasn't until his first game in Ann Arbor. John Beilein's offense is intricate and Burke is the most important player on the floor. I would estimate over half of Michigan's possessions include some sort of pick-and-roll action with Burke so he has the be the priority defensively for any opponent.
Is Michigan better with him? This team is certainly different but both players have their weaknesses. Morris was blessed with great size and vision and his superior passing ability could be a reason that several Wolverines shot the ball better a season ago. That's not to say Burke can't pass the ball, but he has struggled a bit with his inability to pass over hard hedging big men. Jordan Morgan has regressed a bit and Michigan's shooters aren't shooting the ball nearly as effectively as a a season ago. Perhaps those things are attributed somewhat to the point guard. What Burke can do that Morris couldn't is keep defenses honest with the 3-point shot. Burke is connecting on 34% of his long range attempts this season and that's an element that Morris never had in his repertoire.
I'd settle on Michigan being a better team but it's not just Burke. It's also a general progression of the program as four starters from last year's team are back. This team continues to grow and Burke has proven himself to be wise beyond his years.
I'm sure we'll hear mentions on Wednesday night of it being potentially the last time Zack Novak and Stu Douglass will play against Indiana. Given that both guys are from the Hoosier state, does this game mean any more to them or is that just a storyline that is convenient to talk about and perhaps exaggerated?
It might have been important to them as freshmen or maybe during the games back in Indiana, where they have more family and friends in attendance. However, neither player has the personality to let something like that affect them at this point in their careers. Both players are focused on Indiana because it's the next game on the schedule and they want to finish the season strong. Despite their no frills attitude, we did post a video interview with Douglass and Novak from earlier this season in Bloomington in which they discussed what it's like playing at Assembly Hall.
Evan Smotrycz is a player that started off much improved from a season ago, but has fallen off a bit over recent weeks. What's been the cause of his struggles and what kind of factor do you see him being in this game given how well Christian Watford played in the first meeting?
Smotrycz's 3-point production has fallen off of a cliff. He made over half of his threes in the month of December but is hitting at under 25% from 3-point range in Big Ten games. His offensive game is predicated on the 3-point shot and at this point there's not much more that Michigan can do other than hope he starts hitting his long-range attempts. Given his struggles, Michigan has moved to a small ball lineup. Senior guard Stu Douglass replaced Smotrycz in the starting lineup which shifts Zack Novak back to the four position where he's spent most of his career despite his 6-foot-4 stature. Novak defending Watford is an advantage that Tom Crean will certainly try to take advantage of.
Smotrycz is playing roughly half of his minutes at the five position, which leaves Michigan with an even smaller lineup. He's effective in stretching defenses with the pick-and-pop but that weapon is rendered mostly useless if he can't regain his shooting confidence.
Michigan hasn't been particularly good at guarding the three in the Big Ten and that's been Indiana's strength for much of the season. Do Indiana's chances to win in Crisler lie mostly in their ability to knock down shots from the perimeter? How big of an impact do you see Zeller making in this contest?
Michigan's struggles to defend the 3-point shot and their chances of stopping Cody Zeller are more correlated than you might first believe. The Wolverines 3-point defense has struggled at times because they have focused so much on limiting interior scoring despite lacking any game changing post defenders. The numbers illustrate this point as Michigan is the fourth best 2-point defense in the Big Ten despite blocking fewer shots than any other team in the league. The Wolverines double the post from an array of different angles but if opponents react and adjust correctly, there are open 3-point attempts to be had.
It's a pick your poison decision but in the first match-up Michigan didn't stop Indiana's shooters or Zeller. The Hoosiers made 7-of-11 threes while Zeller scored 18 points on 10 field goal attempts. There's plenty of room for improvement in both departments for the Michigan defense in this one.
Pomeroy likes the Hoosiers to win, which is surprising given the fact that they've only won one road game in the league. How do you see this game playing out?
Pomeroy's computers have never been particularly fond of Michigan this year, something that can be somewhat attributed to lackluster performances against some of the weaker teams on Michigan's schedule. However, Michigan is undefeated at home and already has knocked off six RPI top-50 teams this season. The Wolverines are capable of playing good basketball and defending home court against a team of Indiana's caliber. The first 66 possession game in Bloomington was the fastest game that Michigan has played in the Big Ten this season and the Wolverine defense suffered as a result. Expect Michigan to do a much better job of slowing the game down in Ann Arbor and preventing Indiana from picking up as many easy baskets in transition or on the secondary break. I think that's enough to tilt the scales in Michigan's favor. But expect the end result to come down to two or three critical possessions in the final minute or two.
Filed to: Michigan Wolverines