The Minute After: Penn State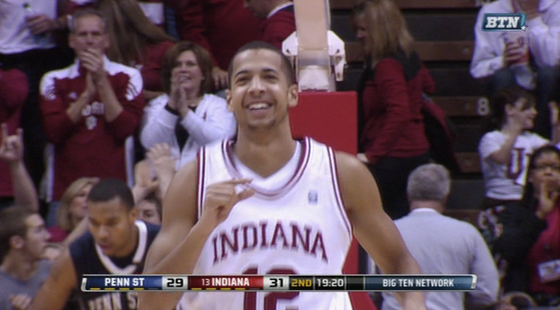 Thoughts on a 73-54 win against the Nittany Lions:
Sometimes, you just need to make things easy for yourself. And then it all opens up.
After a grind-it-out first half where Indiana found itself trailing at intermission, an early Jordan Hulls steal after halftime led to a Verdell Jones bucket in transition. Jones smiled wide. From there, the Hoosiers returned to form and once again became that team they've shown they can be outside of their recent three-game losing streak. The 3-ball was falling (7-of-16, 43.8%) and the offense opened up in a big way. Cody Zeller played with great efficiency (7-of-8 from the field, 4-of-4 from the line, 18 points). And all the little things went Indiana's way. An unmasked Derek Elston snagged an offensive board and put it back in for two, aiding in Indiana winning the second-chance point battle (14-8) after a first half where Penn State had several offensive boards. The Hoosiers were sloppy and turned the ball over at too high a rate during the losing streak. But things improved here, too. Indiana only turned the ball over on 16.3% of its possessions and had just nine turnovers in total this afternoon.
The defense did its job, as it held Penn State to only 25 points in the second half and an eFG% of 38 for the game. (Though, Penn State, a poor shooting team to begin with, certainly didn't do itself any favors, as it missed plenty of good looks this afternoon as well.)
Things got chippy in this one. There were lots of whistles in the second half. The Nittany Lions were jawing at the Hoosiers. And it all culminated in Travis Ross' hard foul of Christian Watford with six seconds to go. It was unnecessary and intentionally malicious. In the ensuing scuffle, Will Sheehey — the victim of an earlier hard foul at the hands of Penn State  — dropped some f-bombs, received his second technical (the first of which came from some earlier jawing after that hard foul) and was booted from the game.
It wasn't pretty. But this sort of game also wasn't the worst thing for Indiana to encounter. When nothing else was working for Penn State, the Nittany Lions got snippy. And the Hoosiers stood tall and did not back down. They simply continued to control the game all second half and never let Penn State sniff a comeback.
A double-digit win for the Hoosiers. The recent rough patch now in the past. Order, for now, restored.
QUICKLY …
+ Shout-out to Matt Roth. Many probably didn't expect him to be contributing like he has this season, but he's quietly established himself as a go-to rotation player for Tom Crean, squeezing out minutes from the likes of Remy Abell and Austin Etherington. His defense has been adequate enough to justify him getting minutes and his shooting has been pretty special to watch. Check this: He entered this afternoon's contest shooting an incredible 59.5% from three, and hit both he took in this afternoon's game. An afterthought Kelvin Sampson recruit who's dealt with injury and stuck with this program during its darkest times, Roth is mattering this season. And well, he deserves it.
Filed to: Penn State Nittany Lions