Crean says Hoosiers must learn to execute under pressure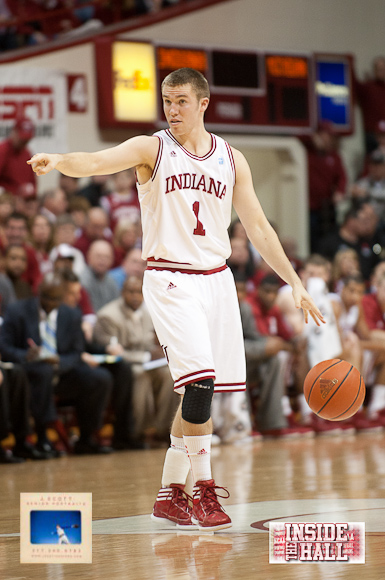 With 5:59 remaining in the game Wednesday night at Nebraska, the Hoosiers had a 63-52 lead and appeared to be headed to a big conference road win.
But No. 11 Indiana failed to step on the throats of the Cornhuskers down the stretch. The Hoosiers squandered their double-digit lead by missing shots, turning the ball over, and giving up dribble penetration on nearly every defensive possession.
Nebraska, which had scored more than 55 points in only one Big Ten game this season, poured in 18 points over the final 5:59 to hand the Hoosiers their third straight loss.
The Hoosiers (15-4, 3-4) will look to correct those mistakes when they welcome Penn State (10-10, 2-5) to Assembly Hall for a noon tip on Sunday.
"There's just too many things that, in the heat of battle, we were not as conscious of that we were conscious of earlier," said Indiana coach Tom Crean. "That's where we've got to grow up. Is that a maturity thing? Is that an experience thing? It's probably all that. But the bottom line is we gotta do a better job. It's always about execution under pressure."
The Hoosiers failed to execute under pressure against the Cornhuskers, and it cost them. Of particular concern for Crean was the dribble penetration his team allowed. The Cornhuskers repeatedly got in the lane and either scored or kicked the ball out to open 3-point shooters.
Crean said his players were also sometimes guilty of over helping, which left shooters free on the perimeter.
"We got away from certain things that are constants for us," Crean said. "We did not follow through the game plan a couple times late. Do we have to simplify it? I hope not. It becomes a communication issue. … The dribble penetration will get better as our attention to detail and the game plan gets back to where it needs to be."
Even with all of their struggles, the Hoosiers still likely would have won the game had they executed in the final minute. They were still ahead by three points when Victor Oladipo failed to box out his man and gave up a put back. And Jordan Hulls, one of the nation's best free throw shooters at 88 percent, missed the front end of a 1-and-1 to keep the door open for Nebraska.
Hulls has been known as a player who's extremely hard on himself when he makes mistakes, and it sometimes seems to affect him at later times. The junior guard said he is getting better in that area.
"It's always been a problem of mine," he said. "I'm getting better at trying not to let it affect me the next play down the court, whether it's offense or defense. It's just something I need to work at, but I do feel like I'm getting better at it. If I'm going to be one of the leaders of this team, I need to be able to do that."
Filed to: Penn State Nittany Lions, Tom Crean