Film Session: Sunday's mixed bag
In their win over the Hoosiers on Sunday, the Buckeyes scored nearly half their points (39 of 80) off of Indiana's turnovers and some strong offensive rebounding. The Buckeyes scored 20 points off Indiana's 17 turnovers, while also pouring in 19 second-chance points off an OR% of 37.9.
A look at a play from each of these four factors, as well as an Indiana score tossed in for good measure in the latest edition of Film Session.
1) A SECOND CHANCE
Aaron Craft shoots a three from the corner: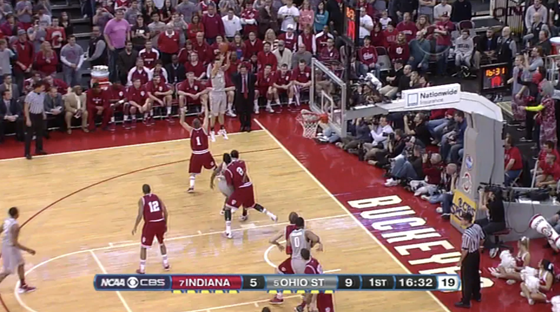 It misses. Christian Watford has inside position on DeShaun Thomas, but the ball hits the backboard after it caromed off the rim and then hits the rim again– making Watford mistime his jump. Thomas snags the rebound behind him as all five Hoosier defenders are below the free throw line: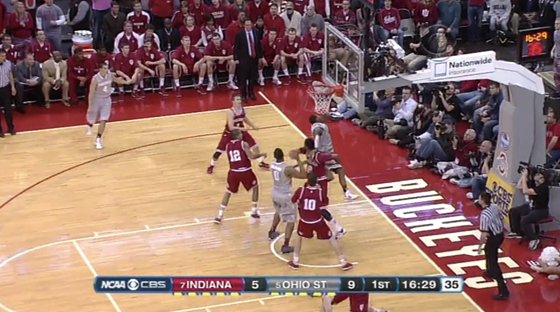 Thomas initially tosses it back out to Craft, who swings it to just-heating-up Lenzelle Smith Jr. at the top of the key: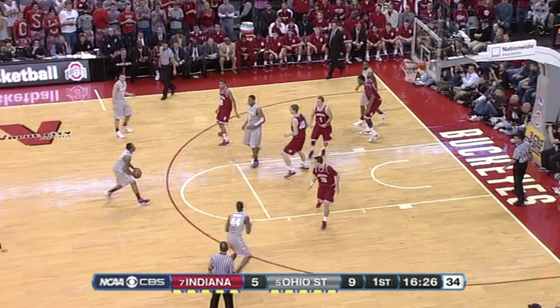 Verdell Jones had been marking Smith before the shot went up, but he's over on the wing now. Smith steps in to take a relatively uncontested 15-footer over Jordan Hulls. It goes in for two: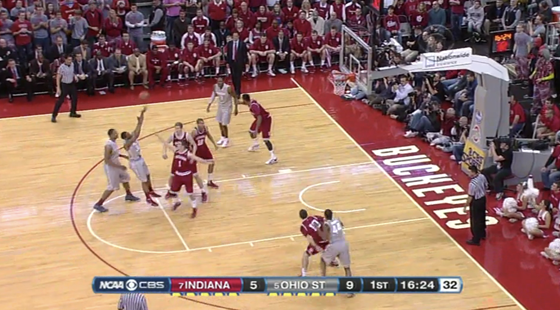 VIDEO:
2) SMITH DUNKING ON THE BREAK
Craft deflects a Hulls pass to Will Sheehey: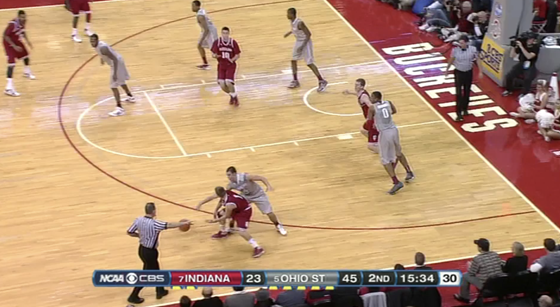 Which is nearly stolen by Thomas: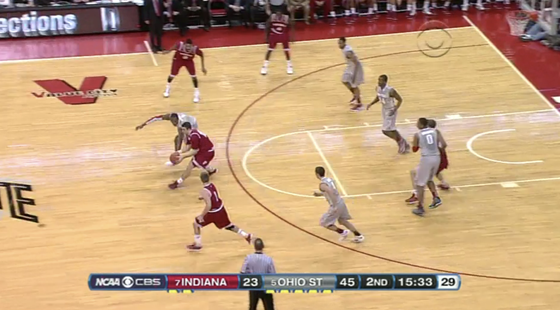 Sheehey gets space because of Thomas going for the ball. He drives into the paint, but loses it to Sullinger: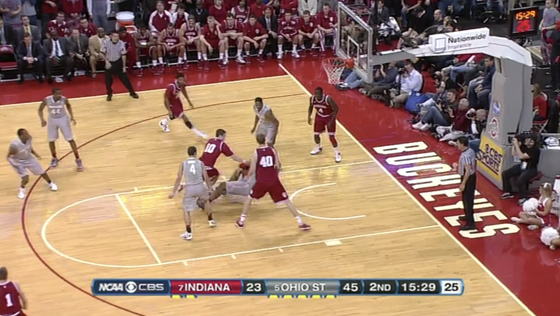 Who passes it with his back on the hardwood up to William Buford: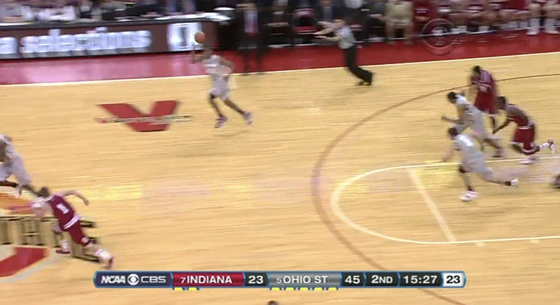 Buford has options and passes it off to Smith (who else)?: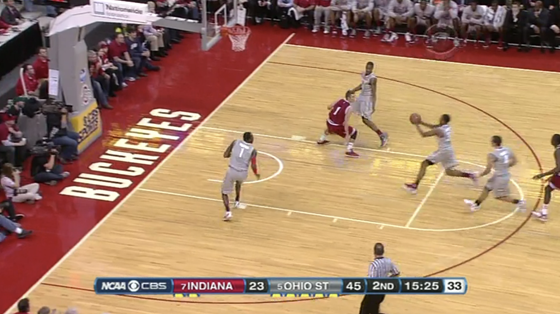 Dunk: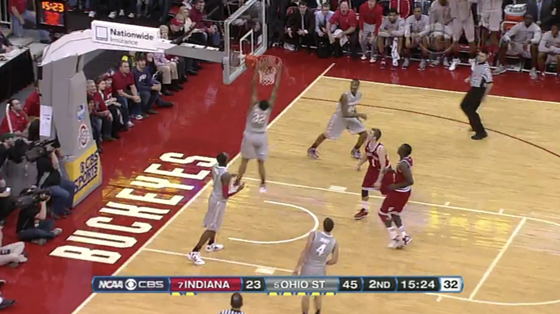 Timeout Hoosiers.
VIDEO:
3) A SPLIT SECOND FOR ZELLER
Tom Pritchard hands it off to Hulls on the right wing and gets a body into Shannon Scott: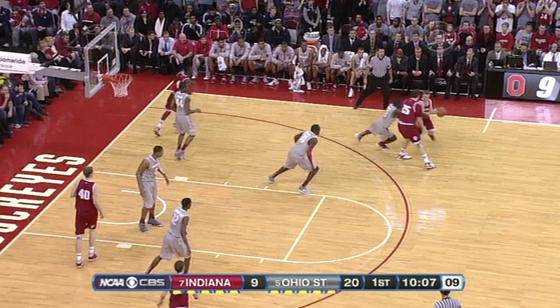 Hulls is able to get a step on Scott due to Pritchard's action. Evan Ravenel, who was marking Pritchard, comes over to stop Hulls' penetration: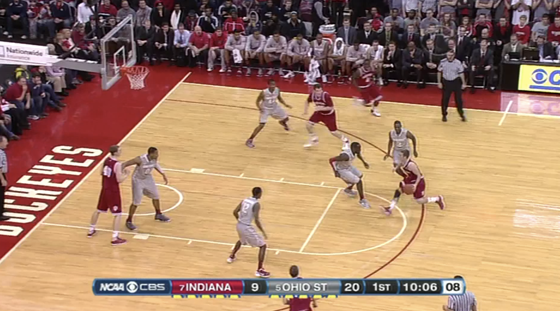 Hulls dishes to the open Pritchard: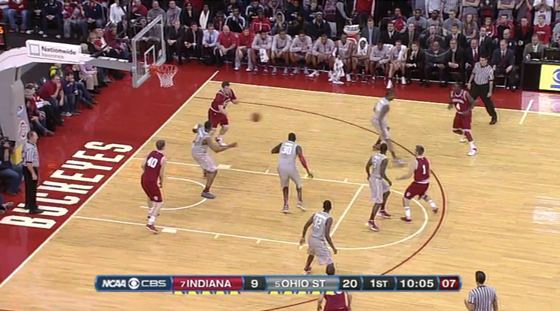 Sullinger slides over to disallow an easy hoop from Pritchard. Ravenel recovers back to him as well.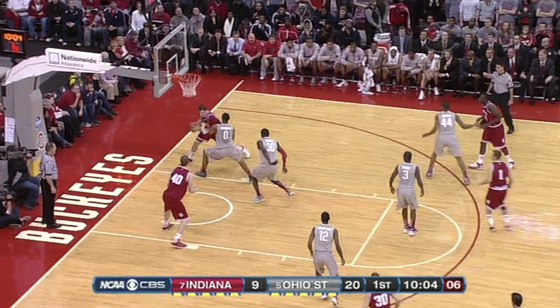 Ohio State's big men are now both focused on Pritchard. This allows Zeller a sliver of space in a split second to receive a pass from Pritchard and score in the act of getting fouled: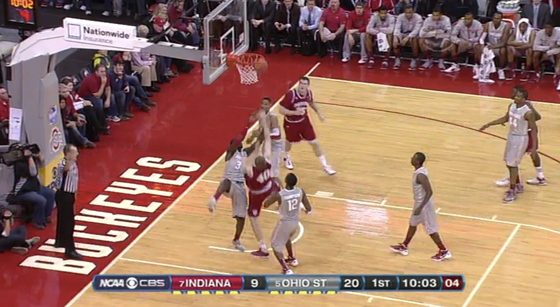 He made the free throw. Nice work all around by Pritchard here.
VIDEO:
Filed to: Cody Zeller, Ohio State Buckeyes