What to Expect: Ohio State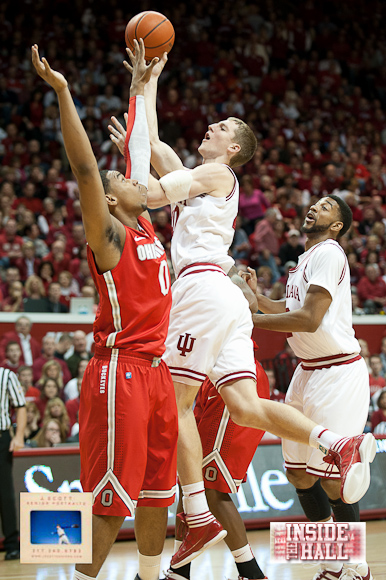 The No. 7 Hoosiers, coming off a disappointing 77-74 home loss to Minnesota on Thursday, hit the road for Value City Arena in Columbus and a showdown with No. 5 Ohio State. Indiana won the first meeting, 74-70, on Dec. 31. 
The game will be shown on CBS (Verne Lundquist and Clark Kellogg) and broadcast on the IU radio network:
Indiana's schedule to begin conference play has been, in a word, challenging. Three of five games against the league's top tier. And it doesn't get any easier on Sunday afternoon as the Hoosiers face an Ohio State team that can not afford to fall behind any further in the conference standings. Both teams already own a pair of Big Ten losses and a third will put IU or OSU three behind Michigan State (assuming they emerge victorious today in Evanston) in the loss column.
The payback factor is also in-play as the Buckeyes are looking to avenge a New Year's Eve loss in Bloomington. Whether it was the atmosphere in Assembly Hall or just a bad game, that loss produced several subpar individual performances from Thad Matta's club. Aaron Craft had six turnovers. William Buford never established a presence on offense due to foul trouble. Likewise for Deshaun Thomas.
Both teams are coming off surprising losses. For the Hoosiers, a lackluster defensive effort was their ultimate undoing against Minnesota. For Ohio State, a once-in-a-lifetime performance from Brandon Paul (43 points on 11-of-15 shooting) led Illinois to a 79-74 upset on Tuesday. And I don't use that terminology to describe Paul's play lightly. He was incredible, but also unlikely to play that well ever again. The Buckeyes ran into a buzzsaw.
DEFENSE SEPARATES THESE TEAMS
Through five league games, Ohio State owns the league's best defense. They're allowing just 0.86 points per possession. They're also ranked No. 1 nationally in adjusted defensive efficiency by Ken Pomeroy. Indiana, on the other hand, is allowing 1.12 points per possession in league play. That's last in the Big Ten.
In the Hoosiers' last two, they've allowed Penn State, who is scoring .98 points per possession in conference play, to score 1.15 and Minnesota, who is scoring 1 point per possession in conference play, to score 1.15. This is a trend the Hoosiers must reverse or cold shooting nights will produce more losses. As Tom Crean said about the Hoosiers following Thursday's loss, "They're shooting the ball well and getting a lot of attention for winning and things like that, but teams that take the next step totally get that defense is what comes first in every situation. Defense creates the offense, defense creates more opportunities, defense creates the fast break, you name it. The best teams gain confidence from their defense, not the other way around."

The above illustration depicts conference numbers to-date for both teams defensively. Granted, Indiana's Big Ten schedule has been tougher than Ohio State's. But besides 3-point defense and block percentage, the Buckeyes have been much better.
AN UPHILL BATTLE
Ohio State's last home loss came on Feb. 17, 2010 to Purdue. This is the toughest game remaining on Indiana's schedule. Pomeroy gives the Hoosiers a 16% chance and predicts Ohio State 77, Indiana 65. Sounds logical.
As we've outlined above, Indiana's defense is going to be a storyline for the foreseeable future. Crean's message to his team was clear: Defense must create offense. It hasn't happened thus far in Big Ten play. And I'm not sure it will Sunday. But there are things that can be corrected on a game-by-game basis. Ryan outlined several of them in Film Session earlier today.
From the optimistic side of things, Indiana still possesses one of the elite offenses in college basketball that Ohio State must contend with. Thursday's shooting performance is unlikely to be replicated very often. The Hoosiers have won four of five game away from Assembly Hall. Granted none of the wins have come against an opponent the caliber of Ohio State, but this group's confidence away from home has increased significantly.
CREAN, PLAYERS ON OHIO STATE
Crean on the game
"This will be a high-level, intense game. A game where both teams will know each other very well and will come down to how well each team adapts to how they are being played."
"OSU is a well coached and talented team that can score the ball in a lot of different ways. They can play inside out, they can drive but more than anything they have a lot of different weapons you have to defend at all times."
"It's important that we limit our turnovers and not allow them to get out in transition and get easy baskets."
On playing OSU twice in five games
"Every game is different whether you played each other two weeks ago or two months ago. More importantly, as a team we need to have great communication and awareness and focus on the things that have made us successful thus far."
"Right now players are getting into a routine with two games a week, classes, practices and travel. That's what makes conference play so tough, especially in the Big Ten."
On Cody Zeller's play and how he is improving
"I think every time Cody plays, he learns something and he adapts that to his game. I think defensively he needs to continue to work on his verticality. Offensively, I thought he looked to make plays, Thursday."
On Will Sheehey's contributions
"Will did a great job with his rehab. He paid attention while he was out and kept himself mentally ready. He was much more vocal than he has been and also trying to help his teammates play as hard as they can. Every day he gets better and his presence will increase competition in the games and more importantly in practice."
"I think when you have something taken away, it gives you a different appreciation and Will has certainly come back with that type of attitude."
Matt Roth on the game
"I think both teams will be coming in with an edge, both coming off tough losses this past week. I think both teams will make adjustments based on the game two weeks ago."
On learning from the Minnesota game
"We have done a good job throughout the year of communicating and helping on defense and for whatever reason, we did not do that as well last game. It's something to learn from and take with us as we move forward."
On playing an opponent a second time in two weeks
"It's tough to say whether it is an advantage or not. It's fresher in our minds and we remember how we played them, but we know teams make changes and we have to prepare for them like we always would."
On playing off the team's defense
"We have to continue to understand that the best things happen for us when we play great defense. We are going to get deflections, we are going to get rebounds, fast break opportunities, layups and that makes the game easier."
Christian Watford
On playing an opponent a second time in two weeks
"At this point, it really doesn't matter. You just have to be ready to go."
On Sunday's game
"We have to be more active on defense and our communication level has to go up. I think they will try and pound the ball inside, but we also know they have so many players who can hurt you."
On playing off the team's defense
"It's what has gotten us to where we are right now. If you get easy baskets in transition, then that turns into confidence on offense."
QUICK FACTS ON OHIO STATE
All-time series: Indiana leads 102-77
Location: Columbus, Ohio
Student Enrollment: 56,867
Established: 1870
Filed to: Ohio State Buckeyes