Film Session: Man, zone breakdowns
Indiana continues to struggle with defense in Big Ten play, as it gave up 1.15 points per possession to the Gophers on Thursday inside Assembly Hall.
A look at some of the Hoosiers' breakdowns in both man-to-man and 2-3 zone defense in the latest edition of Film Session.
MAN-TO-MAN
1) AHANMISI TO THE HOLE
Elliott Eliason sets a ball screen for Maverick Ahanmisi out near half court: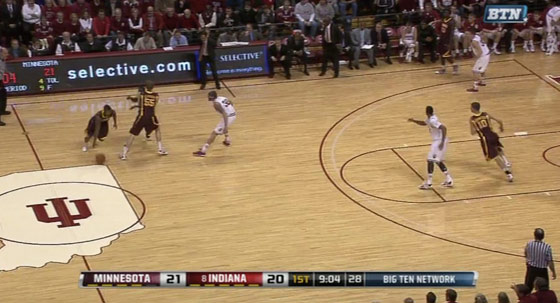 Maverick is off to the rim past Oladipo. Elston just slides along to the side of him: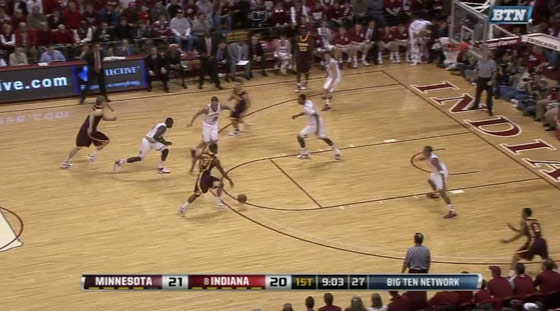 Jones doesn't step up or get a body in front of Ahanmisi. He just swipes in with his right hand: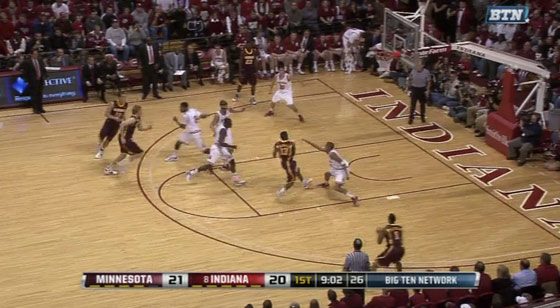 And it's an uncontested lay-in for Ahanmisi: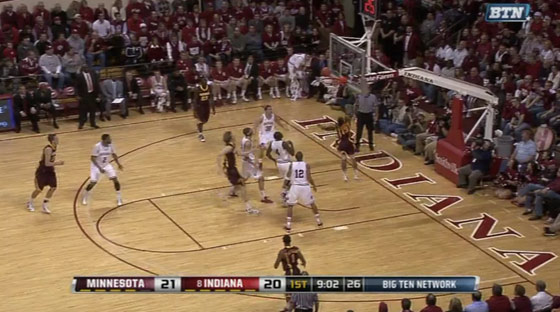 VIDEO:
NO. 2) WELCH TO THE HOLE
Oladipo plays Julian Welch tight — perhaps too tight — out past the 3-point line: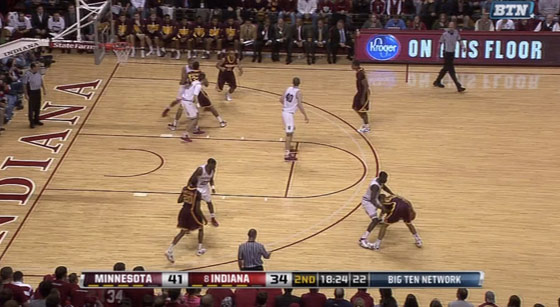 A move allows Welch to get by Oladipo and he's playing from behind: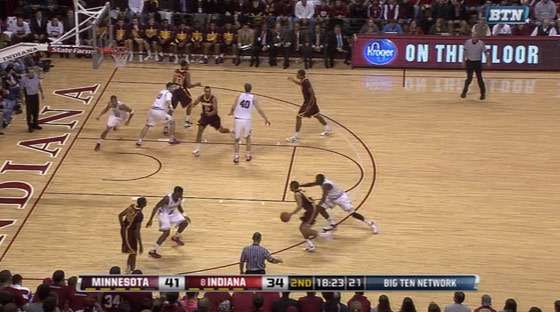 Remy Abell doesn't use his body but a hand to try and disrupt Welch. Jones is caught behind Joe Coleman's body: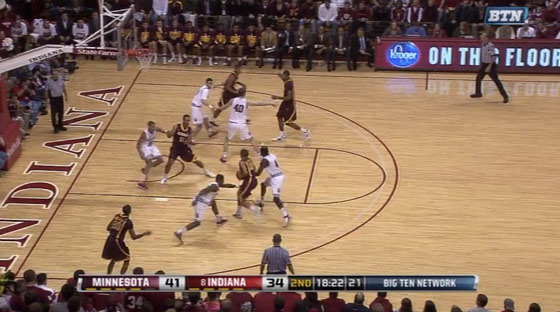 Welch lays it in for two: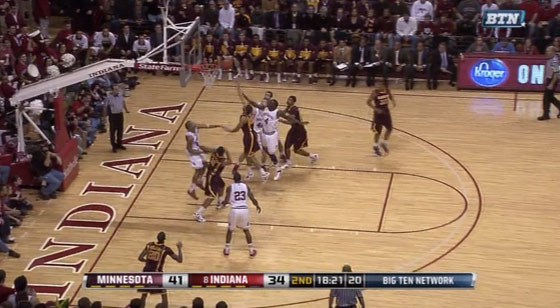 VIDEO:
3) HULLS LOSES HIS MAN
Ralph Samspon III sets a ball screen for Ahanmisi: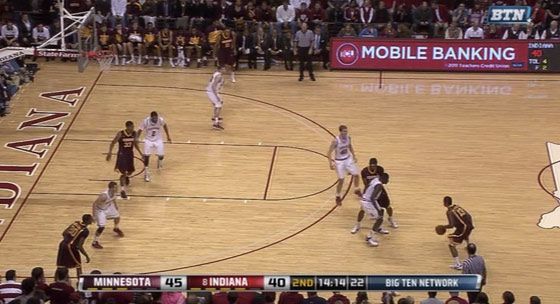 Zeller and Oladipo do a good job here and recover to their men. But Jordan Hulls has decided to come over to perhaps help clog the lane and  stop any penetration: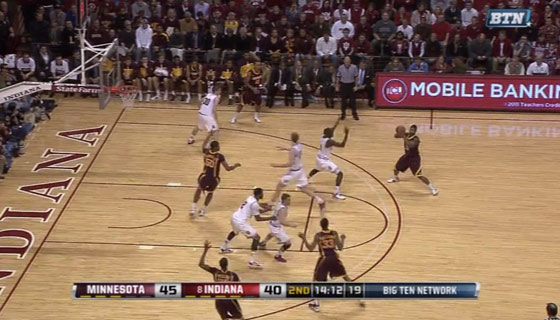 Which leaves the man he was marking, Austin Hollins, alone in the corner. Both Watford and Hulls point to the open man: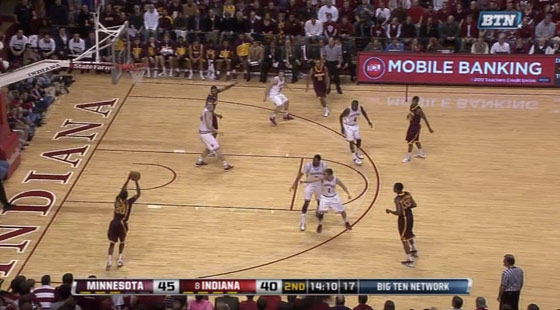 Zeller is able to rotate over, but Hollins scores on him: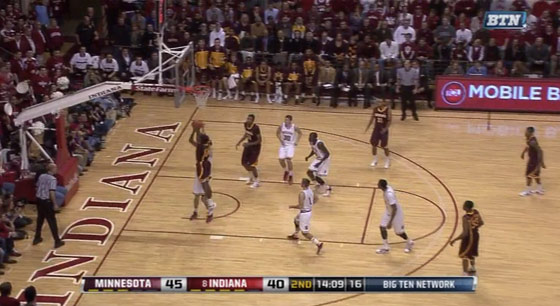 VIDEO:
2-3 ZONE
1) 3-BALL
After some patient perimeter passing, Oto Osenieks dribbles into the middle of the zone, which collapses the Hoosiers. Hulls, Abell, Zeller and Will Sheehey are nearly all in the paint: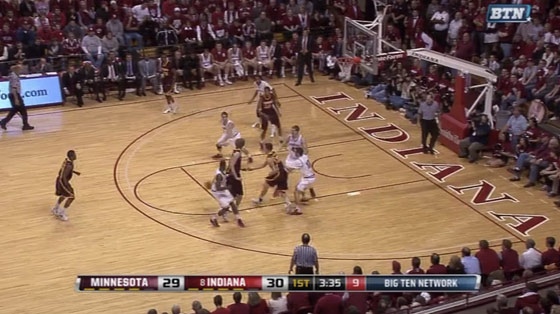 With Hulls and Abell — the two on top of the zone — near the paint, he passes to Ahanmisi at the top of the key: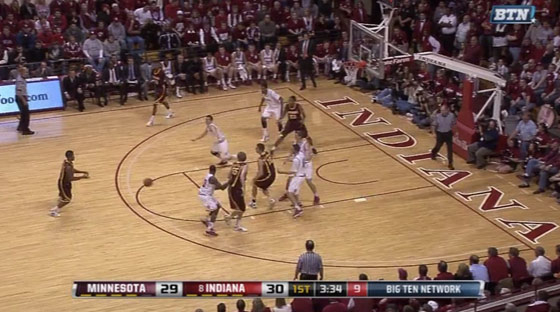 Ahanmisi ball-fakes Hulls and quickly swings it over to a wide-open Hollins: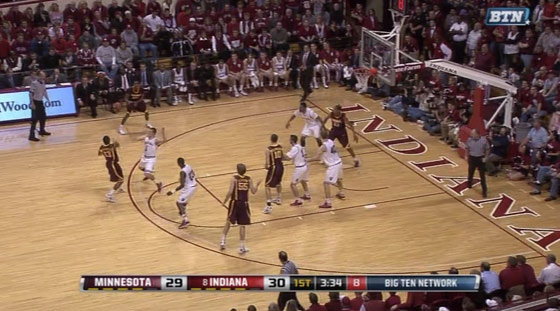 Who splashes in a 3-pointer: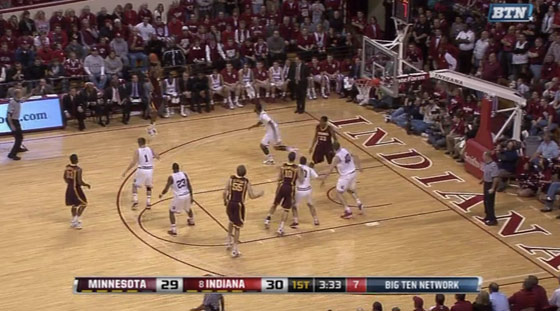 VIDEO:
2) DUNK FOR WILLIAMS
Eliason flashes to the middle of the zone and Hollins darts in a pass to him: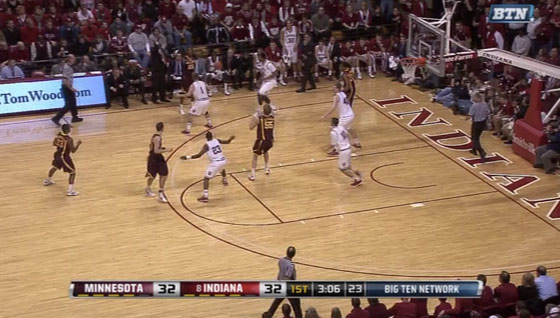 With Sheehey coming all the way across the lane to mark Eliason, he dumps the ball over the top of Zeller to Rodney Williams, who's streaking towards the basket from the basline: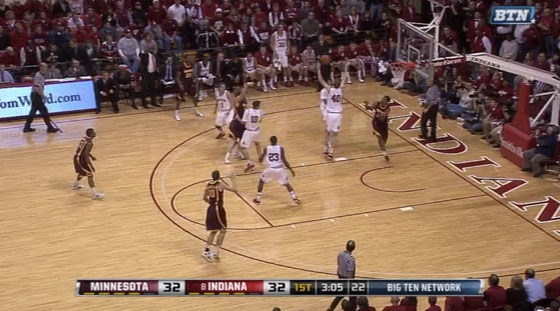 Williams gather and dunks with no one in front of the hoop to challenge: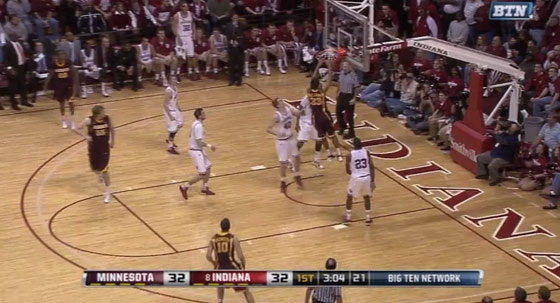 VIDEO:
3) ANOTHER 3-BALL
Hollins kicks it over to Ahanmisi on the right wing: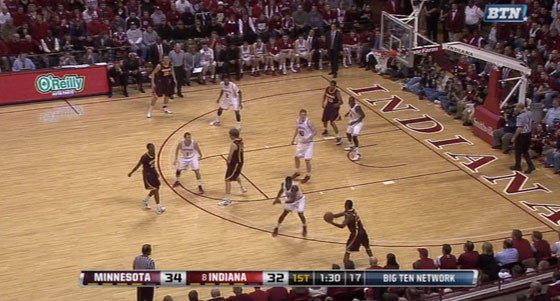 Abell stays with him as he drives towards the hoop: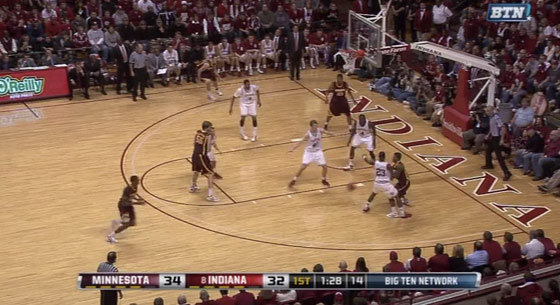 This leaves an opening out on the wing, which Ahanmisi fills as Hulls tries to contest with Eliason blocking his path. And it's another 3-ball from the Gophers: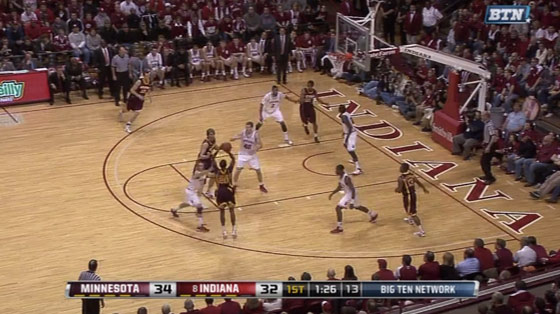 VIDEO:
AND WE END WITH AN OBLIGATORY SHOT OF MEG RYAN AND JOHN MELLANCAMP. THEIR LOVE CONTINUES TO BLOSSOM INSIDE ASSEMBLY HALL.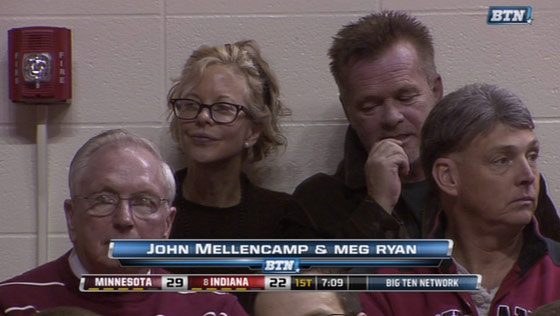 Filed to: Minnesota Golden Gophers