Film Session: Attacking, exploiting Michigan's D
In Indiana's win against Michigan, Cody Zeller and Christian Watford combined for 43 of the team's 73 points.
A look at four plays involving both players in the latest edition of Film Session:
NO. 1) WATFORD DRIVE AND DISH TO ZELLER:
Jordan Hulls brings the ball up the court and passes it to Watford on the left wing: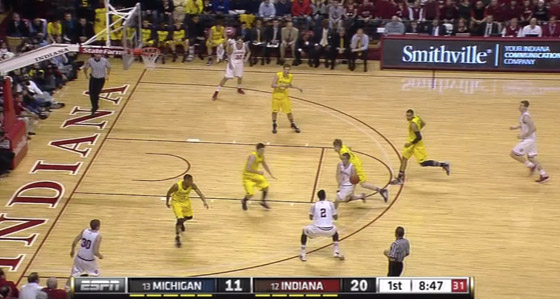 Hulls gets a bit of a body into Stu Douglass, which allows Watford some space to attack the paint: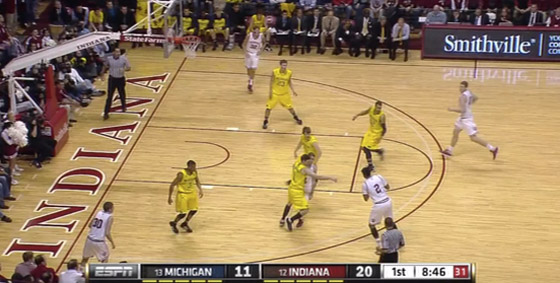 Watford takes it into the lane: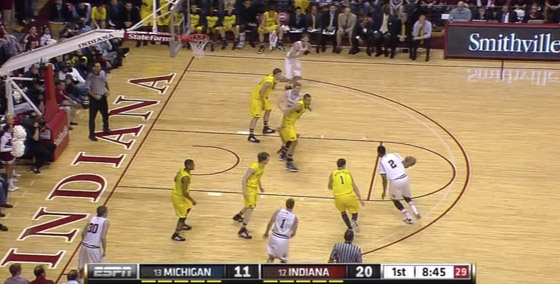 Jordan Morgan comes up to stop the ball: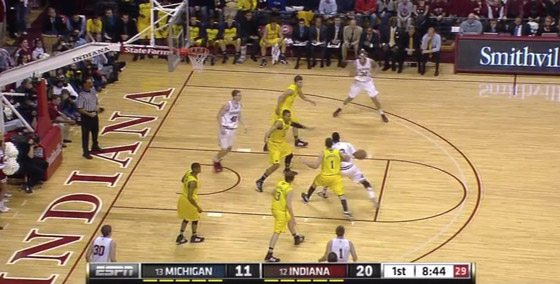 Which leaves Zeller open under the hoop: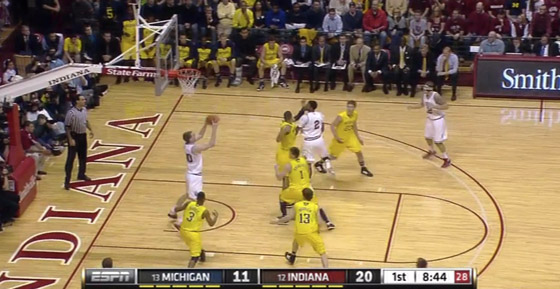 He scores and draws a foul, converting the and-1 at the line: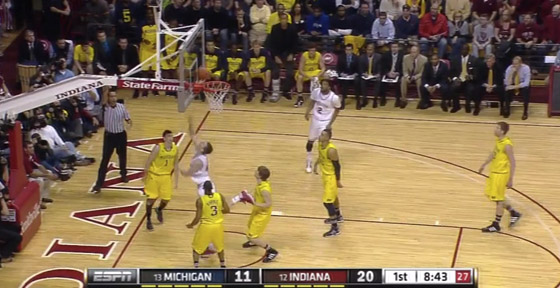 As Dan Dakich said on the call, Watford had just hit a three on a previous possession and had another opportunity for one here. (And probably a pull-up in the lane as well.) But by staying patient and attracting another defender, it gave Indiana a higher-percentage look at the rim. When Zeller is open at the hoop, it goes in at a high clip — often even when he gets fouled in the process as shown here.
VIDEO:
NO. 2) WATFORD TO ZELLER, TAKE TWO
Zeller sets a high ball screen for Hulls: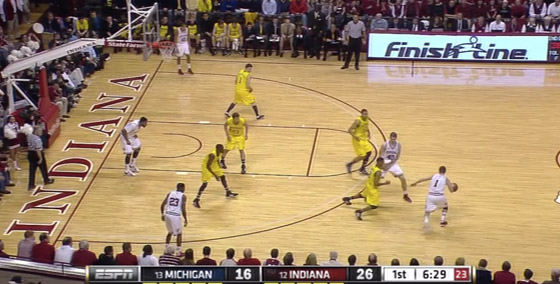 Hulls comes around to the right wing as Morgan follows: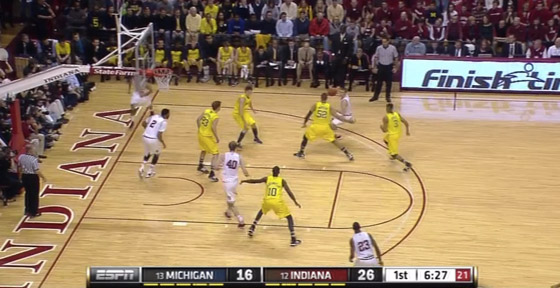 Morgan recovers back to Zeller as Watford gets the ball on the right block: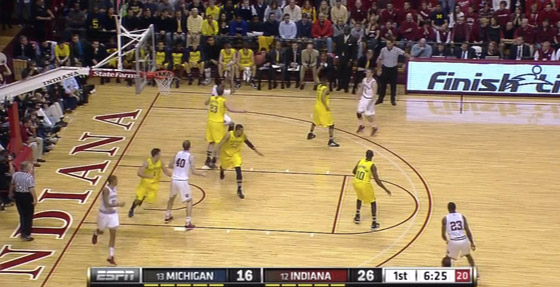 Watford makes a curl move around Evan Smotrycz baseline side: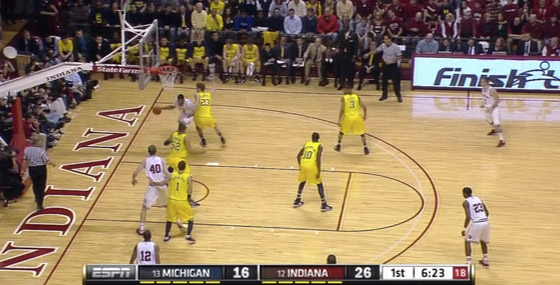 Like play No. 1, Morgan leaves Zeller to get a body between Watford and the hoop. With Douglass stuck behind Zeller, Watford dishes to him: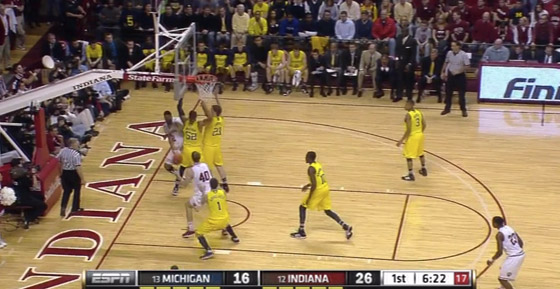 And he converts for two: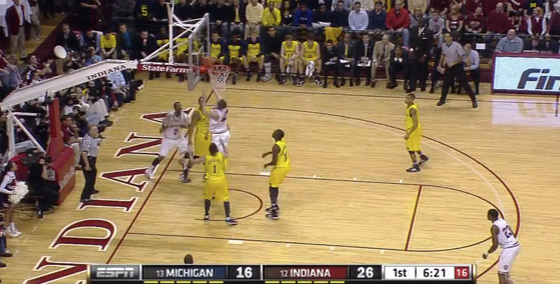 Again, it's as simple as Watford making a move and attracting another defender. From there, he finds the open man (Zeller) near the hoop for an easy deuce.
VIDEO:
No. 3) SIDE BALL SCREEN
Zeller sets a side ball screen for Verdell Jones: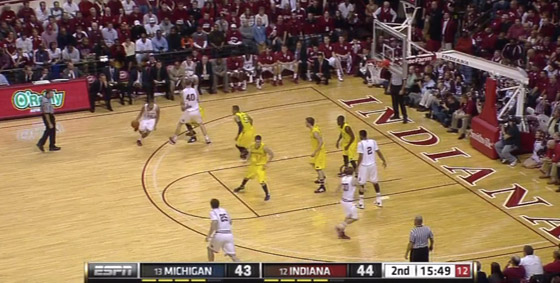 Morgan — a frequent target of the Hoosiers as we're seeing yet again — hedges over with Jones, leaving Zeller's roll to the rim open: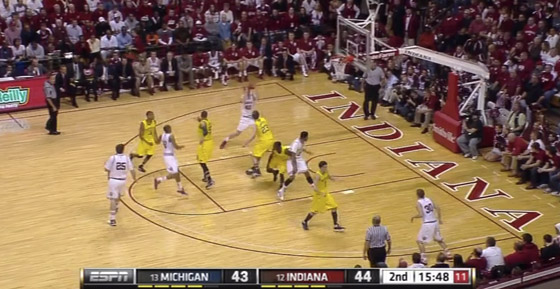 And it's a dunk for The Handsome One: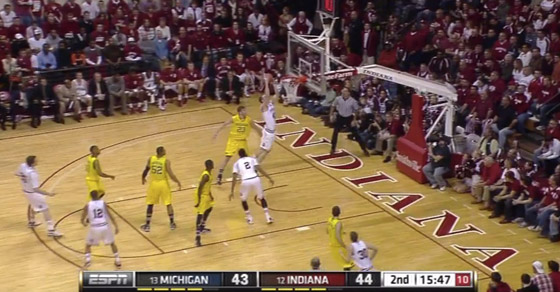 Textbook pick-and-roll action here.
VIDEO:
NO. 4) CAUGHT NAPPING
Hulls brings the ball up the court as Novak points over to the wing for someone to pick up Victor Oladipo and perhaps Watford: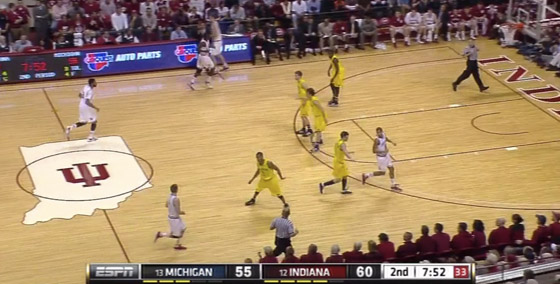 As Derek Elston sets a pick for Hulls, Watford is wide open on the wing as Smotrycz and Novak both appear to think they're marking Elston: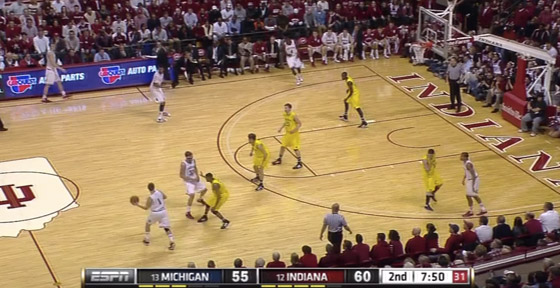 Watford gets the ball with plenty of space: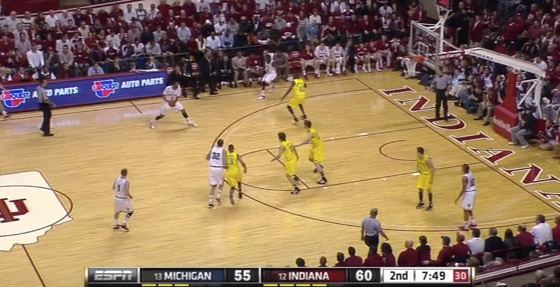 Steps into the three and connects: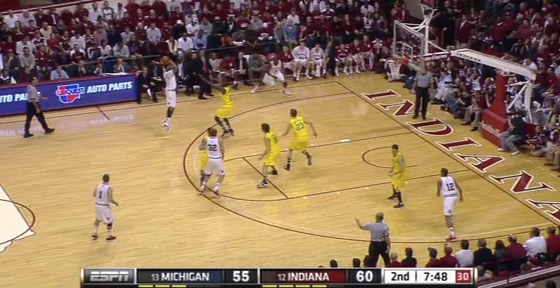 Nothing overly complicated here. But with Michigan falling asleep on D, it allowed a good 3-pointer shooter on a hot shooting night to get an open look.
VIDEO:
Filed to: Christian Watford, Cody Zeller, Michigan Wolverines