Hoosiers use barrage of threes to down Penn State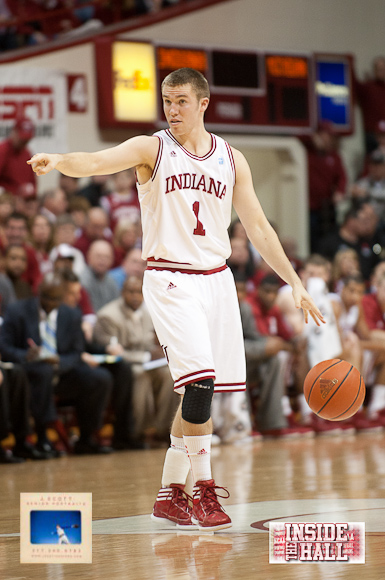 STATE COLLEGE, Pa. — For a 2:26 stretch in the first half, Indiana knocked down 3-point field goals on five consecutive possessions.
Shots falling from beyond the arc were a common sight at the Bryce Jordan Center on Sunday, as Indiana used a barrage of 3-pointers to beat Penn State 88-82 and snap its 16-game losing streak in Big Ten road games.
The No. 12 Hoosiers (15-1, 3-1 Big Ten), who entered the game with a nation's-best 45.6 three-point field goal percentage, sunk 16 of their 24 3-point attemps.
"This is a hard-earned victory. This is a tough league. It's the No. 1 league in the country for a reason," Indiana coach Tom Crean said. "We knew that we were going to have to play at a very high level."
Jordan Hulls tallied seven of Indiana's 3-point field goals, and recorded a career-high 28 points, also a game-high. The junior guard from Bloomington took only two shots inside the 3-point line, making neither, and scored his other seven points off late-game free throws.
Matt Roth came off the bench and hit five 3-pointers of his own, finishing with 22 points. Cody Zeller and Christian Watford each added 10.
"(Penn State) made it hard for us a couple of times. But that's where that extra pass was excellent," Crean said. "I think Jordan shooting the ball the way that he did, it gets really hard to back off those guys."
After trailing for most of the game, Penn State narrowed its deficit to two with 35 seconds left. Indiana held on, however, as Hulls and Roth combined to go 8-of-8 from the free-throw line in the final 33 seconds.
"I was hitting in the first half and Matt came in and hit some big ones in the second half," Hulls said. "That was just on our part, getting in the lane, kicking it out and finding the open man."
SHEEHEY CLOSE
Indiana sophomore Will Sheehey, who suffered a left foot injury in practice on Dec. 21, did not play for the fifth straight game. Sheehey traveled with the team and participated in warm ups.
Sheehey is "getting closer to day-to-day," Crean said, adding the Hoosiers missed his production on Sunday.
"He's getting better, but he's just not there yet," Crean said. "He's improving. You hadn't seen him be out there like that lately. Believe me, if he was ready to go you, you would have seen him… We're getting closer to it."
CREAN LAUDS PENN STATE
Indiana coach Tom Crean wouldn't divulge many details of his game plan for Penn State, as the two squads are set to face off again on Jan. 22 at Assembly Hall. But Crean did praise the Nittany Lions, who were coming off an impressive 20-point victory over Purdue despite being picked by many to finish last in the Big Ten.
Crean called Penn State point guard Tim Frazier "one of the more undervalued and underrated players nationally." Frazier led Penn State with 21 points on Sunday, while guard Jermaine Marshall added 20.
"They play extremely hard. They battle. They go after it," Crean said. "(First-year Penn State coach Patrick Chambers has) taken some good players that were here and made them a lot better. He took Tim Frazier, and took a guy that was one of the better point guards in our league at finding people and quickness and speed, and is making him a complete guard, a complete player."
Other notes: A solid showing of Indiana cream and crimson helped make up the 8,250 fans in attendance Sunday, by far the largest crowd for a Penn State men's game this season… Newly hired Penn State head football coach Bill O'Brien got a standing ovation when introduced to fans during a first-half timeout… Indiana now leads its all-time series with Penn State, 29-9… Sunday's game marked the fourth time the Hoosiers made at least ten 3-pointers in a game and their 16 threes were one shy of tying a program record.
Jake Kaplan is a freelance sports journalist based out of State College, Pa. He's a former intern at USA TODAY and The Philadelphia Inquirer and will graduate from Penn State in May. Follow him on Twitter at jakemkaplan. 
Filed to: Jordan Hulls, Matt Roth, Penn State Nittany Lions, Will Sheehey