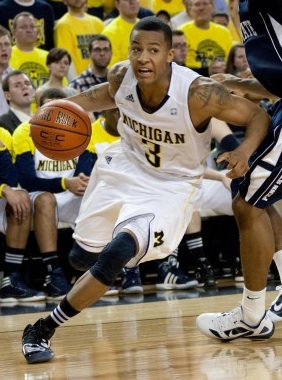 The No. 12 Hoosiers are back at it in Assembly Hall on Thursday night for a meeting with No. 16 Michigan. Indiana will be looking for its second consecutive conference win while the Wolverines seek their first true road win.
The game will be shown on ESPN2 (Dave O'Brien and Dan Dakich) and broadcast on the IU radio network (Sirius 91/XM 91):
Like several teams in the top 25, Michigan's national reputation to-date is based more upon their finish last season (round of 32 loss to Duke in the NCAA Tournament) and a strong preseason ranking. That's not to say Michigan isn't a good basketball team. They are. But without a marquee win and a 2-0 start in the league at home against Penn State and Minnesota, the jury is still somewhat out on this group.
The meat of the Wolverines' non-conference slate consisted of a third-place showing in the Maui Invitational (beat Memphis and UCLA with a loss to Duke), a road loss at Virginia in the Big Ten/ACC Challenge, a neutral court win over Oakland and a home win over Iowa State. All in all, Michigan owns a pair of top 50 RPI wins (Memphis and Minnesota) and eight wins over teams outside of the RPI Top 150. We'll know a lot more about John Beilein's team in the next four days as they'll follow up Thursday night's trip to Bloomington with a Sunday home game against Wisconsin.
MEET THE WOLVERINES
Stu Douglass and Zack Novak may be the vocal leaders, but the productivity in Ann Arbor stems primarily from a solid nucleus of underclassmen. The centerpiece is sophomore Tim Hardaway Jr., who we pegged for All-Conference honors before the season. Hardaway is off to a solid start — 15.6 ppg — but has struggled from 3-point range. He connected on 36.7 percent of his 3-point shots a season ago, but is hitting at just a 29.5 percent clip thus far.
Joining Hardaway Jr. in the backcourt is freshman point guard Trey Burke (pictured), who inherited the task of replacing Darius Morris. Through 14 games, Burke is arguably the Big Ten's second-best rookie behind Cody Zeller. He's scoring in double figures (14.0 ppg) and is fifth in the conference in assist rate (29.8 percent). His stellar play in Maui raised his profile to the point where he's now considered among the top 100 prospects for next summer's NBA Draft by Chad Ford of ESPN.com. Both Burke and Hardaway Jr. excel in transition and are worthy of drawing the defensive assignment from Victor Oladipo.
Michigan's most improved player is sophomore forward Evan Smotrycz, who is hitting close to 55 percent of his 3's and is the Big Ten's third-best defensive rebounder. Fouling has been a problem for Smotrycz (5.1 FC/40), which has limited him to 24.7 minutes a night. Sophomore big man Jordan Morgan is Beilein's best offensive rebounder with fellow sophomore Jon Horford out indefinitely, but isn't much of an offensive threat. And the aforementioned Douglass and Novak, who have combined to take 110 3-point shots, are a big reason that 36.7 percent of the Wolverines points are coming from distance.
A QUICK GLANCE AT THE POMEROY NUMBERS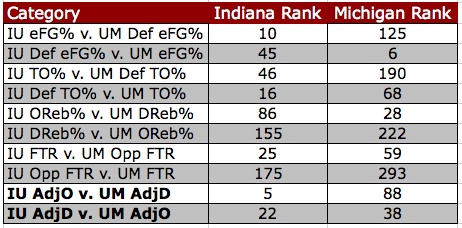 (Note: Rankings through Monday's games.)
Indiana is the superior team when you dig into the KenPom.com numbers, but the Wolverines do possess an efficient offensive punch. Michigan is the only Big Ten team ahead of the Hoosiers in effective field goal percentage and they're the best 2-point shooting team in the country at 58.1 percent. Toss in the fact that such a high percentage of their points come from behind the 3-point line and this is clearly a team that has the firepower to win. The Wolverines are struggling to get to the foul line which is a positive given the fact that IU's opponent free throw rate is on the rise.
Conversely, can Michigan muster up the defensive effort to slow down the Hoosiers? The Wolverines haven't guarded the 3 particularly well and IU should have some favorable matchups in the paint with Zeller going against Morgan and Watford going against Smotrycz.
CREAN FOCUSED ON TRANSITION
A few quotes from Tom Crean on Michigan from his radio show on Monday night, via Dustin Dopirak of The Herald-Times:
– "Trey Burke, their freshman guard, is just explosive."
– "We gotta be very concerned about the 3, but also how they get them. We have to get back and stop the ball."
– "They really, really run well on your turnover."
– 'The transition defense is crucial. I haven't seen a team that runs better."
– "Michigan wants to run on misses and makes."
–  "We want to defend the 3, but at the same time we've got to step penetration."
THE JOURNEY
Burke had his journey to Ann Arbor documented in a YouTube series and here he is scaling the stairs at Hoover Dam in Westerville, Ohio:
QUICK FACTS ON MICHIGAN
All-time series: Indiana leads 100-55
Location: Ann Arbor, Michigan
Student Enrollment: 41,674
Established: 1817
(Photo credit: Dustin Johnson of UMHoops)
Filed to: Michigan Wolverines