Film Session: Michigan State's 20-0 run
After Indiana took a nine-point lead at the 11:07 mark in the second half, Michigan State ripped off a 20-0 run and was suddenly up 11 with 5:11 to go. That was about all the Spartans needed, as Indiana only got as close as eight once before losing by 15.
Michigan State turned up the defense and stymied Indiana in the halfcourt — something the Spartans also did in the first half to build their 18-point lead — and got some fastbreak points by turning some of that defense into offense.
A look at two of Michigan's defensive efforts — as well as an Indiana defensive breakdown — during these crucial five minutes in the latest edition of Film Session:
1) SHOT CLOCK EXPIRES
Seventeen seconds have expired on the shot clock and the Hoosiers have yet to get anything going. Matt Roth looks for Cody Zeller down on the block, but he's fronted by Adreian Payne: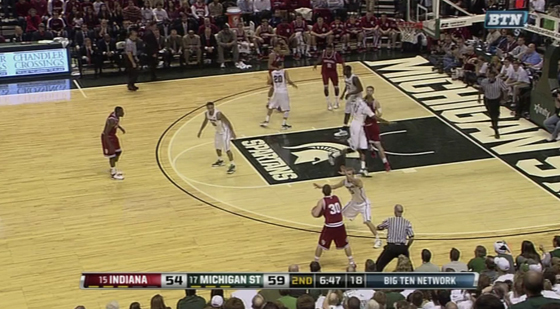 Roth passes to Victor Oladipo, who also looks for Zeller, but isn't able to get it into him: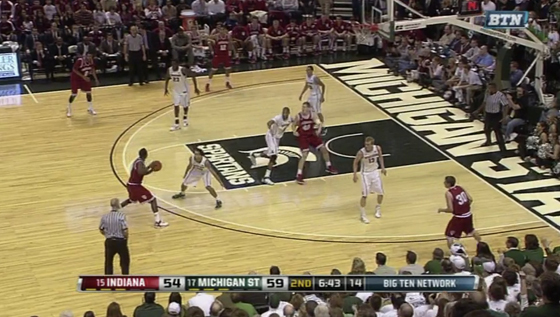 Oladipo passes it to Christian Watford, who gives it back to Oladipo: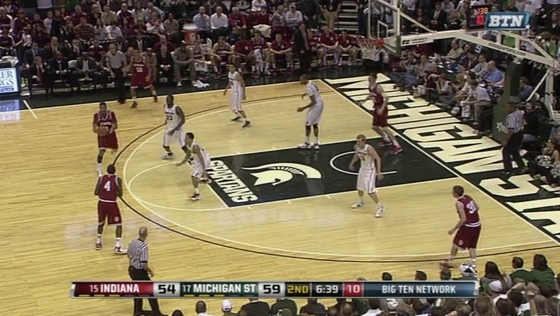 Eventually, Verdell Jones looks to re-initiate the offense, but only seven seconds remain: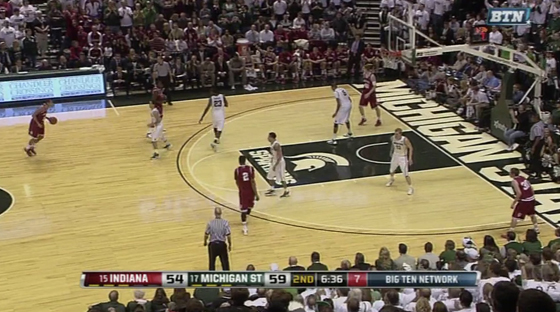 Zeller comes up to set a pick for Jones, but he ends up trying to drive the other way: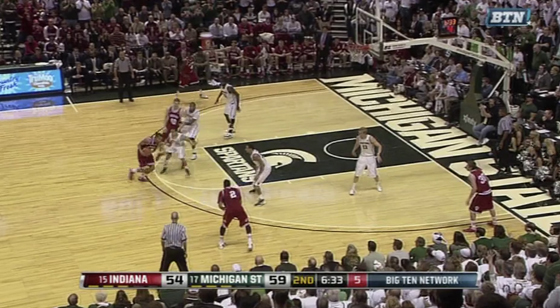 Not able to penetrate, he passes out to Watford: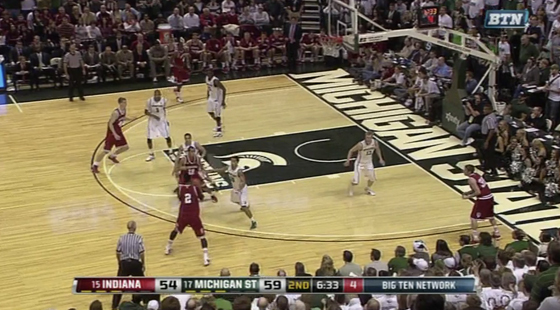 Because Jones doesn't space the floor and comes right at Watford, MSU is able to get two defenders around Watford: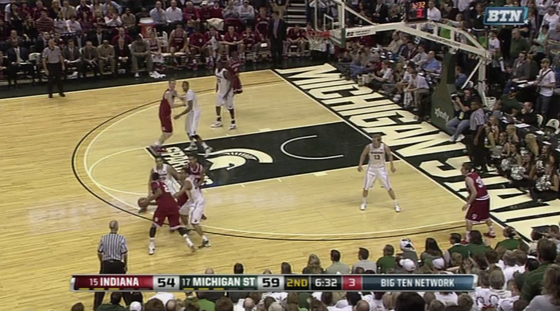 He takes a heavily-contested 3-pointer, which doesn't draw iron as the shot clock expires: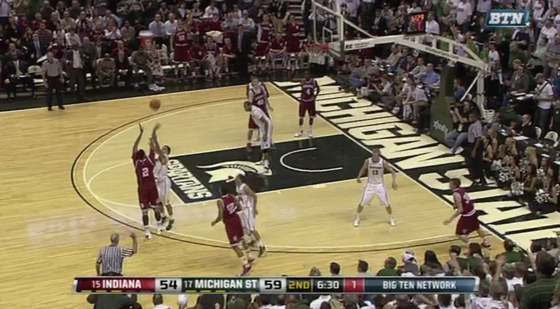 This was one of several occasions where the Hoosiers would pass around the perimeter, look to get Zeller engaged and ultimately have to settle for a less-than-ideal look as the shot clock neared zero.
VIDEO:
2) SLIPPING IN BEHIND THE ZONE
As Indiana sets up in a zone, Draymond Green calls for Payne to set up over on the left block: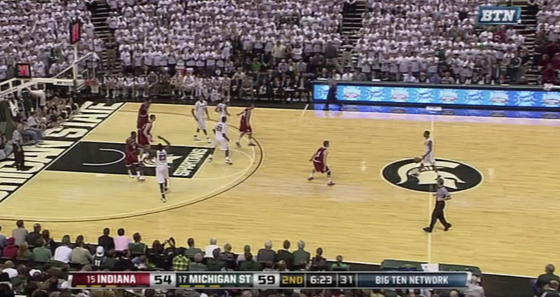 Keith Appling passes it over to Brandon Wood: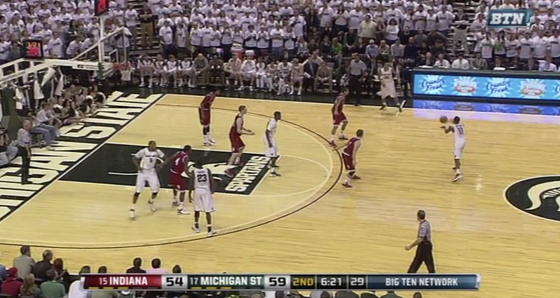 Wood kicks it back to Appling, who sees Payne slipping in behind the zone: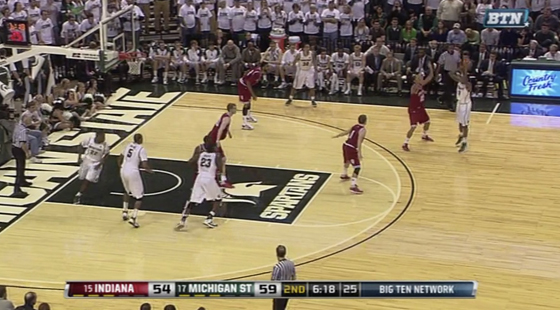 By the time Zeller realizes it, Payne is dunking it over him for two: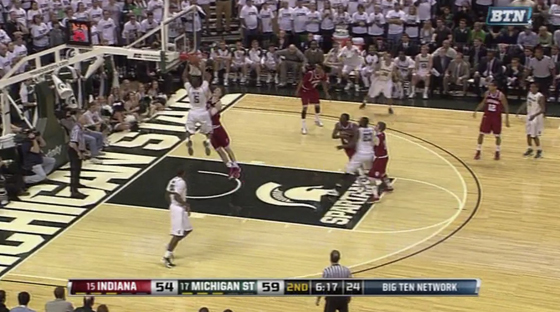 Indiana doesn't play much zone, and a miscue like this shows a bit of the Hoosiers' inexperience with it.
VIDEO:
3) FAILED ALLEY-OOP
Watford looks for Zeller, who's again fronted: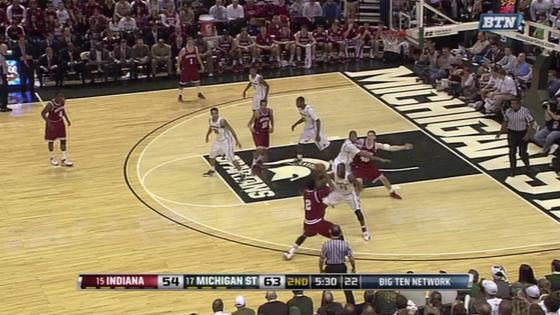 Eventually, the ball makes it over to Oladipo near the left of the top of the key, who calls Jordan Hulls over: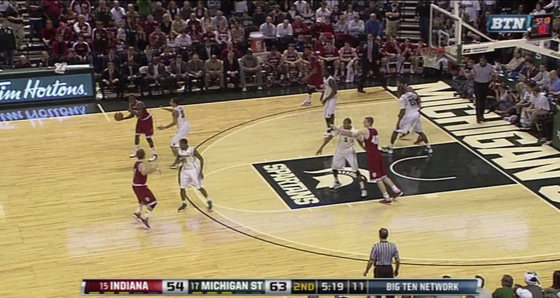 Zeller sets a pick for Oladipo, which frees him going to the hoop: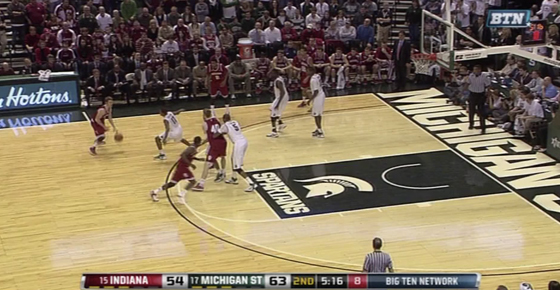 Hulls lobs it in the air for an alley-oop: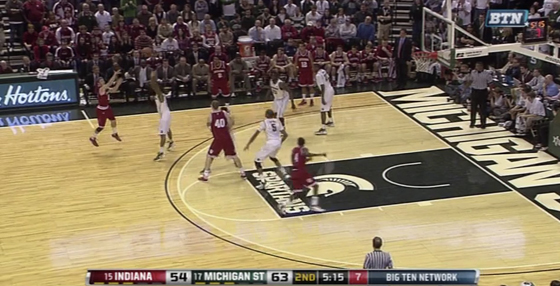 But it's a bit too short in front of the rim and Payne is able to recover back and snag the ball: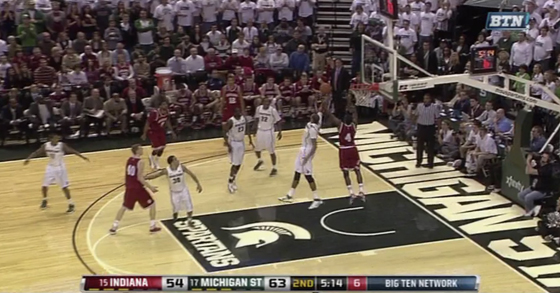 Oladipo fouled him on this play. And with MSU in the bonus, Payne made both free throws. Payne's defense was key in this game, and this was just one of many examples.
VIDEO:
Filed to: Michigan State Spartans