The Minute After: Michigan State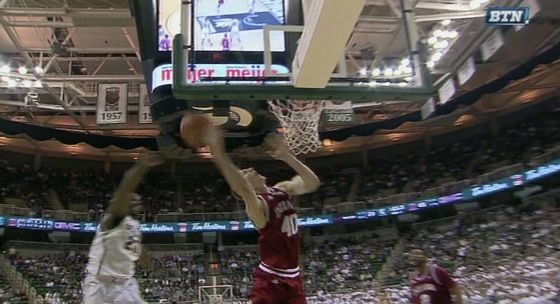 Thoughts on Indiana's 80-65 loss to Michigan State:
Welcome to life on the road in the Big Ten against a strong defense.
What has come so easy for the Hoosiers on offense this season crumbled for long stretches up in East Lansing this evening.
Michigan State's defense took the Hoosiers out of their comfort zone early. Their length and on-ball defense didn't allow Indiana any breathing room. The Spartans were blocking mid-range and perimeter shots. The Hoosiers were unable to drive, unable to get the ball inside to Cody Zeller with MSU's hands stretched high and Adreian Payne fronting and bodying the freshman.
But this was a wild one with violent swings.
Indiana proceeded to go on a 25-2 run on the strength of defense, some transition buckets and 3-pointers. After knocking down a lot of shots in the first half, Michigan State didn't score its first of the second half — a jumper by Draymond Green — until the 14:49 mark. Indiana, and specifically Christian Watford, was snagging every rebound in sight. With 11:07 to go, Watford hit a 3-pointer, and the Hoosiers were up nine. The Izzone was out of it; Indiana was flying high.
But then it started to slip away. Michigan State's D turned it up again. And Indiana's offense went back to struggling to get anything going in the half court. It was passes around the perimeter as the shot clock ticked away. Derek Elston came into the game. He drew only backboard on a shot, committed a foul and turned the ball over. He was promptly yanked.
And then the Spartans started dominating the inside. Derrick Nix was stellar off the bench, scoring 14 points on 6-of-9 shooting. He had his way with Zeller. Payne got his buckets over the final minutes, too. And combo guard freshman sophomore Keith Appling was sensational on both sides of the ball — he had an incredible block on a Victor Oladipo fast-break lay-up — in what ended on a 35-11 run by the Spartans to close this one out. Peep this line for Appling: 25 points (7-of-12, 2-of-4 from three, 9-of-10 from the line), seven assists and six rebounds.
This one was closer than the 15-point spread it ended up at. Indiana showed much resolve in punching back and going up nine. But alas, it was a 16th straight road loss in the Big Ten for the Hoosiers. They're now 1-27 on the road in conference play under Tom Crean.
And things don't get any easier with the Buckeyes coming to Bloomington on Saturday. Big Ten basketball is back. And it's unforgiving.
OTHER THOUGHTS:
+ Hell of an effort from Watford tonight. You could see the fire in his eyes from the onset and it carried through all game. His work on the boards early in the second half was particularly impressive. For the night he finished with 26 points (9-of-16, 4-of-6 from three, 4-of-6 from the line) and 10 rebounds. He's often been derided for his lack of effort and focus for a full 40 minutes. (He himself has been part of the chorus there.) But if he can bring an effort like tonight throughout the Big Ten season — and frankly, this team is really going to need him to at times — Indiana will be in good shape the rest of the way.
+ Jordan Hulls is one of the best shooters in the country. Has been for some time now. But when the Hoosiers run up against a team that takes them out of what they're trying to do in the halfcourt offense, one that has size and length, it's sometimes difficult for him to be effective. Hulls missed all four 3-pointers he took this evening and was just 2-of-10 from the field. (Though, he did miss a few open looks; so perhaps it was just an off-night in general for the junior.)
+ Don't think I'm alone in this next statement: This was by far Zeller's worst game of the season. Michigan State's bigs outmuscled him all evening. He got in foul trouble. And he generally just didn't have much, if any, impact on the game (four points on back-to-back buckets early in the second half, three rebounds). He only had four field goal attempts. The freshman has an incredible skillset for his age and a maturity beyond his years. But at only 19 years of age, he's still growing and getting stronger. And there's going to be nights like this in the Big Ten, when, for all his talent, his lack of strength is going to be exploited.
+ A few parting numbers: Indiana got crushed at the foul line. The Hoosiers only took nine and made just five. The Spartans got to the line 22 times and made 17 of them. At one point in the second half, Indiana was dominating the boards, sporting a 40.o OR% and a 78.3 DR%. But by the time the dust settled on Michigan State's final run — one in which they started rebounding better — the final tallies were pretty close. Indiana finished with a 31.0 OR%; Michigan State ended the game with a 28.6 OR%. The Hoosiers closed out the game with a 71.4 DR%; the Spartans weren't far behind at 69.0 percent.
Filed to: Michigan State Spartans