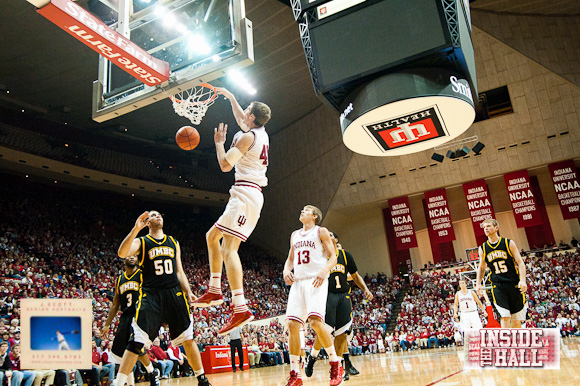 Thoughts on a 89-47 win over the Retrievers:
Indiana was getting good outside shots in the first half.
The Hoosiers just weren't hitting them against UMBC's zone, as they only made 2-of-14 from 3-point range. Still, they were able to carry a 16-point lead into halftime by scoring 24 of their 37 points off UMBC turnovers. And by the time the second half rolled around, Indiana found its 3-ball stride and never looked back. They hit 9-of-13 from beyond the arc in the second half. Christian Watford went off — he shot 7-of-8 in the second half and ended the game with 22 points and 10 rebounds. Matt Roth (4-of-5 from 3-point range) scored a season-high 14 points. It all resulted in another blowout victory after UMBC was able to cut the lead to 10 early in the second half.
But as Indiana now heads into conference play at 12-0, there's some concern. Will Sheehey, who's been a strong sixth man for the Hoosiers, watched the game on the bench. He's on crutches. Derek Elston took in the action with sweats on. He's got tape on a broken nose. And Verdell Jones went down with what looked like a hip injury near the end of the first half, and he never returned to action or the bench after halftime.
Indiana faced and passed tests against the likes of Butler, NC State, Kentucky and Notre Dame.
And now it looks as if a new one has emerged: keeping their winning ways afloat amidst a sea of injuries.
Elston shouldn't be out long. And Tom Crean said after tonight's game that both Sheehey and Jones are day to day. But if they're unable to go next week, Crean may be using a lot more Roth, Remy Abell and Austin Etherington in his rotation as Big Ten season approaches next week. That's a 3-point specialist and two freshman.
This isn't to say the Hoosiers can't still put up strong battles against Michigan State and Ohio State without them. But it is to say if Jones and Sheehey — two of Indiana's top six rotation players — aren't able to play against either of them, things do get harder for this team.
ONE PARTING THOUGHT
I usually don't comment on the play-by-play or color broadcasters. But I must admit: Perry Clark really did it for me this evening on the color call. He described Tom Crean's offensive and defensive sets in greater detail than anyone else this season and overall was just a real knowledgeable dude who didn't have any gimmicks. And this was on an ESPN3/Watch ESPN broadcast, no less.
So yes: Here's to you, Coach Clark.
Filed to: UMBC Retrievers