11-0 start has merit, but work remains for Indiana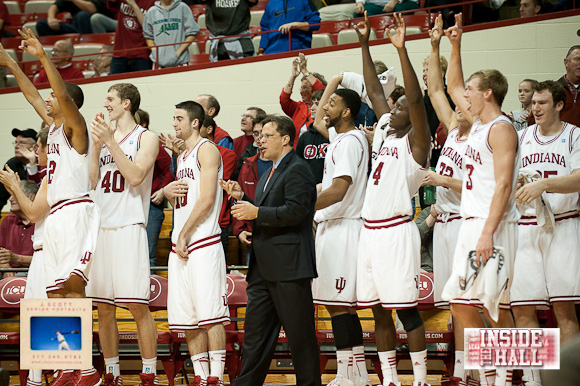 Do you remember the last Indiana team to start a season 11-0? Some of you may. Others, like myself, were not alive to witness it.
The answer is the 1975-76 national championship team — also the last team in college basketball to finish undefeated.
This year's group of Hoosiers matched the feat last night with a 107-50 clubbing of Howard. An IU victory on Thursday against the University of Maryland — Baltimore County, which KenPom puts at a 99% probability, will match last season's win total before conference play begins.
This is a start no one, save for the most extreme optimist, saw coming.
The Hoosiers are winning in a manner that suggests the turnaround in Bloomington has arrived a year earlier than expected. The only movement on this team's mind is into the top 15.
The first sign was a blowout win at Evansville, which was just the second true road win in Tom Crean era. Indiana shot the lights out and their effective field goal percentage has remained in the top ten nationally ever since.
Up next was a grind-it-out statement win over two-time defending national runner-up Butler. Those suggesting Crean could be replaced by Brad Stevens at season's end received their first call to silence.
IU backed that up with an 11-point win at North Carolina State after trailing by seven late in the second half. This was a game that teams in previous seasons wouldn't have fought back and won. It also provoked a few votes in the USA Today/ESPN Coaches Top 25 Poll.
Still, some asked, who has Indiana beaten?
Enter the Kentucky game. After surrendering a lead held for most of the game, Christian Watford hit one of the most memorable shots in Assembly Hall history. Chaos ensued. The Hoosiers delivered an effective field goal percentage of 50.9 against a top five defense and  held the Wildcats in check on the offensive glass. Another passing grade.
And most recently, Indiana answered the call against Notre Dame in Indianapolis following a week of final exams and celebration from the win over No. 1.
"It means a lot," sophomore Will Sheehey said of Indiana's best start in 36 years. "Even though we're going to take it one game at a time, it's nice when you look back at the games you've already won. Coach [Crean] talks about making history and that's what we're trying to do."
Before you print your boarding pass for a trip to the NCAA Tournament, remember this: Seasons are not made in the non-conference. They're made in conference play.
That's not to say the non-conference wins don't hold significance. They do.
Rarely do you see a team completely bomb in the non-conference and go on to make noise the rest of the way. It just doesn't happen. The tournament selection committee will place a star next to the Kentucky win. Few other teams will be able to boast such a marquee win.
So give the Hoosiers credit for playing themselves into the best position possible as the start of Big Ten play looms next Wednesday in East Lansing.
But the ultimate path of this season will be shaped during eighteen conference games.
Many suggested it could be a down year for the Big Ten. The numbers thus far say otherwise. Eight, maybe nine teams will be fighting to hear their name called on Selection Sunday. Indiana is positioned as well as any, but that guarantees nothing.
The Hoosiers, like they've done through 11 games, must once again answer a new set of questions in eight days. Can they protect home court against Illinois or Purdue? Can they go to Nebraska, Penn State and Iowa and win? And can they bounce back from a loss and not let it snowball as it has in previous seasons?
All valid questions that will be answered soon enough.
Filed to: 2011-2012 season