What to Expect: Notre Dame
After entering the top 25 for the first time since March of 2008, Indiana travels to a sold out Conseco Fieldhouse in Indianapolis on Saturday for a meeting with Notre Dame in the Close the Gap Crossroads Classic. The game will be shown on ESPN2 and broadcast on the IU radio network (Sirius 94/XM 194):
Notre Dame entered the season with hopes of reaching the NCAA Tournament for a third consecutive season.
But those prospects quickly hit a bump in the road when senior Tim Abromaitis suffered a torn ACL in practice on the morning of Nov. 26. Abromaitis, a co-captain and preseason All-Big East selection, had returned to the Fighting Irish just eight days earlier after serving a four-game suspension for playing a pair of exhibition games during a redshirt sophomore season.
Notre Dame lost both games it played with Abromaitis in the lineup — a 29-point drubbing to Missouri and a narrow loss to Georgia. And without him, the Irish sit at 3-2 with losses to Gonzaga and a rebuilding Maryland program. They've beaten one team, Detroit, inside of KenPom's top 200.
Had Abromaitis remained healthy, Mike Brey's club figured to finish in the middle of the pack in the Big East and potentially sit on the bubble come Selection Sunday. His absence will make finishing better than tenth in the league challenging.
POMEROY PREVIEW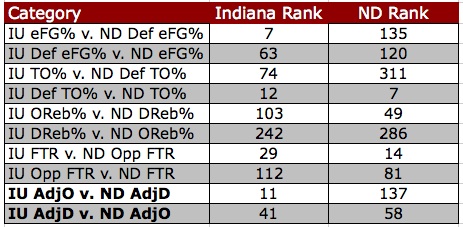 This chart, unlike the Kentucky game, is stocked full of numbers that appear favorable for Indiana. The Hoosiers have one of the country's most efficient offenses and Notre Dame's defense has been mostly average. Notre Dame has been particularly shaky at defending the 3-pointer. That's a factor not depicted above, but weighs in heavily on effective field goal percentage defense. Opponents are shooting 36.6 percent from three and Indiana is currently the second-best team in country from behind the arc.
Indiana's one area of concern that must be addressed continues to be defensive rebounding. As I wrote in yesterday's mailbag, the Hoosiers have been able to mask that deficiency with one of the country's most prolific offenses (1.18 points per possession) and a much improved opponent free throw rate. But with the start of Big Ten play just twelve days away, Indiana must do a better than last in the league on the defensive glass.
Tempo will be an interesting battle as Brey likes a slower, deliberate pace while the Hoosiers just went blow-for-blow with one of the country's best running teams. It wasn't always effective, but Indiana didn't slow it down against Kentucky and they won't be looking to slow it down on Saturday either. Notre Dame's best chance is sticking around early and then trying to force a half-court game if they can get a lead.
A RUN DOWN OF THE ROSTER
In the absence of Abromaitis, a pair of sophomores have emerged as the two best options on offense. Jerian Grant, a high school teammate of Victor Oladipo at DeMatha, is using 18.6 of Notre Dame's possessions, but has the top offensive rating on the team and boasts a 59.5 effective field goal percentage. The 6-foot-5 guard is hitting over 60 percent of his 2's and close to 39 percent on 3's. Grant also leads Notre Dame in assists (2.7-to-1 assist-to-turnover ratio).
Eric Atkins, a 6-foot-1 guard, is using the most possessions for the Irish and is the team's best 3-point shooter. Atkins has connected on 16-of-31 attempts from 3, but is hitting just 35.6 percent of his 2's.
In the front court, senior Scott Martin will return after missing last Saturday's win over Dartmouth with a concussion. The 6-foot-8 forward from Valparaiso has been dreadful offensively through ten games. He's shooting 12-of-45 from 3 and his effective field goal percentage of just 41.9 is by far the worst among the regulars. 6-foot-9 junior Jack Cooley is one of the country's better rebounders (top 30 national rank in both OR% and DR%), but is taking just five shots per game.
A PRO-INDIANA CROWD 
That's the expectation given the proximity to Bloomington, a heavy IU fan presence in the Indianapolis area, the 9-0 start and a return to the top 25. Conseco Fieldhouse announced a sellout earlier in the week and it wouldn't be at all surprising to see more than half of the building filled by IU fans.
NON-CONFERENCE WINDING DOWN
When the season tipped off, this game was viewed as the last of five that could shape the direction of Indiana's season.
Wins in three of the following five games — Evansville, Butler, N.C. State, Kentucky and Notre Dame — was viewed as the ticket for the Hoosiers to put themselves in position for the NCAA Tournament discussion entering conference play. Indiana has exceeded everyone's expectations and according to KenPom, has a 79% percent chance to leave Conseco Fieldhouse with a 10-0 record.
Filed to: Notre Dame Fighting Irish