The Inside the Hall Mailbag: December 15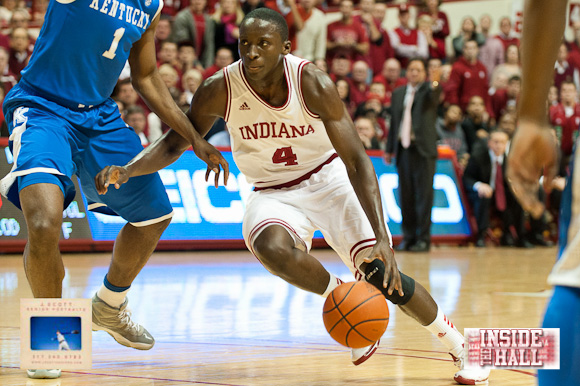 The Inside the Hall Mailbag is a collection of questions tweeted to us via Twitter (@insidethehall) and sent to us via our Facebook page. Submit your questions and we'll answer as many as we can. Now, onward … 
Mark Joseph via Facebook writes: Seeing as the B1G is year in/year out a defensive league, do you think Tom Crean's game plan is to push the pace to get teams out of their comfort zone? How effective do you think this will be and seeing as it is nearly impossible to keep the offensive numbers this high, what do you think is plan B?
Ryan Corazza: This is a good question.
Indiana has been deadly in transition this season and it's clearly part of Tom Crean's style — which we're seeing more of now that he has the personel to pull it off. According to KenPom, Indiana's adjusted tempo (69.2 possessions per game) so far this season is its quickest pace during his tenure. As such, I don't see them altering the gameplan once Big Ten season hits.
That said, there's bound to be some drop-off, as Indiana will face more consistently strong defenses in the Big Ten that will look to stop the Hoosiers in transition. KenPom currently ranks Wisconsin as the No. 1 defense in the nation by adjusted defensive efficiency, followed by Ohio State (No.5), Michigan State (No. 8), Purdue (No. 14) and Illinois (No. 32). (So for as good as Indiana's D (No. 41) has been, five Big Ten teams are currently better.)
The good news for the Hoosiers? They're a pretty balanced offensive squad. If they're forced more into half-court sets in grind-it-out conference play, it conceivably won't be their demise. We could see a more inside-outside attack with Cody Zeller down low — still a work in progress as far as getting him touches — around Indiana's bevy of perimeter shooters and slashers. The key for the Hoosiers will be to keep getting to the line at a high rate to offset any poor shooing nights against these good defenses.
@caseybaska writes: Noticed Elston didn't play a minute in the UK game. Strategic? Injury-related?
Justin Albers: Crean said after the game that Elston hurt his back and "had a tough week" leading up to the game. Elston was cleared to play, but Crean elected to play with a short bench against Kentucky. Only Will Sheehey, Tom Pritchard and Daniel Moore came off the bench for the Hoosiers. Crean said Elston will play Saturday against Notre Dame.
From Chad Harding: how much did willis impress you?
Alex Bozich: It wasn't my first time watching him, but Derek Willis played well on Tuesday night. The competition wasn't very challenging which places somewhat of a damper on the 26 points and 15 rebounds he put up. Still, it's hard not to be intrigued by a 6-foot-9 prospect with his size and versatility.
A couple of things that stood out: Willis wasn't aggressive enough offensively in the first half. His coach, Troy Barr, told reporters after the game that he challenged his star player to become more assertive in the second half. Specifically, Barr said he told Willis to shoot or he'd take him out of the game. He responded with 18 points after halftime. Willis also spent a lot of time guarding the opposing team's primary ball handler and was able to cause some turnovers with his length.
The rebounding numbers were obviously solid, but that was more of a function of nobody being able to match his size. What I liked most on that front is when he grabbed rebounds, he quickly hit the outlet man or drove the ball the opposite way himself quickly. Willis is tremendously skilled with the ball for a kid his size and that's probably one of the first things most people noticed in the video we posted on Wednesday.
@mouse0599 writes: How do you feel about Cody Zeller's draft stock going up and how long do you think he'll stay at IU?
Alex Bozich: It's not surprising that his draft stock continues to rise given how he's played through nine games. And his solid play this past Saturday against a player like Anthony Davis only confirmed what most of us already knew: He's an elite player that NBA teams are already keeping tabs on for the future. At the Derby Festival Classic back in April, one NBA scout told me Cody's size and skill alone would make him a first-round pick. That seems like an accurate prognostication.
How long will he stay in Bloomington? At least until he gets a degree, I believe. Which means probably three basketball seasons at least. Leaving early just doesn't seem like something he's even entertaining at this point. He's a Kelley School student and his brother Tyler had a chance to be a first-round pick last summer and opted to return for his senior season.
@jlitt93 writes: What do you expect out of IU this weekend against ND? Do you see a letdown after win over UK and earning ranking of #18?
Justin Albers: It definitely could be a trap game, but I think the Hoosiers will come out focused with a full week to prepare for the Irish. They do have the added challenge of final exams to deal with this week, but the players should be anxious and excited to get back out on the floor after the exciting win over the Wildcats.
That being said, don't be surprised if the Hoosiers look a little sloppy occasionally against Notre Dame. They'll still win the game, but it could get ugly at times.
@bmrollin writes: Do you think Victor/Will's progress has been because playing limited roles as freshman or where they just underrated recruits?
Alex Bozich: Not sure I'd point to either as a reason for progress. Both were underrated recruits, but were also in the top 150 on Rivals so it's tough to characterize them as being totally off the radar. The talent was there, it was just a matter of gaining experience, getting stronger and becoming more assertive.
Above all, it was the work both players put in during the offseason that's led to the improved play. Oladipo, specifically, went on the Reach USA trip to China and played in the Indy Pro-Am. Sheehey also played in the Pro-Am. Crean has said both guys spent countless hours in Cook Hall during the offseason. I believe at one point he joked that both guys had worn out their swipe cards (referring to the 24 hour access the practice facility allows).
@HoosiersFTW writes: What's IU's biggest weakness right now as a team?
Alex Bozich: Defensive rebounding. Through Tuesday's game, the KenPom numbers show IU's opponents are sporting an offensive rebounding percentage of 34.9 percent. That ranks 242nd in the country. In three of IU's last four games, opponents have rebounded over 39 percent of their missed shots. It's tough to drive it home too much with a 9-0 record, but it will be a factor once the Hoosiers are unable to cover it up with a hot shooting night on the other end of the floor.
Filed to: Cody Zeller, Twitter Mailbag, Victor Oladipo, Will Sheehey