The Inside the Hall Mailbag: December 7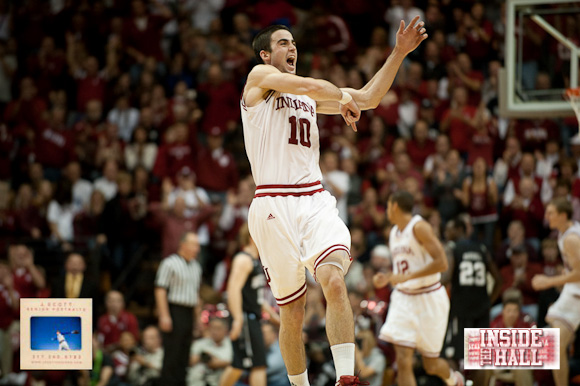 The Inside the Hall Mailbag is a collection of questions tweeted to us via Twitter (@insidethehall) and sent to us via our Facebook page. Submit your questions and we'll answer as many as we can. Now, onward … 
@hmc210 writes: What are the chances IU makes the tourney this year?
Alex Bozich: At this point the chances seem fairly good. Assuming Indiana finishes the non-conference 12-1 (that includes a February non-conference game with North Carolina Central), they'd probably need eight Big Ten wins to become a legitimate candidate to be included in the NCAA Tournament field.
With the strength of the conference in the computer rankings thus far, it's hard to imagine a 20-win Big Ten team not making the field. But let's not get too ahead of ourselves just yet. Given Indiana's struggles down the stretch over the past few seasons, there's plenty left to play out once the conference schedule rolls around.
@HBHoosier writes: Do you think IU tries playing any zone defense on Saturday?
Justin Albers: Yes. I think Tom Crean will show Kentucky a number of different looks to keep the Wildcats on their toes. Part of the reason for this is IU will have matchup problems all over the court. Who's going to guard Terrence Jones? Who gets Marquis Teague? What about Michael Kidd-Gilchrist?
Because Kentucky doesn't have a good number of 3-point shooters, zone should be effective in short bursts. It would make sense for IU to slow the game down in such a manner because Kentucky could turn it into a dunk fest in a hurry.
@hoosierfan34 writes: What do you think is the critical element for us on Saturday?
Alex Bozich: There are plenty of critical elements, but two things jump out. The first is keeping Kentucky off of the offensive glass. This is too good of a team to allow second chance opportunities. Kentucky's offense is the third best in the country right now according to KenPom.com. Indiana will have its hands full trying to contest shots and cause misses. Allowing too many second chances will be tough to overcome.
Indiana taking care of the ball is the other area I'd consider critical. A careless pass against Kentucky turns into a dunk on the other end. Not a layup. A dunk. The Wildcats really like to get out and create points off their defense in transition. So the Hoosiers must have crisp ball movement and avoid mindless turnovers.
Andrew Bishop via Facebook writes: Why not give Remy Abell more minutes? Verdell Jones is too unpredictable with the ball.
Justin Albers: You make a good point here. I was telling someone last week I don't think Jones will be in the starting lineup by the time we get to the Big Ten season. Or at least he shouldn't be. Crean seems to be high on Jones, but he doesn't fit what the Hoosiers are trying to do on either end of the court. He's a good individual scorer, but he needs the ball to be effective. He still dribbles with his head down, and he isn't a great outside shooter. Because of his slight size, Jones can be a liability on the defensive end as well.
So you're right when you say Jones should play fewer minutes. But is Abell the guy that deserves more? I'm not sure. He was impressive in limited minutes at N.C. State, but I still need to see more of him before I say he should be part of the Hoosiers' rotation. For now, I'd like to see Crean insert Will Sheehey into the starting lineup and bring Jones off the bench.
Mark Shlyankevich via Facebook writes: Sheehey is 6th on the team in minutes. That absolutely needs to change, right?
Alex Bozich: Wrong. Take a closer look at the minutes. Six guys are averaging 20 or more, but no player is over 30. So it's not like Sheehey is playing far less than any of the regulars.
I'm not necessarily in agreement with Justin that Sheehey will or should take over for Jones in the starting lineup. Sheehey has embraced the role of coming off the bench as a guy that can bring scoring and more importantly, energy. If he continues to excel in that role and the Hoosiers continue to win, why change the lineup?
Dylan Harris via Facebook writes: How long till we crack the top 25?
Justin Albers: Hard to say. If IU beats Kentucky on Saturday, it immediately jumps into the top 25, and probably the top 15. If not, though, the Hoosiers could crack the top 25 if they beat Michigan State to open the Big Ten season Dec. 28. I do think they'll be ranked at some point this season.
@rick_park writes: Given the emphasis on defense, do you think we've improved as a team or are we simply benefitting from Cody's presence?
Alex Bozich: There's no doubt that several of Indiana's players have improved defensively. Some of it is probably a result of getting quicker and stronger in the offseason and some of it has to do with Cody's presence.
The jury is still out on how this team will defend as a unit against elite competition. But with Kentucky and Ohio State coming to Assembly Hall this month, we're about to find out. In terms of how Zeller impacts the game, it's huge for the Hoosiers to have a 6-11 presence that can challenge shots while avoiding silly fouls. It's also pivotal to have such a well conditioned big man who doesn't get beat often for easy buckets on the break.
Steven Harris via Facebook writes: Looking at how we match up in each position with Kentucky, where do you think IU is most disadvantaged, and where may we actually have some key advantages?
Justin Albers: They're the most disadvantaged in the matchup against Terrence Jones. There's just no way around that. Jones is 6-9, he's athletic enough to take the ball to the rim, and he can shoot from the outside. He's really a combination of Christian Watford's size and Victor Oladipo's athleticism and quickness. I would think Watford would start on him, but I'm guessing Crean is going to rotate guys on Jones all afternoon. Sheehey might be Crean's best option, given his 6-6 size and desire to draw the opponent's best offensive threat.
As far as where IU's advantages come, they don't really exist on paper. Cody Zeller and Anthony Davis will likely cancel each other out inside. Oladipo is capable of defending Doron Lamb well, but will it take away from his offense? The one area the Hoosiers may be able to exploit is Jordan Hulls vs. Marquis Teague. Teague, an Indianapolis native, is one of the top freshmen in the game, but Hulls is far more experienced and polished as a junior. I think Hulls could have a big scoring day against Kentucky.
Filed to: Inside the Hall Mailbag, Twitter Mailbag