Notebook: Halftime adjustment leads to second half run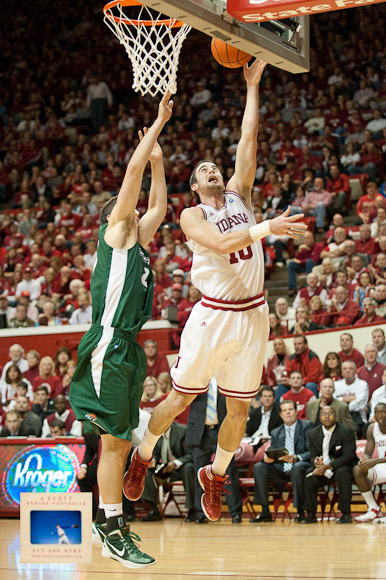 Sandwiched between last Wednesday's come-from-behind win at N.C. State and a meeting with No. 1 Kentucky, Sunday's meeting with Stetson produced arguably the worst first half of the season to date for Indiana.
The Hoosiers went to the locker room leading just 33-29 and Assembly Hall was as quiet as it's been this season late in the first half.
"We knew coming in at half what we had to do. We came out too lackadaisical, too lazy, too laid back," Verdell Jones said of IU's first half performance. "That's not us, that's not who we are this year."
Rather than getting into his team at the intermission, Tom Crean instead focused on putting together a different lineup to start the second half that would provide a spark of energy.
Christian Watford, Jordan Hulls and Victor Oladipo sat in favor of Derek Elston, Daniel Moore and Will Sheehey.
"I wanted to change things up because I thought it needed to be," Crean said of the halftime change in personnel. "And that's not to say that the guys that we didn't start didn't have it. But the energy level, the synergy wasn't where it needed to be. It was just a feel. And it worked out."
Indeed it did.
The Hoosiers scored seven points in the first two minutes of the second half and Stetson never got closer than nine the rest of the way. At one point, Indiana went on a 19-1 run.
Crean said being in the position to make such a move at halftime and have it work out might not have been possible in previous seasons because of limited depth.
"You can't truly build your program without depth and consistency of depth and having guys that understand that if they're not bringing everything they possibly have, they're going to watch for a while.
"I hope we never ever run into that situation again because it's made the last three years as difficult of in-game adjustments and strategies as anything. Because no matter what you did there would be a huge talent gap if you substituted too much compared to what was in and compared to what you were going against."
PLAYERS HONORED TO MEET '87 CHAMPS
A weekend reunion honoring the 1987 NCAA Championship team offered the opportunity for the current players to meet and receive words of encouragement from one of the most storied teams in the program's history.
"They gave us some motivational words that stays in the family," Jones said of brief time the two groups spent together. "Anytime you have legends like that come in, it's a great honor."
Victor Oladipo said the current crop of Hoosiers not only wanted to soak up information, they also wanted to play well in front of one of Indiana's five national championship teams.
"They speak for themselves. That's a phenomenal group right there," the IU sophomore said. "Their accomplishments and their successes is where we want to be at. We had to show them that we can play Indiana basketball."
STETSON COACH COMPARES INDIANA TO FLORIDA, FLORIDA STATE
First-year Stetson coach Casey Alexander came into Assembly Hall on Sunday having already faced a pair of likely NCAA Tournament teams in Florida State and Florida.
Stetson lost at Florida State 79-66 on Nov. 16 and to Florida 96-70 in Orlando on Nov. 28.
Alexander was asked to compare the three teams following IU's 84-50 win on Sunday.
"Different. I think they are more of a complete package. Florida is great offensively and Florida State is really good defensively. I think Indiana has a chance to be better, more solid on both ends of the floor collectively. Just as far as talking parts and pieces you know they are all really good."
Filed to: 1987 NCAA Championship team, Stetson Hatters