The Minute After: Stetson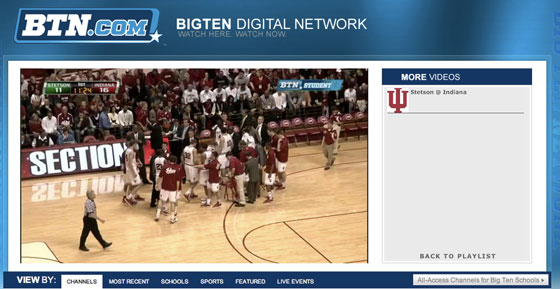 Thoughts on an 84-50 win over the Hatters:
Lethargic.
Alex described Indiana's first half in such fashion, and it was spot on.
The reasons were tossed out on Twitter during the first half: A sleepy Sunday with a sparse student section, a bit of a hangover after an important road win against N.C. State, an overlooking of the opponent with Kentucky looming in less than a week.
Whatever the reason, the Hoosiers only found themselves up 33-29 at the break. And Tom Crean apparently didn't like the effort he was getting from some of his players, as starters Jordan Hulls, Christian Watford and Victor Oladipo began the second half on the bench.
Derek Elston, Daniel Moore and Will Sheehey started in favor of them. That was about all that was needed. That group started the half strong, and it continued no matter who was in the lineup in the second half. The Hoosiers outscored the Hatters by 30 (51-21) over the final 20 minutes of the contest. It was strong defense (some turing into offense), alley-oops (one for Oladipo and Zeller; one and a half for Tom Pritchard) and solid ball movement.
It was, quite simply, what was expected out of this Hoosier team against an opponent like this.
SOME NUMBERS
+ The Hoosier dished out 20 assists on 34 made baskets.
+ The Hatters turned the ball over 23 times — Indiana had 13 steals — which led to 30 points off turnovers for the cream and crimson.
+ After going scoreless and attempting just two total shots against Butler and N.C. State, Derek Elston got back into the mix against the Hatters. The Tipton native scored seven points on 3-of-6 (1-of-2 from three) shooting in 16 minutes of action.
+ Indiana went 11-14 from the line for a free-throw rate of just 21.2 — lower than its season average of 35.4.
+ The Hoosiers scored an impressive 50 points in the paint. Cody Zeller chipped in there with another strong performance, scoring 16 points on 7-of-11 shooting.
NEXT ON THE DOCKET
The Hoosiers get the week to prepare for Kentucky, who will be ranked No. 1 in the nation when they come to Assembly Hall on Saturday. We'll have preview coverage as the week unfolds.
Filed to: Daniel Moore, Derek Elston, Will Sheehey