Oladipo: Hulls is our leader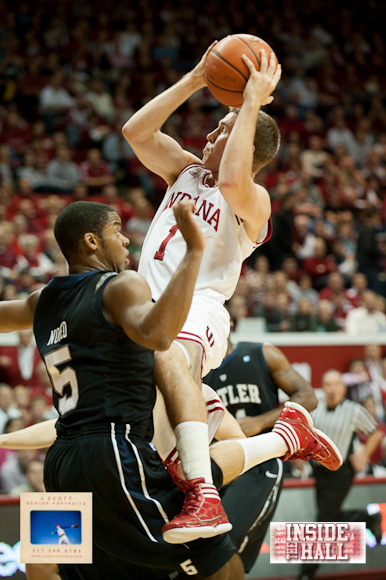 The Hoosiers needed a basket.
They were ahead just 76-75 after an N.C. State basket Wednesday night, and the shot clock was running down. Somebody had to step up.
Jordan Hulls did.
The junior point guard hit a dagger 3-pointer as the shot clock was about the expire, effectively ending any chance of a Wolfpack win.
Hulls, who finished with a team-high 20 points, has become the Hoosiers' undeniable leader on the floor early this season. When Christian Watford made a mistake in the game, Hulls was seen yelling at him to hustle back down the court.
"He's our leader, man," sophomore guard Victor Oladipo said. "He's been working hard on his leadership skills, and it's showing. We always listen to him, and he lets his actions speak for himself.
"I'm always going to listen to Jordan. He's the ideal Hoosier. …Without him, we couldn't win."
The Hoosiers (7-0) will need more of Hulls' leadership Sunday afternoon when they face a potential distraction game against Stetson. Indiana will welcome back members from its 1987 national championship team, and the current players will have a chance to interact with the champions.
Oh, and a date with No. 1 Kentucky looms less than a week away.
"That's going to be an overwhelming experience," Oladipo said of the '87 championship team returning to Bloomington. "We gotta make sure we represent very well and all that kind of stuff. They speak for themselves. I mean, they're a national championship team. I just can't wait to meet them because I'm trying to be where they're at."
As far as distractions, Oladipo said this team is mature enough to handle them.
"Nothing's going to distract us," he said, "because at the end of the day, if we lose, that's a real big loss for us because that's the next game. The next game is the biggest game on our schedule."
Filed to: Jordan Hulls, Stetson Hatters, Victor Oladipo