Savannah St. Notebook: Zeller's value, free throws, more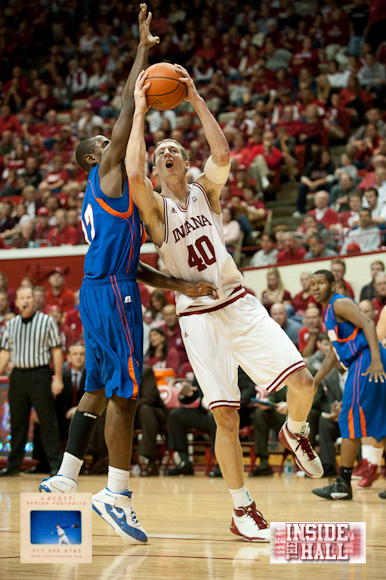 Notes, quotes and observations from Saturday night's 94-65 win over Savannah State:
Indiana is 4-0 for the second consecutive season. But this 4-0 start feels different than a year ago. The Hoosiers are dominating teams they should be dominating. And the one major ingredient that has changed from a year ago is Cody Zeller.
Tom Crean was asked to quantify how much better Zeller, who finished his fourth collegiate game with 23 points, makes his team following IU's rout of Savannah State.
"No, I can't (quantify). That's nothing I really think about," Crean said. "Cody is a really good player and we have some other really good players that are really developing a synergy and a togetherness.
"It goes back to what I've always said about Cody. I said when we signed him, and I've seen nothing that leads us to believe any differently and everything gets based on this, you can go at him and you can play through him. When you have a player like that it makes everybody better. so in answer to your question, that's probably the best way for us to put it."
GETTING TO THE LINE
As Ryan pointed out in The Minute After, Indiana got to the line at a ridiculous clip on Saturday night. The Hoosiers shot 47 free throws, which nearly matched their 49 field goal attempts.
Take a picture of the box score as a free throw rate that high is unlikely to happen again all season. And while Saturday may have been an aberration, Crean was still happy with Indiana's early progress in getting to the line.
"There's no question that when you are making more than your opponents are attempting you're not going to lose many games," he said. "We haven't had a lot of that, and we've been an outstanding free throw shooting team. Last year in all of league play we were 5th in the BCS in free throw percentage, but we were 53rd in attempts in league play. That's been a huge part of what we want to do along with cutting down the fouls."
Through four games, Indiana ranks 21st nationally in free throw rate, defined as FTA/FGA, and 135th nationally in opponent free throw rate. The Hoosiers were 333rd in opponent free throw rate last season.
A SPARK OFF THE BENCH
The Hoosiers have gone with the same starting lineup in all four games with Will Sheehey getting the nod as the first man off the bench.
It's a role the sophomore wing has taken well as he's averaging 11 points on 50 percent shooting in 17.3 minutes per contest.
"I just try to mix things up a little bit," Sheehey said. "Coach wants me to come in and provide that energy. One of the things I try to do is play with energy and play aggressive. I'm completely comfortable in that role coming off (the bench) and trying to spark things."
DEFLECTIONS UP
It's a stat Crean references regularly and the importance of deflections was clear when Sheehey answered a question about Indiana's biggest improvement over last season.
"We've had more deflections than ever," Sheehey said. "Getting our hands in the passing lane and being aware on defense is still something we need to improve on. Just over the past four games or so, we've really just kind of been really active on the defensive end."
According to Crean, IU finished with 55 deflections on Saturday.
RECRUITS TAKE IN ROUT
Two of Indiana's verbal commitments — Devin Davis Jr. and Trey Lyles — were in attendance as well as 2014 Evansville Bosse guard JaQuan Lyles and 2014 Greensburg guard Bryant McIntosh.
Lyle, a consensus top 25 player and an AAU teammate of Lyles and James Blackmon Jr., wore a grey IU hoodie.
Filed to: Cody Zeller, Tom Crean, Will Sheehey