What to Expect: Savannah State
Indiana will look for its fourth win of the season on Saturday night when Savannah State makes its way to Bloomington for the second-ever meeting between the two schools. IU beat Savannah State, now a member of the MEAC conference, 79-57 on December 4, 2010.
Here's a look at what to expect out of the Tigers, who finished last season 12-18:
Indiana and Savannah State enter Saturday night's meeting in Assembly Hall on opposite ends of the spectrum from an offensive perspective.
The Hoosiers have opened the season as one of the country's hottest shooting teams. And the Tigers, who recently completed a transition from an independent to a member of the MEAC, will once again find themselves as one of the nation's worst offensive clubs.
Head coach Horace Broadnax lost his only player with an offensive rating over 100 — Jovonni Shuler — to graduation. For some perspective, Indiana had eight players with an offensive rating over 100 last year. Here's a look at some of Savannah State's Pomeroy numbers from a season ago, with national ranking in parenthesis: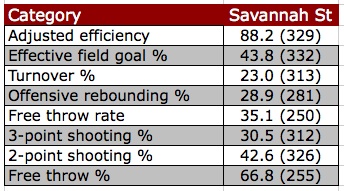 If the Hoosiers continue their solid defense from the season's first three games, Savannah State will be lucky to break 60.
Savannah State is 1-2 through its first three games which includes a 29-point drubbing at Georgetown to open the season. Ten different players are averaging double figures in minutes and their woeful shooting (41.8 effective field goal percentage) from a season ago has carried over. Junior forward Rashad Hassan (14.0 ppg) and sophomore forward Jyles Smith (6.3 ppg) are the only regulars shooting above 40 percent.
On the other side of the ball, Savannah State finished up the 2011-2012 campaign among the top 100 in defensive efficiency rating, effective field goal percentage and turnover percentage. But it didn't matter much as the Tigers beat just one team inside of Pomeroy's top 200.
QUICK FACTS ON SAVANNAH STATE
Student Enrollment: 4,522
Established: 1890
Notable Sports Alumni: Shannon Sharpe (former NFL tight end and CBS Sports NFL personality)
All stats in this piece via KenPom.com.
Filed to: Savannah State Tigers