Evansville Notebook: Road woes in the past, Watford heats up, more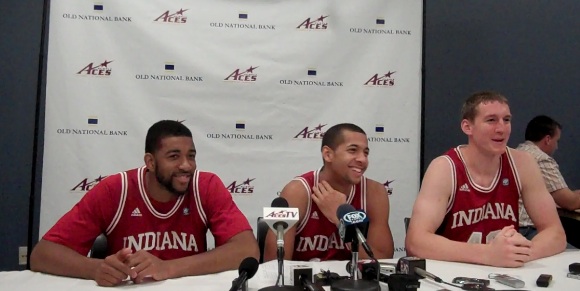 Notes, quotes and observations from Wednesday night's 94-73 win over Evansville:
Verdell Jones has lived through the past three seasons of Indiana's struggles to win away from Assembly Hall.
So perhaps it was no surprise when the senior guard, who scored 17 points and handed out seven assists, had already put those memories to bed after Indiana's dominant performance in the Ford Center.
"We're 1-0 this year on the road," Jones said. "That's in the past. We're going from here on out in the future."
SETTING THE TONE 
Unlike the Stony Brook and Chattanooga contests that were close for portions of the first half, the Hoosiers left no doubt on the outcome from the tip off on Wednesday.
Cody Zeller credited the quick start, which included an 11-2 run to begin the game, to a solid week of practice and preparation.
"We had a good week of practice," he said. "I think the preparation we had was a big key. We came out ready to play and that was what got us off to a good start."
WATFORD GETS HIS GROOVE BACK
Maybe it was a dip in conditioning from the foot injury he sustained. Or the missed practice time. But the slow start to Christian Watford's junior season was already a memory by the final buzzer in Evansville.
Watford delivered an efficient offensive performance (15 points on 5-of-7 shooting) and stayed patient despite starting the season 3-of-14 from the field over Indiana's first two games.
"My teammates have been helping me do a great job keeping my head up," Watford said. "Even when times have been tough. I've been struggling but it's all about the team."
HELP ON COLT
One of the keys to controlling Evansville was the team defense the Hoosiers deployed on the Purple Aces' leading scorer Colt Ryan.
Ryan knocked down four of his ten shot attempts and hit six free throws, but Indiana never let the Batesville native find a rhythm.
"I think the biggest thing was help defense," Jones said of the effort on Ryan. "There are great players we're going to guard and we've gotta give our players help. When (Colt) Ryan would drive, we had one or two guys there and helping on him. We were rotating real well and that's how things were clicking."
BALANCED ATTACK
Five players scored in double figures for the Hoosiers and IU had 24 assists on 33 made field goals. It was a continuation of the ball movement this group has displayed over the season's first two games.
Jones said establishing Zeller, who finished with 14 points and nine rebounds, was key to getting off to a quick start offensively.
"It was great. You couldn't key on one guy," the IU senior said. "I think it all started with getting the ball to the big fella right here, Cody (Zeller). He was making plays. They were double teaming and he was kicking it (out). We were driving and kicking it. It was a good thing to have Cody command the double team like that."
FOUR FACTORS
For the third straight game, the Hoosiers dominated the four factors to winning (outlined here) that we'll discuss more frequently as the season rolls along.
The Hoosiers have an effective field goal percentage of 64.9 through three games (this obviously won't continue) which is second best in the country. And although Evansville got to the line at a fairly sizable clip (48.2 percent free throw rate), Indiana's opponents are getting the line at a rate of just 32 percent through three games. This is a number to monitor as the season rolls along as sending opponents to the line was an Achilles' heel last season.
Filed to: Christian Watford, Cody Zeller, Verdell Jones