The Minute After: Evansville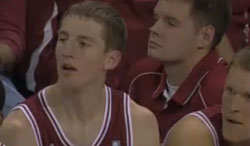 Thoughts on a 94-73 road win over the Purple Aces:
SO MUCH FOR THAT
They said the Purple Aces would test the Hoosiers. They said this could be Indiana's first loss. After all, Tom Crean's crew hadn't won on the road in its last 17 attempts. And these Purple Aces were coming off a win over Butler.
They were wrong.
Indiana got off to a strong start from the opening tip on Wednesday night inside the Ford Center and never looked back. In the first 20 minutes, Victor Oladipo and Will Sheehey shut down Colt Ryan. Christian Watford, Verdell Jones, Jordan Hulls and Cody Zeller did the scoring. By half, they were up by 24. And though the second half wasn't as crisp and got sloppy at times, the Hoosiers finished the night with a 21-point victory.
This team played with confidence. With hunger. With a chip on it shoulder. With strong shooting (65.3 eFG%), ball sharing (24 assists on 33 baskets) and defense. Three wins. Zero losses. On to the next one.
THERE'S CHRISTIAN
Watford failed to shoot well in Indiana's first two games coming off injury, but Crean told the media after Sunday's Chattanooga game he wasn't worried.
And tonight, he came through for his coach. Watford got into the action early with two scores around the rim and also hit a couple threes. For the evening, the Alabama native finished with 15 points (5-of-7, 2-of-3 from three) and eight boards.
Another game, another guy stepping up and shooting lights out for the Hoosiers.
III
Jones hasn't gotten enough love in this space. But he's a big reason why the Hoosiers' offense has looked strong this season. He's not forcing the issue or doing more than he has to. And he's finding the open man time and again. The senior dished out a team-high seven assists tonight to go along with a team-high 17 points, which was aided by a perfect 4-of-4 mark from beyond the arc.
SCATTERED THOUGHTS …
+ Hulls continues to shoot with efficiency (5-of-7, 2-of-3 from three for 14 points) and it was nice to see him taking it to the rack for some easy buckets when it was there for him this evening.
+ The Hoosiers didn't struggle to get Zeller involved tonight (14 points on 6-of-7 shooting, nine boards), and he even seemed a bit more assertive himself, dunking with authority on a few occasions and showing off a nice score with his left hand in the first half. You wonder if he had a little more energy playing just 45 minutes away from Washington with what was reportedly a strong contingent of hometown fans — including his mom and dad — making the trip to see him.
+ Too early to start discussing this team's ceiling? Anyone at least locating their dancing shoes at this juncture?
Filed to: Evansville Purple Aces