Chattanooga Notebook: Oladipo explains gestures, more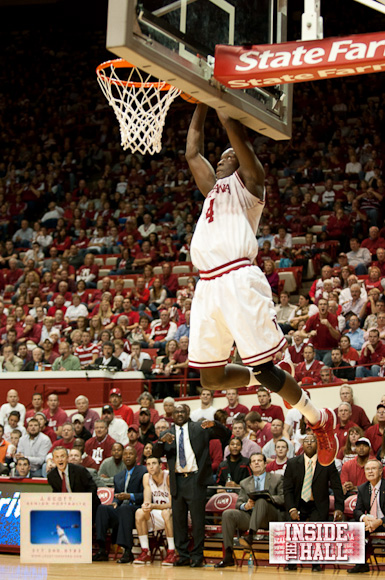 Notes, quotes and observations from Sunday night's 78-53 win over Chattanooga:
Victor Oladipo's 21 points eclipsed his previous career-high of 16, but one of the first questions the Hyattsville, Maryland native was asked in the postgame press conference was about the gesture he's made frequently through the first two games.
Oladipo seemed surprised by the question, but then explained with a smile: "It's a little thing that me and one of my best friends back home has. Quinn Cook, he goes to Duke University. It's like 'know us.' Like know Indiana basketball. It's just something to get me motivated.
"I have to have something (to get me motivated). Because during the year, Coach Crean told me I've gotta find something to get me going and not have him getting on me to get me going. And that's just something that one of my best friends told me to try to do to get myself going. I'm just going to try and see if that works."
HULLS, OLADIPO BENEFIT FROM ZELLER DOUBLE TEAMS
Cody Zeller didn't replicate the double-double he posted in his debut, but Jordan Hulls and Oladipo credited the attention paid to the freshman by Chattanooga for several of their open looks.
"Cody, he's a mentally strong kid," Hulls said. "He's not going to let the game get him down if he's not scoring or getting enough touches. He's always going to bring that defensive edge. He's still learning, obviously, he's a freshman, so there's lot to learn. He's also ahead of the game on a lot of other people."
Oladipo shared a similar view of Zeller's impact on the game. "They double teamed Cody as soon as he caught it in the post," he said. "He was very poised, especially for a freshman. He just let the defense come to him and found the open man. That's how we got easy buckets. Jordan got open 3's. People got layups. Like I said from the beginning, there's a reason why we did recruit him. I'm glad he's here."
CREAN NOT CONCERNED ABOUT WATFORD
Christian Watford has struggled to find his offensive game through the first two contests and has just nine points on 3-of-14 shooting.
Tom Crean, however, isn't concerned about the lack of offensive production thus far from Watford.
"I think we've got a lot of guys making plays, and a couple shots haven't gone down," Crean said of Watford. "He's playing hard and we're two games in so I'm not looking at anybody that might not be doing this or any of those kinds of things. It's a team game and guys work hard. Christian works hard. He was in the gym with Victor (Oladipo) again. They were the last two to leave last night well after our meeting. I have no concerns about any of that."
ROAD WARRIORS?
With just one true road win in the Tom Crean era, Indiana is looking to buck the trend of the previous three seasons on Wednesday night in Evansville.
The Hoosiers last won a road game on January 21, 2010 at Penn State, which would make a win at the Ford Center the first for the program in almost two years.
"It's a new season. It's a new team," Hulls said when asked about IU's prospects for winning away from Assembly Hall. "We gotta just carry that same mindset over and mentally and physically prepare for that in the next days to come before the game starts. I think we have the guys who are fully capable of doing that."
Filed to: Christian Watford, Cody Zeller, Jordan Hulls, Victor Oladipo