The Minute After: Chattanooga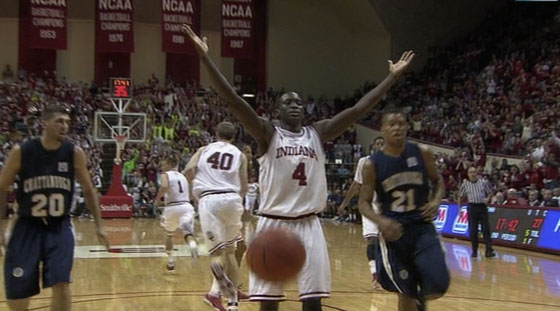 Thoughts on a 78-53 win over the Mocs:
THERE'S THAT D
After hearing about an improved defensive focus leading into the season, the Hoosiers showed it tonight.
They anticipated the passing lanes well and racked up 15 steals — including six by Cody Zeller and four from Verdell Jones — which aided in some easy transition buckets. For the game, the Mocs also turned it over 25 times with the Hoosiers scoring 30 points off those turnovers. Indiana also contested shots and didn't give a lot of breathing room to Chattanooga. In turn, the Mocs had a rough shooting night, racking up a woeful effective field goal percentage of 36.9 percent — 29.2 from two, 41.7 percent from three — thanks to some strong work from beyond the arc late.
And as Alex tweeted: "Indiana held the Mocs to 53 points. Only held two opponents — Wright State and Illinois — under 54 a season ago."
The first 15 minutes of the contest, the Mocs were able to keep it close by playing some physical D and not letting the Hoosiers get out on the run. But once IU started busting out, the rout was on.
OL-A-DIP-O
After tying his career high (16 points) on Friday night against Stony Brook, Victor Oladipo outdid himself tonight, scoring a career high 21 points (6-of-9). The Dematha product was efficient thanks to a couple of dunks — including an alley-oop from Jordan Hulls — and a strong showing at the line (8-of-11).
His cat-like quickness and high energy continue to shine in the early goings of this season.
ZELLER'S INVOLVEMENT
Perhaps because the Hoosiers are finding themselves with a lot of perimeter scoring options and they also just aren't used to a post presence yet, Cody Zeller often appears as an afterthought in the offense. Indiana was able to get him going a bit more in the second half against the Seawolves on Friday night, but he took only three shots in tonight's contest and almost had as many steals as points (seven).
There's still plenty of time to find the balance between Indiana's use of Zeller in the post and its scoring options on the perimeter. And it won't be this lopsided every game.
But for this team to have the best chance of winning once the Big Ten season hits, they need to figure out how to get Zeller involved in the flow of things from start to finish.
HULLS
Beyond making sure Zeller gets his touches, Hulls is another player that shouldn't get lost on offense. He's simply too good a shooter not to involve. Tonight, Hulls got off a ton of shots from three — nine in total — and converted on six of them for 18 points.
This is what he does. And does well.
BIG PICTURE
Another comfortable win against another smaller school expected to make a decent amount of noise in its conference. There's plenty of room for improvement two games into 2011-12, but this team is without a doubt looking better across the board.
Filed to: Chattanooga Mocs