Stony Brook Notebook: Oladipo's defense, Zeller on flagrant foul, more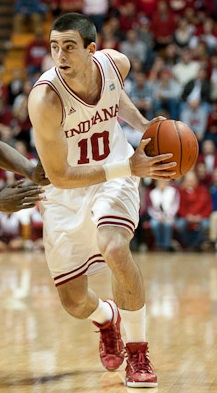 Notes, quotes and observations from Friday night's season opening win over Stony Brook:
OLADIPO CONTAINS DOUGHER
Tom Crean talked frequently in the preseason about developing individuals who can lock down the opponent's best offensive player. The first assignment was given to Victor Oladipo, who blanketed Stony Brook guard Bryan Dougher for much of the evening. After knocking down a 3-pointer just 31 seconds into the game, Dougher managed only one free throw the rest of the way and missed all seven of his shots.
Oladipo said his gameplan was to speed Dougher up: "After watching a lot of film, he's very effective when he's comfortable. I just tried to speed him up as fast as I could, make him work and tried to get him a little bit tired. I think I did a pretty good job of that today."
ZELLER MUM ON FLAGRANT FOUL 
After being hit below the belt by Stony Brook's Danny Carter in the first half, Cody Zeller calmly walked over to Tom Crean to discuss what took place. Crean said he told Zeller to report the incident to officials. The three-man crew went to the monitors and after several minutes of review, proceeded to eject Carter.
Zeller was asked what happened on the play and offered this quick comment with a smile: "I don't know, you'll have to see it on film I guess."
CREAN IMPRESSED BY SHEEHEY
Will Sheehey finished with 13 points, five rebounds, one assist and one steal in ten minutes, but didn't play in the second half due to flu-like symptoms. "If he wasn't feeling well in the first half, then hopefully he'll stay sick like that more often," Crean said of Sheehey. "I think it was more at the end of the first half when it really hit him and throughout halftime. He wanted to go back in, but that wasn't my call. It was the doctor's call and I agree with it. I thought he really did a good job of coming in, bringing energy, reading the game. Nobody tonight tried to make something happen that wasn't there and that's going to be a key for us."
JONES REVIEWS ZELLER'S DEBUT
Verdell Jones didn't flinch when asked for his assessment of Cody Zeller's performance (16 points and 10 rebounds) in his first collegiate game: "It was outstanding. It was remarkable. It's very rare that you see a freshman come in and do what he did today. They came at him there at the beginning and instead of backing down, he attacked right back at them. I think that's huge from here on out. Different guys in the Big Ten, they're going to try to come at him. If he keeps his head like he did today and keeps attacking right back, he's going to be huge for us."
ELSTON HAPPY TO BE HEALTHY
Derek Elston spent the majority of his sophomore season battling a sports hernia that eventually required offseason surgery. The junior forward from Tipton looked like the player who was one of IU's brightest spots down the stretch two seasons ago.
Elston finished with 11 points on 5-of-6 shooting in 14 minutes. "I've lost a little weight. I feel like I'm running better. For me it feels like I'm moving up and down the court a lot better. Today felt real good. I haven't felt this way in a long time."
A SENIOR FACILITATOR
With more experienced teammates on the wing and an offensive threat like Cody Zeller inside, the scoring numbers of Verdell Jones in his senior season will likely decline. Jones scored just seven of IU's 96 points, but delivered seven assists and just one turnover.
"When you've got athletic wings like Victor and Will, who run out, and a big fella like Cody, it's easy," Jones said. "I saw I had seven assists. It's easy when you can just throw it up to the 7-footer and he can catch it and dunk it. It's very relieving and we've gotta keep going forward from here."
(Photo credit: Jamie Owens of J. Scott Sports)
Filed to: Cody Zeller, Derek Elston, Verdell Jones, Victor Oladipo, Will Sheehey